Bill retooling parking requirements to be restricted to North Central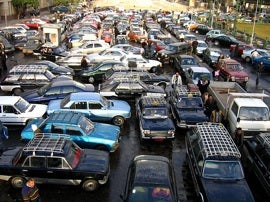 A bill that would have required developers to provide parking spaces and larger dwelling units in certain multifamily residential and commercial mixed-use districts citywide will be amended to restrict those provisions to one portion of North Central Philadelphia.
A new version of the bill, which was originally introduced in Council by Brian O'Neill on behalf of Council President Darrell Clarke, requires three parking spots for every 10 units in buildings with four or more units in all RM-1 districts in the area roughly bounded by Girard and Lehigh avenues and 9th and 20th streets. It requires that dwelling units be at least 425 square feet in the same districts. But it does not change the parking and density standards in any zoning district citywide.
The initial bill upset some planners and zoning reform advocates who felt it unnecessarily altered a large portion of the zoning code while catering too much to automobiles, and the new version may not assuage code purists—it functionally adds a new overlay district to the code.
The bill is one in a series introduced this fall which makes substantial changes to the zoning code that took effect in August. But it is nearly unique in the fact that it moved forward with the approval of the Planning Commission, which has repeatedly said it would prefer Council to wait a year before making changes to the new code. (Last week, the Commission approved another bill that makes a non-controversial but still-citywide change to the zoning approval process.)
At its October 16th meeting, the Commission voted to approve the bill, and it further testified in favor of two small amendments to the bill in a Rules Committee hearing on October 31st. Planning Commission staff in fact helped draft the original bill, according to representatives of both the Commission and City Council staff.
The Commission often helps Council members draft zoning legislation. In this case, though, its first effort helped produce a bill that would have made substantial, citywide changes to key provisions of the new code—in direct counteraction with the Commission's stated position on zoning reform. Council and Commission sources would not confirm which member of the Commission staff helped Clarke's office draft the original bill.
Martin Gregorski, a planner in the Commission's Development Planning Division, said he did not know which staffer helped draft the bill, but that it addresses a real problem.
"Many things in the zoning code were put together and the impacts weren't seen, and they're … being seen now," Gregorski said. "Councilman Clarke noted that there are a lot of developments that come in—I've seen one: 40 units, rowhome development, not a single parking space—that could be problematic … And [the new code] lets a lot of units go without parking, but there are going to be cars."
Contact the reporter at jbrey@planphilly.com and follow him on Twitter @jaredbrey