Baltimore cat, 17, has $19,000 kidney transplant at Penn
After his mandated one-month confinement to a dog crate had ended, he returned happily to his old routines, which include walks at the end of a purple leash.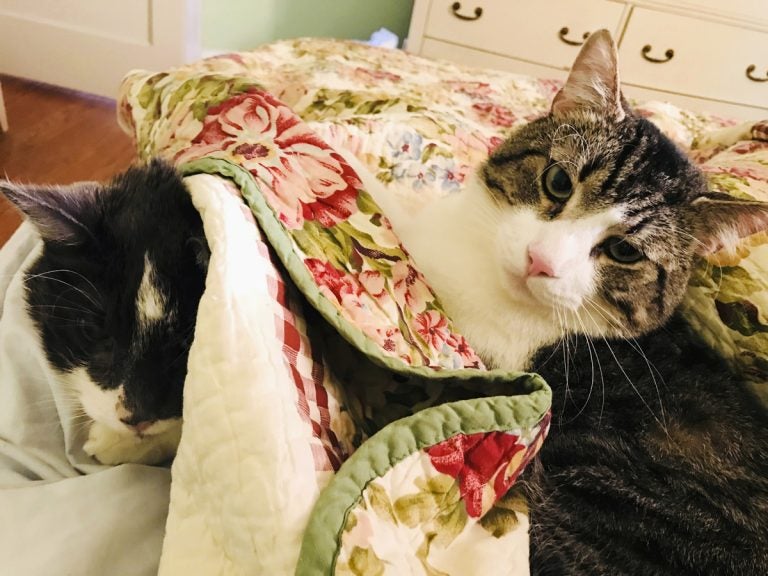 Not quite four months ago, Betsy Boyd spent 41 percent of her annual salary on a kidney transplant for her ailing 17-year-old cat, Stanley.
As a condition of the $19,000 surgery, she also adopted the kidney donor, a 2-year-old tabby named Jay, bringing the total number of felines in her household to six. Both cats are thriving post-surgery — but if Stanley were tragically to die tomorrow, Boyd said she would have no regrets.
"He's on immunosuppressant drugs, so he could get an infection," she said.
"Anything could happen. If Stan did pass away sooner rather than later, I'd know I had done what I could for him. We've already had a few really good weeks. He's really happy, and that alone is worth the price."
Boyd isn't independently wealthy. As a part-time member of the University of Baltimore's creative writing faculty, she earns about $46,000 a year. Her husband, Michael Yockel is a freelance journalist and stay-at-home dad who cares for the couple's twin sons, 3-year-old Texas and Miner. The couple bought their home in Baltimore's Belair-Edson neighborhood for $95,000 — and paid cash.
"I'm smart with money," Boyd, 44, said. "I'm very frugal. I drive a used car and wear clothing from consignment stores, and I have no debt at all. The message I'd like to get across is that if you save your money carefully, you can spend $19,000 on something that moves you."
And there's no question that Stanley matters to her, and matters a lot.
"Stanley is the only human cat," she said.
"I love all my cats, but Stanley is the only one who acts like a human being trapped in a cat's body. He's so vocal and communicative. He maintains eye contact better than any cat I've ever known. When I'm at work, he waits at the window or front door for me to come home, just like a dog."
She began considering the transplant after Stanley was diagnosed with renal insufficiency in November 2016, and a specialist gave the handsome black and white kitty just three months to live. When Nancy Kauder, Boyd's vet at Belvedere Veterinary Center mentioned that a former classmate did kidney transplants at the University of Pennsylvania's Ryan Veterinary Hospital in Philadelphia, Boyd began to investigate.
When Boyd told friends she was exploring surgery for Stanley, she experienced some pushback. They urged her not to spend what to them seemed an astronomical sum on a cat of Stanley's advanced age — and so, initially, did Ryan's renal specialist. (According to the ASPCA, indoor cats live on average for between 13 and 17 years.)
But, Boyd was undeterred, especially since Yockel supported her decision. And after examining Stanley, the veterinarians at Ryan reconsidered. Apart from his kidneys, this kitty was in robust health. He ate well when he was on medication. He just seemed to want to live.
"If he had seemed weak or frightened, I wouldn't have pursued this," Boyd said. "But, he never seemed daunted by all the vet visits, and there was something about his purr. I could feel his spirit really strongly."
Both cats made it through the Nov. 28 surgery, and it wasn't long before Stanley was showing renewed vigor. After his mandated one-month confinement to a dog crate had ended, he returned happily to his old routines, which include walks alongside Boyd at the end of a purple leash.
Though Boyd realizes there are no guarantees, she's counting the days until May 28, when Stanley will pass the six-month post-surgical milestone. At that point, his odds of long-term survival improve dramatically.
"Knowing Stanley as I do," she said, "I think he's one of those cats who could make it to age 25."
WHYY is your source for fact-based, in-depth journalism and information. As a nonprofit organization, we rely on financial support from readers like you. Please give today.