Assisted suicide is legal in N.J. But key medical society still opposed after vote
The Medical Society of New Jersey has charted a middle-of-the-road course in dealing with the controversial new law.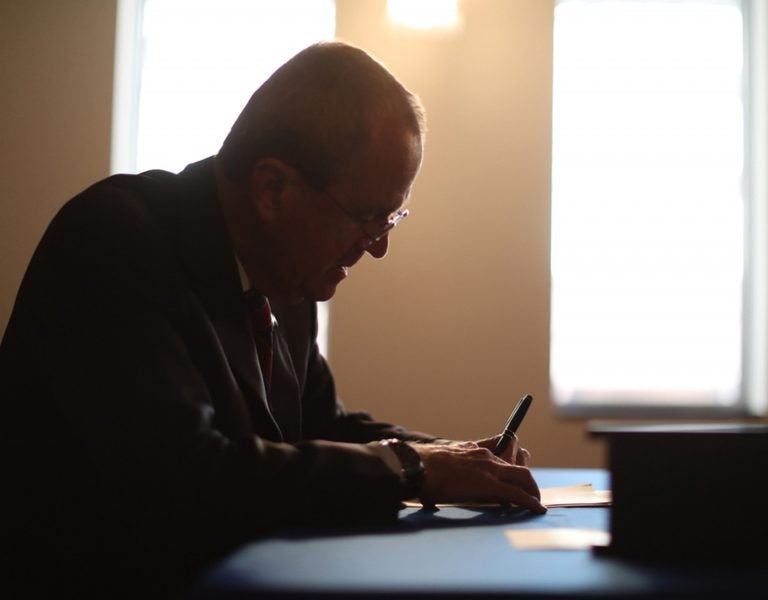 With a New Jersey law set to take effect in August allowing terminally ill residents to end their lives with medical help, doctors belonging to the state's largest medical organization voted not to end the group's formal opposition to assisted suicide.
But delegates at the Medical Society of New Jersey's annual conference did adopt a set of guidelines to help doctors decide whether to write lethal prescriptions under the new law.
Reached by phone after the votes on Saturday, John Poole, the organization's president, said the guidelines — like the law — leave the decision up to individual doctors.
"For physicians that do not want to participate, that feel strongly against it, they are not required to," he said. "Physicians that feel that this is how they want to treat their patients, the medical society has come up with guidelines that will help them navigate this field and be better doctors and be able to offer this to their patients."
The society considered the policy changes roughly three weeks after Gov. Phil Murphy, a Democrat, signed a bill making New Jersey the eighth state to decriminalize assisted suicide.
Starting Aug. 1, terminally ill adults living in New Jersey who are deemed mentally "capable" will be able to request and then use a prescription for lethal medication.
Two physicians will be required to attest that the person has less than six months to live. The patient will then have to make two oral requests and one written request for the medication over a period of at least 15 days. During that time, doctors must discuss alternative treatment options, such as palliative and hospice care, and offer patients a chance to rescind their request.
Patients who do choose to take the medication must administer it to themselves.
Doctors split on assisted suicide
Debate on the measure had been highly contentious, with supporters arguing that sick people should have the right to end their suffering on their own terms and opponents warning of inadequate safeguards for vulnerable residents.
A similar debate has been raging within the medical community, pitting doctors supportive of the practice against those who think participation violates their oath to "do no harm" and could be a slippery slope to euthanasia, where doctors themselves administer lethal drugs.
Reflecting that split in opinion, Saturday's vote whether to end the medical society's formal opposition to assisted suicide was tight: 52% opposed versus 48% in favor.
Poole said the narrow margin demonstrates a growing openness by doctors to consider prescribing lethal medication to sick patients who request it.
"This probably was not the final time we're going to hear about this," he said, adding at another point: "I expect it's going to flip in the not-too-distant future."
In comparison, 65% of Americans think doctors should be legally allowed to assist a patient in dying by suicide, according to a 2018 Gallup poll.
Guidance for physicians
The new guidelines adopted by the medical society, meanwhile, list seven principles doctors should consider when deciding whether to participate in the new law. They include respecting patient choice; reducing suffering; protecting people with disabilities; and not eroding public trust in the physician-patient relationship.
Both supporters and opponents of the new law found encouragement in the medical society's actions.
Matt Valliere, executive director of the Patients Rights Action Fund, a national organization that fights assisted suicide legislation, said the defeat of the motion to end the society's formal opposition to the practice "shows the strength and wisdom of medical ethics when faced with an ill-advised and dangerous public policy."
"The MSNJ guidance specifically notes that assisted suicide poses a threat to the already fragile physician-patient relationship," Valliere said in a statement. "This is especially the case for vulnerable people, including those who live with disabilities, who already experience inequity when it comes to health care access."
But several doctors who support the new law said they interpreted the medical society as having taken a neutral stance on the issue.
"They're not proposing any changes, any more restrictions, any more roadblocks," said Deborah Pasik, a Morristown-based rheumatologist who supports the practice. "They're emphasizing … that it's a decision that's made between the patient and the physician."
Putting law into practice
Ezekiel Emanuel, chair of the Department of Medical Ethics and Health Policy at the University of Pennsylvania, said regardless of how one interprets the society's actions, New Jersey doctors and policymakers should think more broadly about how they are going to implement the law.
He said it's important that doctors screen patients for depression and other mental health conditions before prescribing lethal medication, and that doctors receive guidance on the right medications to use.
He suggested both are areas state regulators should consider. As written, the law leaves it to the discretion of the attending physician whether to refer the patient to a mental health professional.
Emanuel also dismissed an argument made by proponents of assisted suicide laws that they will help improve end-of-life care even for patients who don't use them. New Jersey, which ranks among the worst states for such care, should not expect its new policy to be a silver bullet in that regard, he said.
WHYY is your source for fact-based, in-depth journalism and information. As a nonprofit organization, we rely on financial support from readers like you. Please give today.