As Uber and Lyft drive on, now formally licensed, disabled and taxis say they are being left behind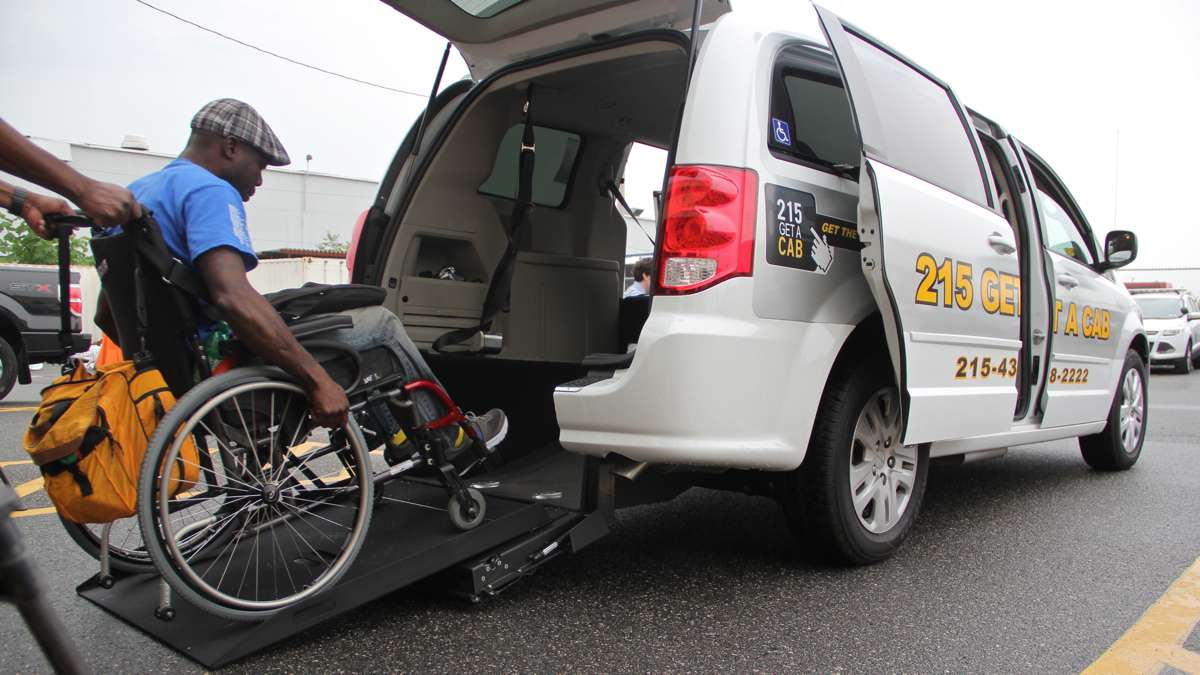 Over the past few months, the Philadelphia Parking Authority (PPA) boardroom has been the site of much gnashing of teeth, wailing of woes, and pulling of hair over the first illegal, then legal, then illegal again, then legal again transportation network companies (TNC).
On Friday, the PPA board was met with nary a whimper as it formally voted to authorize two TNCs, Lyft and Uber (operating through a subsidiary, Rasier-PA, LLC).
Instead of further outcry over TNCs, the board heard an earful from disability activists, angry that there are still just 30 wheelchair accessible vehicle (WAV) taxis operating in Philadelphia despite a multiyear effort and new regulations to bring more to the streets.
One activist asked, "What are you doing for the disabled community?"
"That's a great comment. That's something we absolutely agree with you [with] and I think this board has taken a number of arrows in pursuit of trying to get more disabled taxi cabs on the street," said PPA General Counsel Dennis Weldon. But, he argued, the advocates' fight isn't with the PPA, it's with Harrisburg. "Based on what the current law is… and understanding what the parameters are, the parking authority only has so much power."
Councilman Al Taubenberger, who sits on the PPA board, echoed that sentiment. "Just so we're very clear on this: This is on the state legislature," he said. "They make the law, we don't. We operate under a very tight parameter."
PPA Chairman Joe Ashdale also said the authority's hands were statutorily tied.
Authorization from the General Assembly hasn't always been an absolute necessity. Last summer, the PPA signed an agreement with Uber to legalize the company for a 90-day period, despite lacking any statutory authority from the state to do so. Why the switch now to such statutory fealty? "Then, we had no a law," Weldon said, arguing that fact provided the authority more room to act autonomously. "Now, we have a law that specifically provides what our powers are and what the authorizations are."
"There is no more wiggle room, no more guessing, no more litigation about it," he added.
Suggesting that criticism would be better directed at state lawmakers didn't fully mollify the disability activists who have been asking for WAVs for years. "Other states have [them], so what's taking so long?," one activist retorted.
The PPA's auctions for new WAV taxi medallions set record lows over the summer as interest has dwindled in what many see as a losing bet in a dying industry. Lyft doesn't offer WAV vehicle pickup in Philadelphia, and Uber's service, UberWAV, only offers a handful of vehicles. In New York City, a 30-cent trip surcharge has helped subsidize making the yellow cab fleet there 50 accessible, but cabbies here get no such help, said James Walker, who manages Freedom Taxi and PHL Taxi.
"Right now we have thirty handicap accessible taxicabs. And we're talking about, again, taxicabs gotta do this, taxicabs you have to have that," said Walker in response. "You're getting ready today to approve two TNCS. They don't have no accessible vehicles out there, everybody knows that."
Walker said it was much more difficult to find WAV taxi drivers than regular cars. First off, those drivers need an additional license, which means a class and a few days of waiting.
More importantly, WAV vehicles cost significantly more than regular taxis. Walker said a regular taxi costs around $15,000, whereas a WAV runs closer to $45,000. Cab companies lease the taxis out to drivers, so a more expensive vehicle means a more expensive daily lease on the drivers.
On top of all that, picking up and dropping off disabled passengers is more labor and time intensive than picking up those without mobility issues. Drivers need to park, get out of the car, place the ramp and ensure the passenger is properly secured. Those minutes can add up and mean fewer pickups.
"I don't see any incentives," said Walker. "There are no incentives we can make because we're regulated."
WHYY is your source for fact-based, in-depth journalism and information. As a nonprofit organization, we rely on financial support from readers like you. Please give today.