As probes into N.J. high school wrestler hair-cutting incident continue, group calls for ref's firing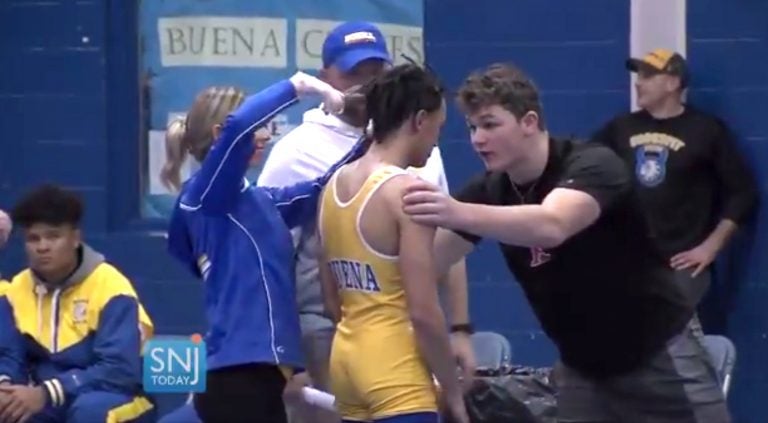 New Jersey activists are calling for the firing of New Jersey high school wrestling official Alan Maloney after he forced mixed-race Buena Regional High School wrestler Andrew Johnson to choose between cutting his dreadlocked hair or forfeiting a match last month.
The National Awareness Alliance, which is leading the calls for Maloney to be fired, also demanded more oversight of the New Jersey Interscholastic Athletic Association, with a focus on more minority representation.
"Andrew Johnson should not have been degraded like he was," said Walter Hudson, founder, and chairman of the alliance.  "And we're standing in solidarity with him and his family and letting it be known to the rest of the world and the state of New Jersey that we're not going to tolerate this."
Video of Johnson, 16, having his dreadlocks cut by a white trainer caused an uproar on social media and drew criticism from celebrities and elected officials.
Maloney, who is white, has since been sidelined until a review of the incident is completed.
The calls come almost a week after Dominic Speziali, the Johnson family's attorney, sent a letter to the New Jersey Division on Civil Rights requesting an investigation into claims that Johnson is now being targeted by referees.
It appears "that certain officials have a desire to unnecessarily escalate and prolong this ordeal due to an unrelenting fixation on the hair of a 16-year-old young man that asked for absolutely none of this," Speziali wrote.
"Andrew Johnson suffered as a result of Alan Maloney's actions, but the capricious whims of the NJSIAA and NJWOA is to the detriment of not only Andrew, but to his teammates, and to similarly situated athletes throughout New Jersey," the letter reads.
The NJSIAA, which regulates high school athletics in the state, declined to comment but released a statement.
"NJSIAA is continuing to gather information relative to its previously announced investigation on the matter involving a Buena Regional High School wrestler," the statement says.
Included in the investigation is an examination of the National Federation of State High School Association (NFHS) Rule 4.2.1, which addresses the length of wrestlers' hair.
"In addition, and as per its long-established sportsmanship policy, the NJSIAA is providing updates to the New Jersey Division on Civil Rights and will continue to send information as new details become available."
The organization also said it's "strongly committed to taking as much time as necessary to ensure that all aspects of the situation have been assessed."
Hudson said protests could follow investigation results that "are not to our liking."