As N.J. launches sports betting, MLB sets ban on bookie ads — but will it last?
Major League Baseball circulated a memo to teams, forbidding them and their broadcasting affiliates from accepting advertisements from sports gambling outfits.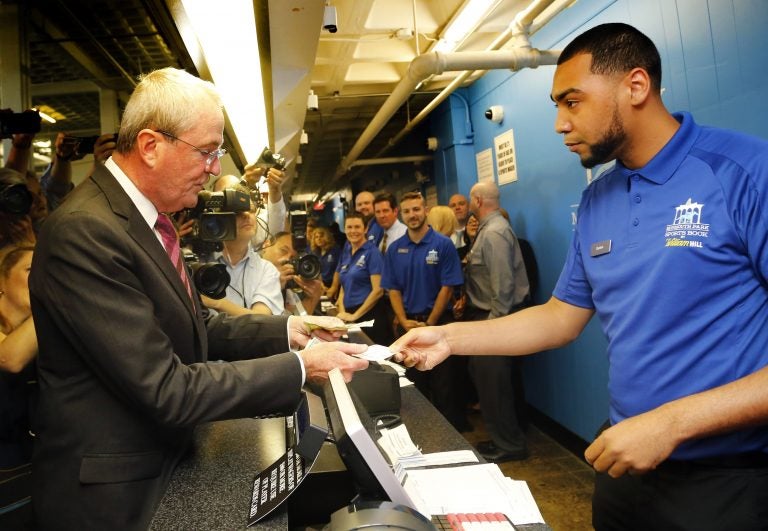 Sports betting is now legal in New Jersey, but odds are you won't see any ads about it watching the Phillies.
Last week, Major League Baseball circulated a memo to teams, forbidding them and their broadcasting affiliates from accepting advertisements from sports betting outfits.
The MLB policy was first reported by ROI-NJ, which obtained a copy of the legal memo.
The memo described the ad ban as a temporary measure while team owners discuss a coordinated approach to handling wagers on baseball after the U.S. Supreme Court struck down a federal ban against sports betting last month.
Since then, New Jersey and Delaware have joined Nevada in legalizing bookmaking. Three other states, including Pennsylvania, have passed laws authorizing sports betting, but they have not yet issued licenses to operators.
The advertising ban seems to have come in response to attempts by Monmouth Park Racetrack, where legal sports betting debuted Thursday, to buy advertisements. The memo also notes ongoing efforts by the league to convince states to include an "integrity fee" to professional sports leagues in their sports wagering legalization bills. Integrity fees would provide the leagues a cut of the gaming revenues.
"It looks like what they're doing is basically saying, 'OK, if you're not going to give us a piece of the pie, then we're not going to accept advertisements for your casinos and help you build your business,' " said John Wolohan, a professor of sports law at Syracuse University.
MLB, along with the other major professional sports leagues, long fought efforts to legalize sports betting in the U.S. Since losing the court battle, the leagues have switched tactics.
That has struck some observers as duplicitous, given how warmly they have embraced fantasy sports in general, and daily fantasy sports in particular.
"Some people would call it hypocrisy," said Andrew Brandt, executive director of Villanova University's Jeffrey S. Moorad Center for the Study of Sports Law. "I think any rational person would say fantasy sports is gambling."
Wolohan agreed.
"Oh, it's definitely hypocritical," he said. "The fact that they're getting a piece of the pie, that they're invested and partners with [fantasy sports operators] DraftKings and FanDuel just goes to show that, if they can get some money, they're OK with [gambling]. But if they're going to be excluded, they're going to play hardball, so to speak."
Wolohan is betting the ad ban won't last too long, though, as teams and TV stations look at lost ad revenues.
"If I'm the Phillies, and I'm looking at this, and I see that New Jersey wants to advertise in my broadcast — or at my stadium — I'm going to put pressure onto Major League Baseball to overturn this," he said.
WHYY is your source for fact-based, in-depth journalism and information. As a nonprofit organization, we rely on financial support from readers like you. Please give today.