Ahead of Indigenous Peoples' Day, activists in Philly suburbs call for more than marching
After a summer of protests, a group of racial justice activists in Montgomery County is pushing for changes to school curricula, among other demands.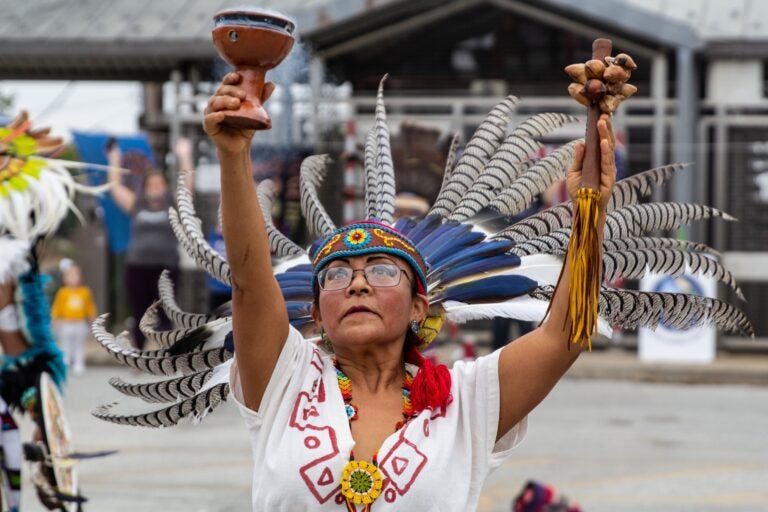 As many Americans get ready to observe Columbus Day Monday, a group of racial justice activists in the Philadelphia suburbs says it's a reminder that the fight for equity is not over.
"People off of work for what — for a murderer?" Norristown activist Mark Jones said to a crowd of about 20 people gathered at the Norristown Transportation Center's parking lot Sunday morning.
Jones, who is Black, helped organize a daylong rally calling for "equity and justice for all people, and especially Black, Indigenous and People of color" with the Montgomery County organization Community for Change.
The group, which has been taking part in Black Lives Matter protests since the summer, slated the event the day before Columbus Day, or what they prefer to call Indigenous Peoples' Day, to highlight the work left to do, such as asking school districts to rethink how they frame Columbus.
After all, Indigenous people were the first group to be marginalized in this country, said speakers at the rally. Yet, schools often gloss over how the Italian explorer, credited with being among the first Europeans to arrive here, helped usher in colonialism and the displacement and genocide of Indigenous people. Speakers said schools have similarly breezed through the disenfranchisement and violence Black people have faced in America.
Changing school curricula is just one area Upper Merion resident Stephanie Vincent, another organizer with the group, wants to focus her energy on moving forward.
"Black history is not a separate thing that needs a month. Black history is part of American history, so starting to teach the real history of what really transpired," said Vincent.
The rally, explained Vincent, was a way to connect several new activist groups in Montgomery County, which sprung up during the protests calling for racial equity and changes in policing.
"We asked community organizations and leaders to sign on to our pledge, basically a pledge to say they believe in Black, Indigenous and people of color all having the same equal rights and that they were going to do the work to hold our institutions and leaders accountable for actually bringing those changes," said Vincent.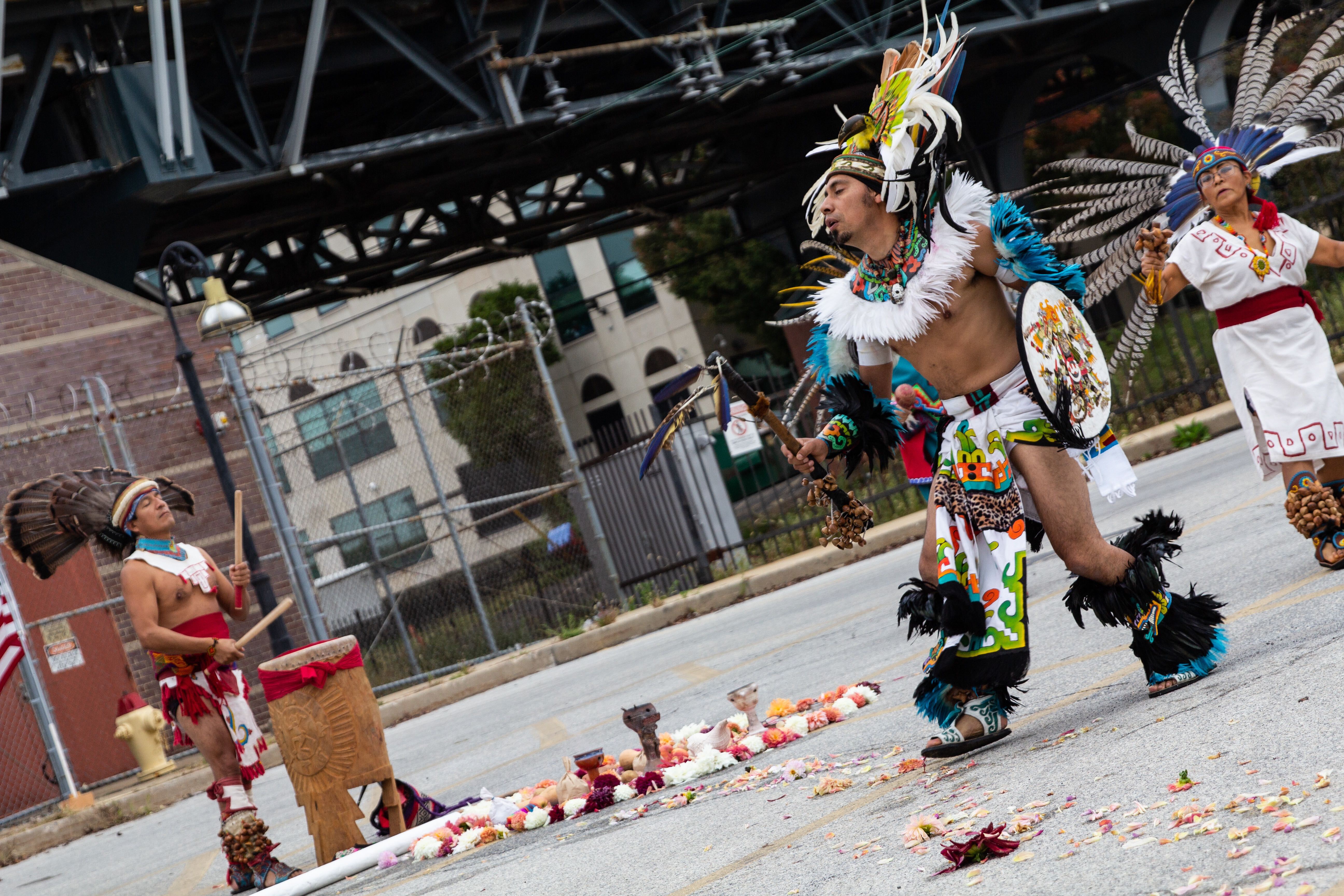 Vincent, who took part in the summer protests, said the marching has caught the eye of some institutions.
For example, in June, the Lower Merion School District created an Ad-Hoc Committee on Equity and Anti-Racism "to address racism, safety and security" in its schools.
— Lower Merion SD (@LowerMerionSD) June 23, 2020
Then in July, Norristown's Municipal Council passed a resolution to rename the second Monday in October Indigenous Peoples' Day, a significant change for a borough home to a now-shrinking population of Italian Americans and immigrants and has a large monument to Columbus in Elmwood Park.
BREAKING: Municipal Council unanimously adopts a resolution to designate the second Monday of October as Indigenous Peoples' Day (formerly Columbus Day). This day is a municipal holiday.

— Norristown, PA (@NorristownOrg) July 8, 2020
Jones said the only reason Norristown council members moved to observe Indigenous Peoples' Day instead is because of the pressure they faced from activists.
"Whether you know it or not, you have already changed Montgomery County," said Jones. "Some of y'all have been active since Memorial Day weekend, since the tragedy involving George Floyd."
"Whether you know it or not, you have already changed Montgomery County," said Mark Jones, a Norristown activist. (Kimberly Paynter/WHYY)

Aztec group Kapulli Kamaxtle Xiuhcoatl kicked off Sunday's rally with a performance. (Kimberly Paynter/WHYY)

Stephanie Vincent, seen driving her car in a protest parade, said the rally was a way to connect several new activist groups in Montgomery County. (Kimberly Paynter/WHYY)

Members of the Norristown community watch Kapulli Kamaxtle Xiuhcoatl perform. (Kimberly Paynter/WHYY)

Members of the Norristown community decorated their cars for a rally in honor of Indigenous Peoples' Day. (Kimberly Paynter/WHYY)
Still, Vincent said she wants the needle to move faster. She wants to see changes in school curricula and more diverse leadership in local organizations, but that requires activists to start working more closely. She said she wanted the day's rally to be a "connector event."
The rally started small in Norristown before making stops in Eagleville, Conshohocken and King of Prussia.
The rally kicked off with a performance by the Aztec group Kapulli Kamaxtle Xiuhcoatl.
Indigenous Mexican dancers Kapulli Kamaxtle Xiuhcoatl kick off an #indigenouspeoplsday celebration in Montgomery County, Pa. pic.twitter.com/f24ptxaGvu

— Kimberly Paynter (@KPaynter) October 11, 2020

The Mexican dancers said they wanted to stand in solidarity with the Indigenous people from the area, which include members of the Lenape Nation, and with Black residents.
"It's a collective fight," said dancer Javier Santamaria in Spanish. "It's time to end the abuse at the hands of police. We only want peace. We want to be respected."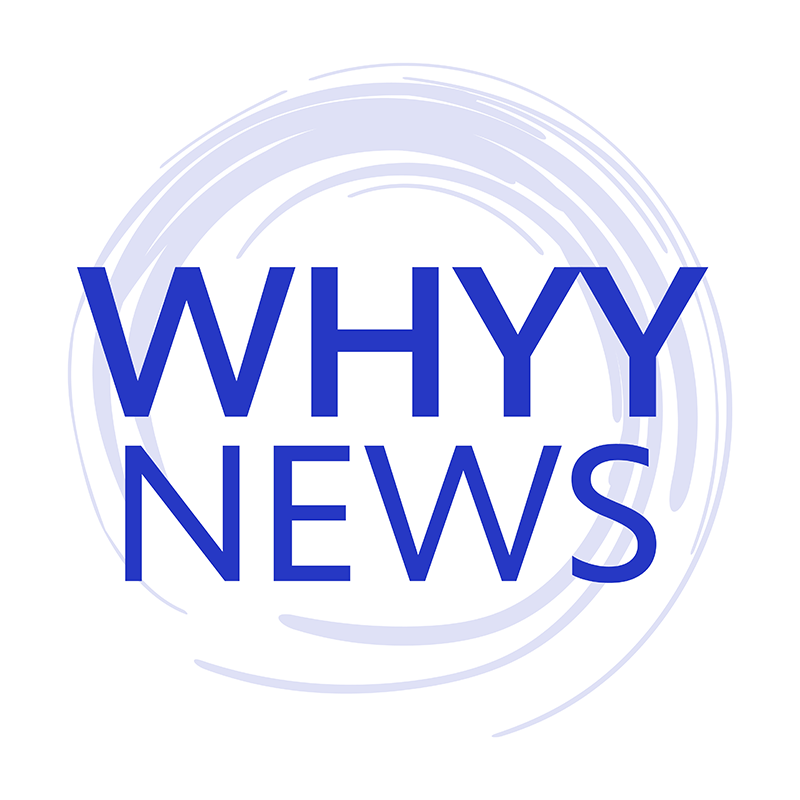 Get daily updates from WHYY News!
WHYY is your source for fact-based, in-depth journalism and information. As a nonprofit organization, we rely on financial support from readers like you. Please give today.