After some backroom maneuvers, abortion-restricting bill progresses in Pa.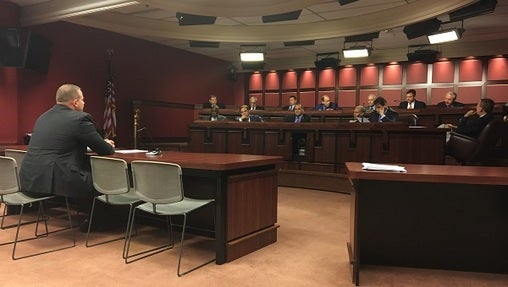 A Pennsylvania Senate committee has kicked forward a bill that would make it illegal to abort a fetus because of a Down syndrome diagnosis.
The measure has a powerful sponsor in Republican House Speaker Mike Turzai. It already passed his chamber, and had been awaiting Senate action for over a month.
The concept mirrors current laws outlawing abortions based on the gender of the fetus, said Sen. Scott Martin, R-Lancaster, another key backer.
"To me, making decisions based on certain perceived traits or classes of individuals is something we should be very worried about as a society," Martin said. "I think we really need to be protective of the fact that we don't engage in anything that's very eugenic."
Opponents, including Sen. Daylin Leach, D-Montgomery, don't buy that.
"This isn't specific to Down syndrome," Leach argued in the committee hearing. "It's an attempt to reduce the availability of women's opportunity to have abortions generally."
The bill's passage from the Senate Judiciary Committee came after some intricate legislative moves on Turzai's part.
Earlier this week, Turzai unexpectedly attached the abortion measure to a seemingly unrelated bill extending protection to children who have been sexually abused. It would compel police to report interactions with sexually exploited children, and it would also provide the minors with long-term housing and counseling, among other services.
Sponsored by Sen. Stewart Greenleaf, R-Montgomery, that measure had seemed to be on track for a signature from Gov. Tom Wolf.
But its path was endangered by Turzai's amendment.
Greenleaf's staff said he ultimately moved Turzai's standalone bill from his committee about a week sooner than planned — but they noted, the senator supported it regardless.
A spokesman for Turzai confirmed that, after Greenleaf passed the freestanding version of the abortion bill, the speaker removed his amendment from Greenleaf's legislation.