ACLU says Pa. police are improperly racially profiling and detaining drivers
The Pennsylvania chapter of the American Civil Liberties Union is suing state police for, it says, illegally turning drivers over to Immigration and Customs Enforcement.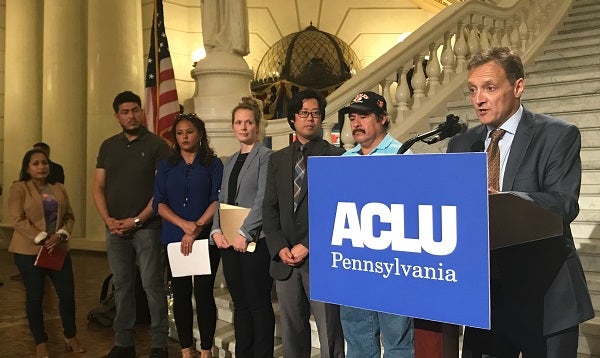 The Pennsylvania chapter of the American Civil Liberties Union is suing state police for, it says, illegally turning drivers over to Immigration and Customs Enforcement.
Lawyers have now added an amendment to a suit filed in April — bringing the total to 10 drivers suing seven troopers.
One of the plaintiffs is Rebecca Castro. Last May she was driving from her Luzerne County home to Maryland, with her now-husband and a coworker. She installs car ports for a living, and was towing a trailer.
A trooper named Luke Macke pulled her over near Dillsburg, in York County. He said her vehicle looked suspicious. And then, Castro said, she had to wait more than two hours while he called ICE and questioned her passengers.
"I was really scared because I knew something was going to happen," she said.
Castro is a U.S. citizen.
But her husband and her co-worker were arrested and put into removal proceedings. Her husband, Carlos Amaya Castellanos, was released on bond.
ACLU Legal Director Vic Walczak, one of the lawyers bringing the case, said Castro's case is just one of many examples of troopers overstepping their authority.
"These are stops where the state police are just on a fishing expedition based on the person's appearance," he said.
Walczak and the other attorneys say it doesn't matter whether their plaintiffs are citizens or not; state troopers don't have the authority to detain people simply because they suspect they might be undocumented immigrants.
"These are not highly technical or complicated legal issues," said John Feinberg, another lawyer working the case. "The actions of the troopers who are defendants in this case and their supervisors in abusing our clients violated basic and fundamental rules."
The incidents detailed in the suit occurred from 2017 to 2018, and the ACLU said most of them happened in south-central Pennsylvania.
Macke, the trooper who pulled over Castro, is one of a few troopers who appear in the suit several times.
He also appears in a story published last summer by ProPublica and the Philadelphia Inquirer, which found that his rate of traffic stops involving Hispanic drivers and passengers was notably high. In 2017 alone, he turned 19 undocumented immigrants over to ICE, but ticketed only two for traffic violations.
Castro said as far as she is concerned, that adds up to "harassment."
"We're not safe," she said. "We're supposed to feel safe with our troopers, with our police officers. They're supposed to make us feel safe, but they don't make us feel safe."
"Maybe," Walczak mused, "that's the goal."
Lawyers for the ACLU and other firms involved in the case said they're not trying to create new law with this suit. They want damages for their clients, and for state police to update their training policies.
In a statement, Pennsylvania State Police Spokesman Brent Miller said the department hadn't yet received any court documents.
He noted that this January, after the release of the Philadelphia Inquirer and ProPublica article and following an inquiry by Democratic Governor Tom Wolf, the PSP released a new policy for officers who interact with undocumented immigrants.
Among other things, it notes that passengers in vehicles stopped for code violations "shall not be asked for identification on the sole basis of determining immigration status and shall not be detained solely for questioning related to their or another person's immigration status."
Asked if the new regulation factored into the ACLU's decision to sue, Walczak said it is a step in the right direction but has "huge holes" and inadequate disciplinary procedures when troopers violate the policy.
"This is a management problem," he said.
In his statement, Miller said the PSP has "trained its members and deployed internal reporting mechanisms to facilitate on-going compliance monitoring."
WHYY is your source for fact-based, in-depth journalism and information. As a nonprofit organization, we rely on financial support from readers like you. Please give today.