Sustainability may be absorbed in FY10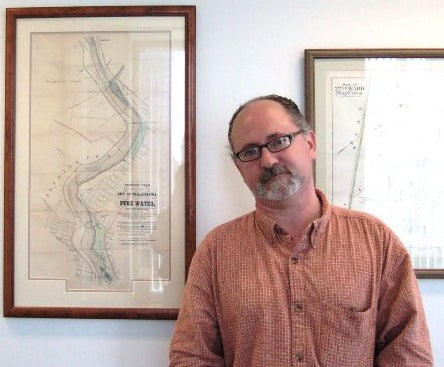 June 2
By Thomas J. Walsh
For PlanPhilly
Who will take on the year-old Mayor's Office of Sustainability once Director Mark Alan Hughes is gone? So far, the official line is that it is undecided, but Hughes said Mayor Michael Nutter has "got a bunch of good options, and I think we'll hear about it very soon."
Hughes, whose last day is June 18th, is currently putting together a work plan to hand off to the Nutter Administration, said the mayor's press secretary, Doug Oliver.
"We do not yet have an announcement to what happens with their portfolio of work," Oliver said, referring to both Hughes and outgoing Deputy Mayor for Planning and Economic Development Andy Altman. For Hughes' department, "At this point it's our responsibility to operationalize it," Oliver said. "We haven't ruled out doing it internally."
That means the Office of Sustainability could stay as it is, or end up absorbed into a previously existing department, such as Parks and Recreation. Under Deputy Mayor Mike DeBerardinis, the department will absorb the Fairmount Park Commission and the city's library system on July 1st, the beginning of the municipal fiscal year.
But Hughes, in an interview, hinted that it could well be that Sustainability goes to the Transportation Department, under Deputy Mayor Rina Cutler – going so far as to call her "in many ways my greenest colleague on the cabinet."
Fiscally, it would make sense. So far, the largest amount of funding allocated to the city from the American Recovery and Reinvestment Act of 2009 (ARRA) – upwards of $400 million – has been targeted at "Transportation and Infrastructure," according to the city's recovery web site, started by Hughes.
In its May 18 press release regarding Hughes' resignation, the city announced the opening of a new position called "recovery officer" (paid for by ARRA funds) to coordinate all recovery activities. This new hire should be in place by Hughes' last day, he said.
Planning and Zoning Code Commissioner Natalia Olson de Savyckyj said she's hoping the department remains as it is – its own entity. ""I like the independence of the 'Mayor's Office of Sustainability' and its ability to reach out to all the different departments," she said.
Hughes calls that ability the "matrix management" approach, which allowed him "to touch every corner of city government and establish relationships with a wide variety of external partners."
"We travel across other people's lines of authority and budgets," Hughes said. "So there's lots of demonstrable power from that particular form, and yet, how do we deepen and institutionalize the implementation of Greenworks?"
The drawback to consolidation, he said, is that sometimes you end up with a bunch of extra work and extra steps that "people aren't willing to fight for." Even at a continued cabinet level position, others have commented, it would be tough for an incoming full-time Sustainability boss to wield the same kind of independence and Nutter-backed mandate that Hughes enjoyed in launching the Greenworks Philadelphia initiative this past year. Hughes, known as someone who would not be sticking around City Hall for very long, also had an outsider's advantage – somewhat like a journeyman all-star quarterback brought in for a single season, for re-building purposes.
"We've been assured by Mark and by Mark's office that the mayor does plan to fill the position and to do it as soon as possible," said Leanne Krueger-Braneky, executive director of the Sustainable Business Network of Greater Philadelphia.
But like many in her circle, Krueger-Braneky has heard many rumors about departmental shifts, including further consolidation. "The bottom line for us is that while we want the position filled, we also know that the Sustainability Director will have to work across departments to get this plan into action. Also, it's very important that the new person have direct communication with the mayor."
As with Altman, Oliver said the administration is weighing carefully the "significant, critical work" done to date, but that the current fiscal woes the city is enduring will not play a part in who to hire (or not hire) – even, in the case of Altman, if his dual roles as head of both Commerce and Planning are once again split.
"Even in tight budget times, I think it's safe to say the administration reserves the right to make sure" the government works at its best, Oliver said, and that the work put in by both men is not abandoned.
'Smart-lucky'
Hughes spoke at length with PlanPhilly late last week about the opportunities and challenges facing his successor. The following is an excerpt of that interview.
Plan Philly: Which direction do you think the mayor will go with the department – to keep it separate with the independence it has now, or become part of another?
Mark Alan Hughes: I would personally expect to see a Mayor's Office of Sustainability, just as a very visible commitment to these issues. But it is also arguably time, as we move from the design phase to implementation, to now think about how we change certain sets of reporting requirements. It's a great opportunity to take advantage of this phase change, this new chapter, to really bring to bear different skill sets – attention to detail and follow-through and priority-setting and all that kind of stuff.
The mayor hasn't announced that yet, but what he has done is promulgate this tremendous Greenworks project which commits the city, and his administration specifically, to 15 very specific targets, calibrated to what would be the end of an eight-year Nutter administration. He could not be more literally committed this agenda.
PP: Which department would absorb Sustainability if the administration went that route?
MAH: The happy truth about where the sustainability agenda is, in this administration, is we find ourselves in a situation where we can make an argument that Mike DeBerardinis, because of Parks and Recreation and even to some extent the libraries, is the perfect person to take on the Sustainability functions.
And that Rina Cutler, because of her commitment and leverage and responsibility for infrastructure investment and transportation planning and relationships with utilities, including one utility we own [Philadelphia Gas Works], is the perfect person to take over the sustainability agenda.
And that Everett Gillison (deputy mayor for public safety), with his pioneering leadership in establishing the nation's first solar thermal hot water facility at a correctional facility, and his deep and ongoing commitment to designing a prisoner reentry program of national significance, is the perfect person to take over the sustainability agenda for the administration.
I could go on. Greenworks is not an instruction manual. Greenworks is a catalog of all the commitments and resources across this government and throughout the cabinet. [Nutter's] got a bunch of great internal candidates, alone, for taking on this responsibility. But I am just giving you my cabinet list of colleagues.
Depending on how the mayor chooses to organize this work going forward, there are other people not in the cabinet who are also outstanding – I don't want to say 'candidates' because I don't even know what the job is until the mayor announces it – who are leaders of national significance on the sustainability agenda. You know, like Howard Neukrug (the city Water Department's head of Watershed management, who Hughes later called "the ancient mariner, who has been out there for years and years talking about this stuff – his time has come!"), and [Planning Executive Director] Alan Greenberger. There are people who are well-positioned to take Philadelphia to the next stage on this stuff.
PP: Are you saying your replacement won't be from out-of-town?
MAH: Taking nothing away from the mayor's latitude on this … you could attract almost anyone from almost anywhere. There are opportunities in Philadelphia that are unmatched. The [Greenworks] framework is a bunch of things that I just stapled together, that already exist. On the other hand, there are more than enough qualified people here. It's really going to come down to the mayor's judgment on how best to move to the next stage.
PP: What's next for you?
MAH: I haven't announced yet. I expect it will have something to do with a campus.
PP: What if President Obama called? Would you be willing to do this on a federal level?
MAH: Uh, no. (Laughs.) I'm at a stage in my life where [time with my kids] before they go off to college is short. My family has been holding quit-and-come-home rallies for the last several months. I can say with complete certainty that I will not be going to Washington, or anyplace else, outside my little 10-block orbit.
PP: What's left to be done before your last day?
MAH: I am furiously checking off my very large whiteboard, which sadly is filled with very small writing. Probably the biggest thing is I need to help produce the Energy Efficiency and Conservation Block Grant application that the city will be making to the U.S. government.
And I wish I was this good a planner – I am not – but the Urban Sustainability Forum will be taking place [at the Academy of Natural Sciences] on my last day, and I'll be speaking there, which of course exactly bookends a year ago when I was making that introductory speech to the Forum. I'm looking forward to giving something a little different than the speech I've been giving two or three times a day for the last six months. I'm also hoping that we will have the announcement and perhaps a presentation by my successor.
PP: Since you introduced your goals last year, the financial world has really been in meltdown. Given what's happened, does the Greenworks project have a better chance of going forward, since maybe our attitudes have shifted for the better? Or is it at a disadvantage because there's not as much money around, and the mayor has to make do with what he has?
MAH: It's a great question. Unequivocally, it is a better position – not worse. It's because of those big changes in the world beyond our control, and small changes operating right here in Philadelphia – in fact, even within the very small box of our own city budget. We could've never made as much progress with many of the things – my favorite example simply being our new target energy budget. For the first time, we will be presenting to every department and every facility – all of our fire stations and libraries and health centers and so on – a budget that will change the incentives that departments and the people who occupy those buildings face. We would've never gotten the traction so quickly.
People talk about "turning the tanker around." We turned like a speedboat, and on July 1st, we are going to completely change the way city government budgets its energy use. We could've never gotten so much traction on that change in the absence of very compelling budget constraints. This is about saving money, right?
It's the beauty of the sustainability agenda that you can pursue and achieve multiple goals simultaneously. When I can appeal to people trying to save money, and at the same time what we are doing is reducing our energy consumption, and having an effect on our carbon footprint, and on and on and on, it's a winner. My strongest allies were the ones most concerned about our budget.
On the complete opposite end of the scale, we at the same time have received this tremendous infusion of resources that's not coincidentally related to the sustainability agenda. But unlike New York two years ago, and Chicago last year, well, better to be lucky than to be smart.
Philadelphia was smart-lucky to be releasing our commitment to these goals during the first year – indeed on the 100th day, as it turned out – of the Obama Administration. So we have got an infusion of resources that have allowed us to capitalize our commitments, and we are doing that.
For a whole bunch of reasons – big reasons, little ones – as well as the kinds of assets [and infrastructure] we've discussed before, things we've inherited that are so well suited to this brave new world we are entering … of all those reasons, but especially some of the financial ones that you raised, Greenworks is the perfect roadmap for dealing with the present.
Contact the reporter at thomaswalsh1@gmail.com.
ON THE WEB:
Philadelphia Recovery site: http://www.phila.gov/recovery/
Concluding the discussion, Hughes urged readers to view the Greenworks video if they haven't already seen it. (It can be viewed here: http://www.phila.gov/green/greenworks/index.html) He called four-minute promo "my happiest achievement in government."