Noting the success of Philly's green scene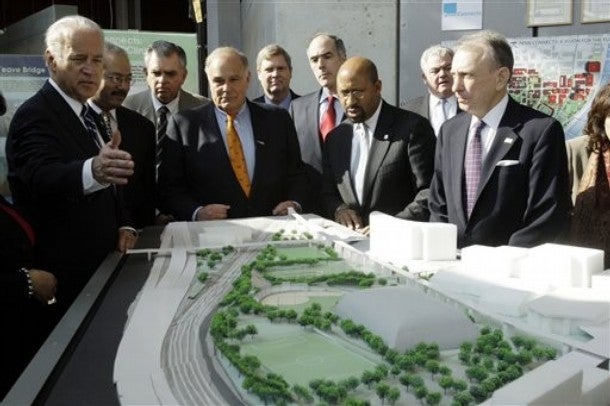 Delegation checks out Penn project earlier this year / AP photo
By Thomas J. Walsh
For PlanPhilly
Philadelphia, which has emerged as a model for post-industrial cities in terms of water management and ambitious sustainability initiatives, will play host this Monday (May 18) to a Congressional field hearing on "green infrastructure," to be held at the Academy of Natural Sciences on the Benjamin Franklin Parkway.
Area U.S. Representatives Allyson Schwartz, Bob Brady, and Chaka Fattah will convene the hearing "to consider the role of federal policy in advancing green infrastructure as a means of revitalizing cities, improving water and air quality, and creating green collar job opportunities," according to a statement issued Tuesday by the Pennsylvania Horticultural Society.
"We decided to do the hearing in Philadelphia to kind of show off what Philadelphia is doing," said Greg Lewis, a policy analyst at the Northeast-Midwest Institute in Washington, D.C. Lewis describes the institute as a kind of support wing for the Northeast-Midwest Congressional and Senate coalitions (with 60 House members and 29 Senators, respectively), both of them bipartisan caucuses.
"It's about the water quality of the Delaware River, but equally importantly, that there are some economic benefits there, and that there's some great things happening in the neighborhoods."
The Northeast-Midwest Institute's Web site states: "The City of Philadelphia is fully engaged in urban greening projects that help control storm water and reduce urban heat island effects."
"Philadelphia is an interesting place to have this type of venue because it's already a success story there," Lewis said. "It's kind of old-hat to the delegation. What we like to do is take the information from this type of hearing and pass it on to other members of Congress, and say, 'OK, here's a success story in Philadelphia – you should try this in Buffalo, or Detroit.'"
The Philly way
"We've done really well, in Washington and around the country and around the world," said Howard Neukrug, director of the Philadelphia Water Department's Office of Watersheds, who will be testifying at Monday's field hearing. "We represent leading the charge in making the connection between green, sustainable cities and clean water."
Neukrug, with degrees in civil and urban engineering, has testified before Congress in Washington numerous times, along with the U.S. Environmental Protection Agency, on many infrastructure and utility management issues. He's also an expert in drinking water quality and treatment.
While the city did not have a cabinet level Sustainability Director until 2008, Neukrug's Office of Watersheds was created in 2000, when he started working with counterparts in Chicago, Portland and Seattle. The effort was to "try to understand how you keep water out of the sewer, value it, and re-use it," Neukrug said. "And if you can't re-use it, how to re-infiltrate it back into the ground so it can be cleaned rather than end up as a waste product."
Testifying at the hearing will be Mayor Michael Nutter, Neukrug, Horticultural Society Executive Vice President Blaine Bonham, Susan Wachter (a Wharton School professor of real estate and finance), Liz Robinson (executive director of the Energy Coordinating Agency), and representatives from American Rivers and PECO/Exelon Corp. Each expert is expected to give five to 10 minutes of testimony, followed by questions from the members of Congress.
Pipe dreams
"There are opportunities in difficult situations," said Lewis. "There's a lot of vacant properties in so many cities in our region. Good things can be gotten from vacant lots – urban gardening, storm water management, the planting of trees."
Two years ago, the Northeast-Midwest Institute started the Revitalizing Older Cities Initiative, a response to the formation of a task force of the same name in the House of Representatives.
"It was to look at the role of federal policy in bringing back cities like Detroit and Baltimore, and to an extent, Philadelphia, because of the loss of population and high vacancy rates," Lewis said.
His organization to date has already held a couple of other "field hearings on what does it take to strengthen these old industrial cities. We kept hearing that water infrastructure was a real problem. Most of these cities have combined sewer systems and their storm water and drinking water pipes are all 100 years old or more."
He had Philadelphia Sustainability Director Mark Alan Hughes speak at a conference on wastewater management, and since Hughes is one of about three people in the world who can make that topic "fascinating," according to Lewis, he was motivated to meet other Philadelphia officials, such as Neukrug.
Around the same time, Congresswoman Allyson Schwartz approached the Institute to ask for help on a bill she was introducing on grants for green infrastructure.
"The best piece that comes out of this hearing is we will be able to collect written testimony and be able to pass that along to other members of Congress," Lewis said. "It's very similar to what happens here on the Hill and that you see on C-Span – where a lot of the benefit will come later."
Green with envy
"A lot of these issues are very, very relevant to Baltimore," said Lewis, speaking of the town he now resides in. "Baltimore has had a strong push for this kind of thing for quite a while, and I think this recent surge of the sustainable approach in Philadelphia probably has made some of the park advocates a little bit jealous. They are implementing a lot of great things on vacant lots" – including an aggressive "tree canopy" program – "but I'm not convinced that our water departments are on the same page."
"Philadelphia was sort of designed to be sustainable," said Christine Knapp, director of outreach for Citizens for Pennsylvania's Future (PennFuture). "We always talk about how Philadelphia has great bones."
She was referring to the enormous Fairmount Park system, the inherent walkability of Center City's grid layout of streets, a transit system other cities would kill for, and other qualities "that help position us in a nice way in terms of recovering from our industrial past."
Knapp made a point that is becoming a sort of badge of honor among Philadelphia's green professionals of late: that sometimes, it pays to be behind the curve.
"That we struggled a bit is now coming into our favor," Knapp said. "That we didn't grow so fast that we forgot what were all about."
Knapp said she'll be interested to see how the problem at the intersection of "shovel-ready" projects that qualify for federal stimulus money and the necessarily long-term nature of sound infrastructure replacement will be worked out.
"Infrastructure shouldn't be done lightly," she said.
In addition to the Pennsylvania Horticultural Society and Academy of Natural Sciences, the William Penn Foundation is also participating.
Recent field hearings have been held in Pittsburgh, on workforce development, and in Buffalo, on the challenges for cities with significant population loss.
The title of the hearing is "Vibrant Communities, Healthy Waters, and Job Opportunities: Exploring Green Infrastructure and the Role of Federal Policy." It is scheduled for Monday from 9 a.m. to 11:30 a.m.

Contact the reporter at thomaswalsh1@gmail.com.

ON THE WEB:
Northeast-Midwest Institute: www.nemw.org
Philadelphia Water Department: www.phila.gov/water
American Rivers: www.americanrivers.org
Energy Coordinating Agency: www.ecasavesenergy.org
PennFuture: www.pennfuture.org
Pennsylvania Horticultural Society: www.pennsylvaniahorticulturalsociety.org
Academy of Natural Sciences: www.ansp.org/environmental/town_square.php