550 apartments, acres of public space planned for Festival Pier site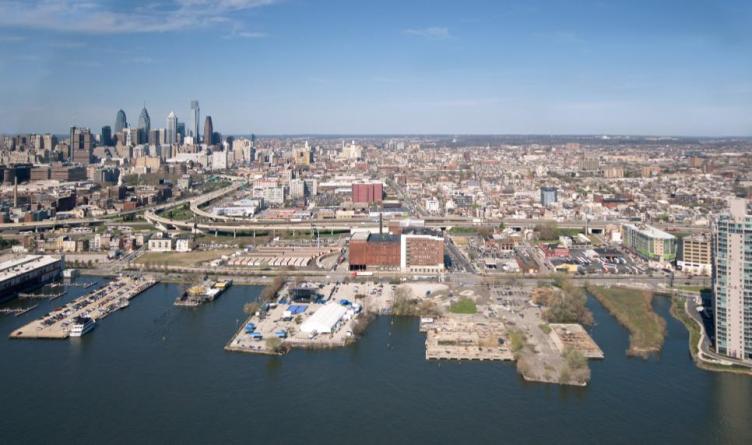 At its quarterly board meeting Friday morning, the Delaware River Waterfront Corporation officially selected Jefferson Apartment Group and Haverford Properties to develop an empty waterfront site at the end of Spring Garden Street, as the Inquirer reported it would earlier this week.
At the meeting, Charles Houder of Haverford Properties said the development would consist of 550 apartment units in a four-to-five story project. It will also have 30,000 square feet of ground-floor retail space, with a public boulevard extending out to the water's edge. The development group will reconstruct the 11-acre site, using sheet piling and fill to create a pad for development and ultimately shrinking the site in accordance with a previous study commissioned by DRWC.
In the end, the site will be 9 ½ acres, with half the area dedicated as public space, designed and programmed by OLIN.
Houder said that the development team's initial proposal was neatly responsive to the Request for Expressions of Interest from DRWC. He said the festival pier property is "the most compelling development site in the city," and the project would be well-positioned to capture the explosive growth of both Northern Liberties and Fishtown. The apartment project will be designed by Cecil Baker, a locally beloved architect who seems to take on a new major project every month or so.
Houder said the project is being designed in accordance with the Master Plan for the Central Delaware. He couldn't share details of the design plans, but said the proposal has "expanded dramatically on those concepts in a way that's caused the site and the concept to really blossom." The developers will meet with the Central Delaware Advocacy Group to discuss the project next month.
In a press release, CDAG Chairman and Northern Liberties Neighbors Association president Matt Ruben said, "With such a generous portion of the site dedicated to public space, and the preservation of a clear view and access to the river down Spring Garden Street, we're delighted that this development will provide a natural extension of Northern Liberties and an a key waterfront attraction for the entire region."
Alan Greenberger, the deputy mayor for economic development, said the project would be a "microcosm" of what the Central Delaware master plan intended: transforming a former industrial site into a pedestrian-oriented mixed-use development.