John Norquist: Knock down I-95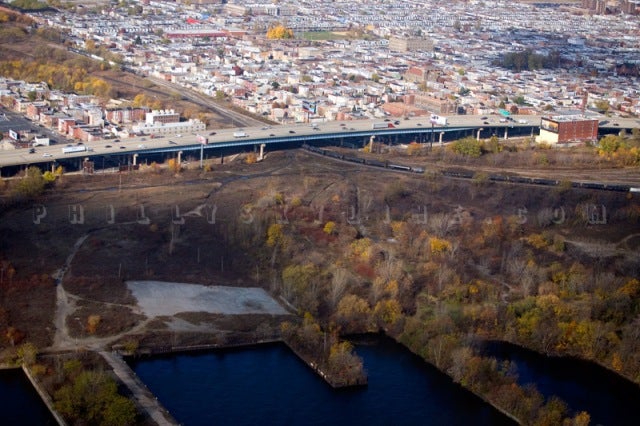 Photo courtesy of Brad Maule, check out his complete portfolio at www.phillyskyline.com/lovecopter
Dec. 3
By Kellie Patrick Gates
For PlanPhilly
At Tuesday night's Ed Bacon Foundation Award ceremony, this year's professional excellence winner had a simple message for Philadelphia regarding I-95.
Get rid of it!
John O. Norquist, president and CEO of the Congress for the New Urbanism and former mayor of Milwaukee, said that when the big highways were built across the country, most city planners – including Bacon himself – found them irresistible.
It was a period of modernism and progress, and many felt big roads would allow Americans to experience the best of both.
In 1937, designer Norman Bel Geddes met with President Roosevelt to extol the wonders of something he had seen in German – the Autobahn.
Bel Geddes told the president the U.S. should have such roads, but according to the European model, they should only snake through the countryside, not the cities. Americans couldn't resist putting them everywhere, Norquist said.
For one thing, lots of federal and state funding meant the highways cost cities almost nothing. "And not having to make stops while driving through the city. It must have seemed wonderful. Almost everybody thought so."
But today, Norquist said, cities around the world have rejuvenated stagnant sections of town by submerging superhighways, or eliminating them all together. Often, those scrapping their highways replace the concrete with physical or visual access to water or green space.
In some cities, such as New York, expressways were not replaced after they began to crumble. "We've built these things in our cities, but the good news is, they are falling down," Norquist quipped.
A raised expressway in New York was replaced with a surface level road, and suddenly neighborhoods like Chelsea boomed, Norquist said.
One of the most successful transformations occurred in Seoul, Korea, Norquist said. Right after the war, on advice from the United States, Seoul built a huge, two-level freeway, parts of which literally covered the city's river.
Norquist showed a slide of former Seoul Mayor Lee Myung Bak, who is now president of South Korea, with his feet dangling in the water and a huge smile on his face. That's because in 2003, Seoul took out the freeway. The city alongside it now seems vibrant. "See how happy he is? When you do good things, you are happy," Norquist said.
Norquist noted that Penn Praxis' vision for the Central Delaware riverfront calls for burying or removing parts of I-95 to gain access to water. Many Philadelphians loved the idea during the 18 months of community workshops Praxis held to assemble the plan. But over and over again, officials told them while it would make for a pretty waterfront, the price tag would be very ugly, indeed.
Norquist offered a new way to calculate cost: Consider the increased property values and less traffic congestion.
Yes, he said less.
Regular surface streets make up something planner types call the street grid. "The street grid is like the wetland. It absorbs traffic flooding," Norquist said. This works for the same reason that allowing natural wetlands to exist is a better flood control than concrete channels, he said. The cars are spread out over many more options, rather than funneled into only one place.
He praised the effectiveness of the Ben Franklin Parkway. "We know how to do this," he said. "It's no mystery."
Norquist was introduced by Bacon's daughter, Elinor Bacon. She said it was fitting he received the award named for her dad, because just like him, he has charisma, bold ideas and a willingness to take risks to make a point.
Norquist said it was an honor to win an award with Ed Bacon's name on it. He praised him for saving parts of Philadelphia when counterparts in other cities were destroyed in urban renewal efforts led by Bacon's contemporaries.
"He did something the other guys never would have done – he saved Society Hill," Norquist said. Norquist showed a slide of a very narrow Philadelphia street – the kind that no car can fit onto. "I'm pleased he saved this," Norquist said. "It doesn't meet any international fire codes." To meet them, one side of the street's homes would have had to go, he said. "In a lot of cities, it would not have survived."
Bacon wasn't perfect, Norquist said, and part of his charm was that he was the first to admit his mistakes. He once advocated for a cross-town expressway over South Street, but in later years, said it would have been a disaster.
But Bacon's love for Philadelphia and all cities came through in the passion he had for his work, Norquist said. He showed a slide of a 90-something Bacon riding on a skateboard to support the sport in Love Park.
Bacon understood those skateboarders add color and life to the city. "He thought, 'So what if it makes little dings in the sidewalk. Let the skateboards skate – it makes it more interesting."
Several students teams were also given awards for their work in re-imagining the Ludlow neighborhood of Philadelphia. To read about the winners' plan in their own words, click here.
Contact the reporter at kelliespatrick@gmail.com
WHYY is your source for fact-based, in-depth journalism and information. As a nonprofit organization, we rely on financial support from readers like you. Please give today.