3rd Federal Bank's Green Branch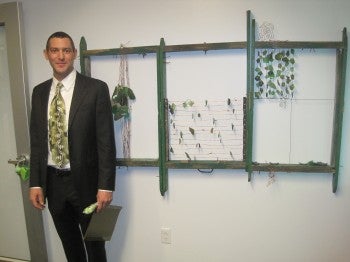 3rd Federal Bank celebrated the LEED certification of its Woodhaven branch with a plaque dedication service Wednesday with the help of the Office of Sustainability.
Slideshow below.
To add to its green design, the branch commissioned local artist Scott Bickmore, founder of the "Monochromes Project" (one color, many artists), to create a work of art, drawing on the color green and made only from found and recycled materials. Adding to the concept of recycled materials as art, artist David Belt (founder of Glassphemy!) has donated green glass from his recent exhibit at the Crane Arts Building.
Created with Admarket's flickrSLiDR.
3rd Federal Bank and Bickmore reached out to students at The Arts Academy at Benjamin Rush and facilitated a once-weekly elective, instructing students in the monochrome technique and motivating them to create their own green projects.
Along with Bickmore's permanent monochrome, a portion of the student artwork will be unveiled during the November 10 event, and remaining works will be rotated throughout the branch for the remainder of the school year.
–Submitted by 3rd Federal Bank