Graphic courtesy of www.phillyskyline.com
In The Zone is a periodically updated listing of large or significant zoning changes, developments, building additions or demolitions to come before the Zoning Board of Adjustment.
Items are listed in order of hearing date. If significant items are missing from this or previous lists (see below), or if you have general news regarding the Zoning Board of Adjustment, please contact reporter at thomaswalsh1@gmail.com. Public hearings are held at 1515 Arch Street, on the 18th floor.
The following items are on the agenda for upcoming ZBA hearings:
Wednesday, July 23, 2008; Noon
The owners of Two Liberty Place, the private, Miami-based America's Capital Partners http://www.americascapital.com seek two use variances in order to erect two 11-foot red "accessory signs" and to re-face one flat wall sign for a major new tenant, Unisys Corp. Unisys is moving its corporate headquarters to the building from Blue Bell, Pa., with more than 200 employees.
The signs would affect the 27th, 35th and 36th floors and are part of the company's lease agreement with the owner, but permission for their implantation was denied by the city's Department of Licenses and Inspections. The re-branding of the iconic Center City building has also prompted litigation in federal court from the owners of some of the new multi-million dollar condominiums in the chevron-capped tower. Jim Kerr, a spokesman for Unisys, told the Inquirer http://www.philly.com/philly/news/local/19594244.html in early June that the company was surprised by the residents' negative reactions to the sign proposals. The story, picked up by the Associated Press, has garnered national attention.
Jerald Goodman, an attorney for Drinker Biddle & Reath, represents the owner.
Wednesday, July 23, 2008; 2 p.m.
The owner of 1214 N. Fifth Street (just north of Girard Avenue), Chris Cinkaj, is seeking use and zone variances to convert six lots and a three-story building into one lot in order to build a five-story structure for more than 20 apartments (each with a balcony) and a roof deck. Cinkaj intends to lease the ground floor as commercial space for several tenants, and seeks zoning clearance for a below-grade 22-car garage.
Wednesday, September 17, 2008; 1 p.m.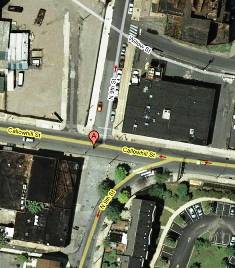 Wing Lee Realty Investment, the owner of 900-902 Callowhill Street, is seeking several zoning and use variances for demolition and a multi-use development. All structures on the lot would come down, with a building as high as 15 stories in their place.
Plans – at least those listed in the ZBA's hearing schedule – include a supermarket on the first floor; a restaurant on the third floor; parking with 185 spaces on the fourth and fifth floors; a health center, meeting rooms and offices on the sixth; a hotel (with 52 units) on the seventh; and 130 apartments on floors eight through 15. There would also be an underground parking lot for 165 vehicles.
Attorney Glenn Hing represents the owner.
– Thomas J. Walsh
Previous In The Zone postings:
WHYY is your source for fact-based, in-depth journalism and information. As a nonprofit organization, we rely on financial support from readers like you. Please give today.