Federal workers stock up at Philly food pantry as they wait for paychecks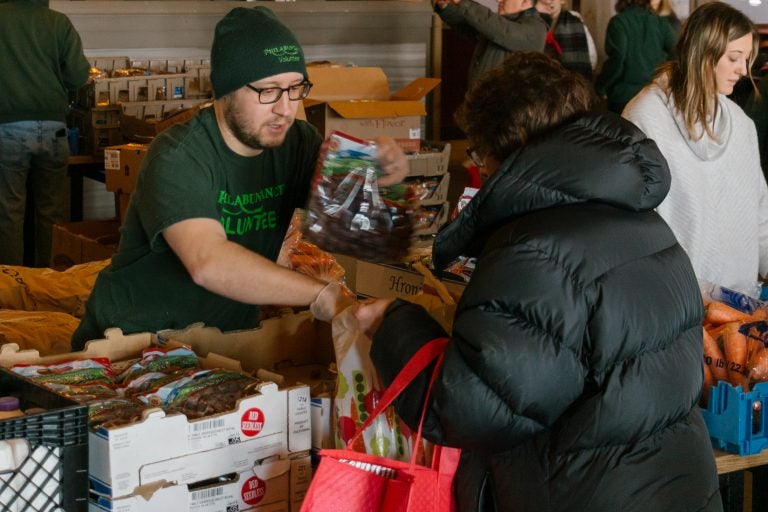 About 30 federal workers attended Philabundance's Emergency market on Wednesday, a food pantry developed in response to the longest government shutdown in U.S. history.
Linda, who declined to give her last name, works for the IRS, and stopped at the market at the Victory Beer Hall in South Philadelphia during her lunch break.
She said she still hasn't seen a paycheck yet, which would reflect the back pay owed to her over the 35 days of the shutdown.
"Some people were on Facebook saying they got it yesterday. Well, I looked last night and it wasn't there," Linda said.
The deal struck by President Donald Trump and congressional leaders on Friday keeps the federal government open until Feb. 15, and the administration has left open the possibility of shutting it down again if they cannot reach an agreement on border security.
Facing the possibility of another federal shutdown in three weeks, Linda said her main concern is having enough money to maintain her car and pay her heating bill, and she's already stocking up on food.
"It's a federal job, so you would never expect this, and you would always expect to get paid. It's a steady job, steady income," she said.
The Philadelphia region is home to more than 45,000 federal workers. Last week, Philabundance reported about 250 workers using the emergency pantry.
"It is difficult to plan for the future, not knowing if government employees are not going to get paid again," said the nonprofit's communications director, Stef Arck-Baynes. "I'm sure it's incredibly difficult for them. It's also difficult for us if we're going to need to find more food assistance for those periods of time."
Philabundance says corporate sponsors, such as Comcast and Campbell Soup Company, as well as individual donors, have stepped in to help workers in need. Philabundance will run another emergency market for federal employees next Wednesday.