New day dawns for the PCPC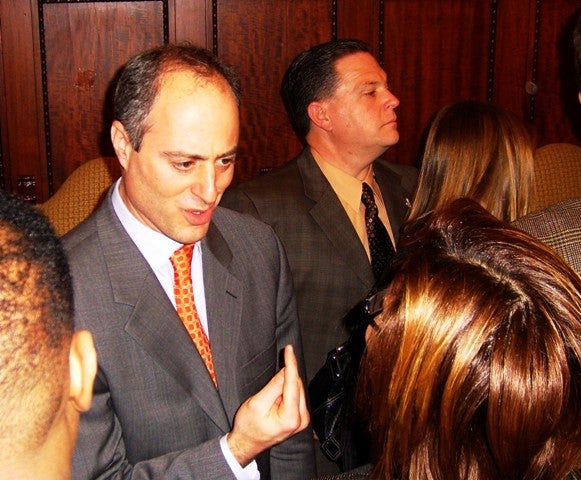 March 18
By Thomas Walsh
For PlanPhilly

With a minimum of ceremony, new city planning and commerce czar Andrew Altman was sworn in as a commissioner Tuesday at the March meeting of the Philadelphia City Planning Commission. He was immediately elected chairman. Architect Alan Greenberger, also a new member, was elected vice chairman.
The monthly meeting's agenda seemed fairly routine: a report on the city's industrial land inventory, a new apartment building in Old City, a few properties the city wants to sell that needed preliminary Planning Commission approvals.
But throughout the meeting, which went nearly three hours without a break, and led by the polite, at-times self-deprecating questions and proddings of Altman, the new commission proceeded as anything but a rubber-stamp city agency.
With a mandate from the Nutter administration and a dual role as director of commerce and deputy mayor for planning and economic development, Altman made it plain that if changes are needed, he and his commissioners will be asking for them.
"The big picture is that the Planning Commission and the staff, we want to be proactive," Altman told PlanPhilly after the meeting. We want to be able to give guidance, he explained, and play a role that is well beyond the scope of the "narrow, technical approval" that was the lot of commissioners in years past.
"All the questions here are, 'What are the planning issues?' The Planning Commission should provide input. What happens in the interim is we'll have a fuller understanding of the [larger] process."
In the meantime, the commissioners, including the new chairman, have a learning curve.
State of industrial sites
Senior city planner John Haak gave an interim report for the Industrial Land Working Group on land policy. Starting last summer, the group worked with the staff of the Commerce Department, the Philadelphia Industrial Development Corp. (PIDC) and a public-private enterprise known as the Urban Industrial Initiative, updating needs and policies.
Haak said that 21 percent of the city's total land is industrial, including rail and airport infrastructure. Not surprisingly, demand for industrial acreage "has decreased significantly within all of our recent memory," Haak said, with a 40 percent drop in industrial jobs since 1990. The concern is that in the same period, the city lost only about 5 percent of its industrially zoned land – disjointed statistics, Haak commented, since demand is down from overall consolidation of businesses, technology that is more efficient, the federally ordered closing of military bases and other factors.
Additionally, Philadelphia has plenty of older, obsolete facilities, an uncompetitive tax structure, and growing owner disinvestment. Haak said that the study, which included "windshield surveys," found that many of the city's remaining industrially zoned lands "continue to be under pressure for changes-of-use." He expects a net decrease in industrial properties over the next 25 years, as the city focuses on "right-sizing" its industrial footprint.
Greenberger wanted to know more about known ground pollutants and estimated costs for cleanup. Altman asked if there was a map pointing to the areas affected by those many lost jobs. "That would be interesting to see that trend," Altman said, and added, "Where are the transition areas for new uses, or where pressure areas are for transition zones?"
Haak said new interim guidelines are needed, and deferred most questions to follow-up reports.
Old City project OK'ed
The commissioners approved a staff recommendation to move an Old City development along to the Zoning Board of Adjustment. Re-drawn plans and renderings for 218 Arch Street were presented in detail, showing a proposed nine-story building with 101 apartments, ground-floor retail and floors for 91 parking spaces.
The project should take at least 18 months to complete, and Acting Planning Commission Executive Director Gary Jastrzab ended discussion of the matter by complimenting the developer and the Old City Civic Association for bringing back a plan that was "much better than the original proposal."
But it was during this agenda item when attendees started to realize things might run late. Greenberger, after listening to variance issues unique to Old City, wondered aloud about the consequences of items like this one coming up "again and again."
"Between now and some idealized zoning future, these kind of proposals are going to show up," Greenberger said, garnering a knowing laugh from a few of the assembled. "They live in the gray zone of what a re-map should be doing and … the economic pressures that the city lives under. We have a little bit of planning to do on the fly here." He added the city does not have the luxury of having development wait until the zoning code changes.
Altman seemed to know where Greenberger was going. On the "process issue," he asked, "What constitutes a justification for variance? What do you have to demonstrate? A physical hardship? An economic hardship?"
The 218 Arch people assured him it was a physical hardship only, but Altman's point was macro in nature. "I think it might be helpful for the staff to do a brief presentation on what constitutes a hardship – how to evaluate it? We don't want to seem completely arbitrary." He said he was sure that the process was likely old hat for the staff, but that "a better understanding for the commissioners is in order."
It was not the last suggestion of the day for the staff – or for members of other city agencies, for that matter – to paint a clearer picture of things for the commissioners.
Act 94
Take the next item, when Richard Redding, city community planning director, briefed the commission on the proposed condemnation of 59 properties for the city Redevelopment Authority via Act 94, a commonwealth creation to aid community development corporations (CDCs) in acquiring vacant or delinquent properties.
Commissioner Camille Cates Barnett, the city's managing director, wanted to know if the historic value of the properties was examined. Redding said he assumed that was a consideration in the various zoning permits or that the Historic Commission had looked at it. Replied Barnett: "Maybe. Maybe not." Redding said that the RDA sought the condemnations on points of blight only, and that development was not considered at this stage, when it was a matter of selling the properties at fair market value.
Amid the discussion, Altman said simply, "If we're not comfortable, we should be." The can of worms was officially open, though discourse remained civil, deliberate and occasionally bemused.
"This is the Planning Commission, not the blight commission," said Greenberger. "Where should our responsibilities be? It might be totally routine. [But] can we ask the RDA, in some summary form, about the eventual disposition of these properties?"
After further back-and-forth, Altman asked if there was a time sensitivity, and if the RDA could give the commission a presentation. Jastrzab replied that he thought the RDA would want to take an approval to its next board meeting.
"There's obviously a problem with this," Barnett said. "Can we just delay this? We're supposed to fix this."
Commissioner Nilda Ruiz said she was fine with approving the condemnations, with reservations. "I would ask staff – not that we want to micromanage – to please give us a plan so we know what is happening" in future condemnation proceedings.
Commissioner Peggy Van Belle, though, wondered, "By delaying, are we part of the problem and not part of the solution?"
After discussion about procedural rules in such circumstances, a motion to table the matter was eventually overturned. Approval of the condemnations was OK'ed, with stipulations from Barnett and Altman.
"The broader issue is what are these properties being used for," Altman said. "The [CDCs] are not as important to us. From a use standpoint, from a planning perspective, we're going to need a lot more information. It's hard to know what it is we're approving. … I will send this message to RDA – the consensus is that this level of documentation is not acceptable."
Barnett said she wanted to know what type of reviews are done when amassing city properties for sale, as well as historic considerations. "I'd like to see the entire process," she said.
A traditional tension
With the theme of the meeting set, the commissioners asked similar questions of other agenda items. Several ordinances authorizing the city to transfer land to the Philadelphia Authority for Industrial Development (PAID), so that PAID could turn around and sell the sites to developers, were approved, except for one.
But is the city "putting the cart before the horse," asked Greenberger, when sells land that might be better planned and better used? Van Belle said the process was practical. PAID is simply trying to sell property to generate revenue through fair market value for the city's general fund, she said.
Barnett, though, agreed with Greenberger on the point. Regarding several properties on North Front Street that the city plans to sell to Tower Investments for $2.4 million, she pointed out that there are adjacent city properties in the area that might be combined with those on the table. "It seems to me that property accumulated together is more powerful," she said.
Altman again said that there were "real planning issues" to be resolved related to the ordinance. It didn't help that the properties fell into a jurisdictional Bermuda Triangle, with community groups and civic associations from Kensington, Northern Liberties and Fishtown all weighing in, with about half of the organizations opposing the planned development that is vaguely described as part residential and part commercial.
A motion to "table and extend" the North Front Street request for 45 days was adopted. (After some confusion, the commissioners discovered there was no real point to a "disapproval" vote, because of zoning and city council procedures. This prompted another request for clarification from the staff.)
After the meeting adjourned, Altman said, "There's always been tension between revenue issues and planning issues." He and Barnett disclosed during the meeting that they both also sit on the PAID board.
What he'd like to do, he said, is change the way things are done on the "front end" with the Planning Commission, so that the process on the "back end" of projects is a smoother ride for everyone involved. There is a major upside for developers in that kind of change, he said. Knowing what Planning expects to see before projects move ahead will save money in the short-term, and time in the long-term.
With that, he echoed remarks he made at the start of the meeting, in accepting his appointment as a new member and chairman. Context in planning and professional planning guidance, "even as we go through zoning reform," was the order of the day, he said.
"I think it's a very important role we see for Planning. Really, in a way, in Philadelphia it is the honored role that it has had," Altman told the crowd. "The major projects we are seeing in the city really need to come to the commission early on, as opposed the end of the process … at the last moment, on the way to [City] Council."
Contact the reporter at thomaswalsh1@gmail.com