$28 million renovation of Sharswood senior apartments underway
Work on the Blumberg tower's 94 apartments in North Phily is expected to be finished in a year. It's part of a $500 million redevelopment of the Sharswood neighborhood.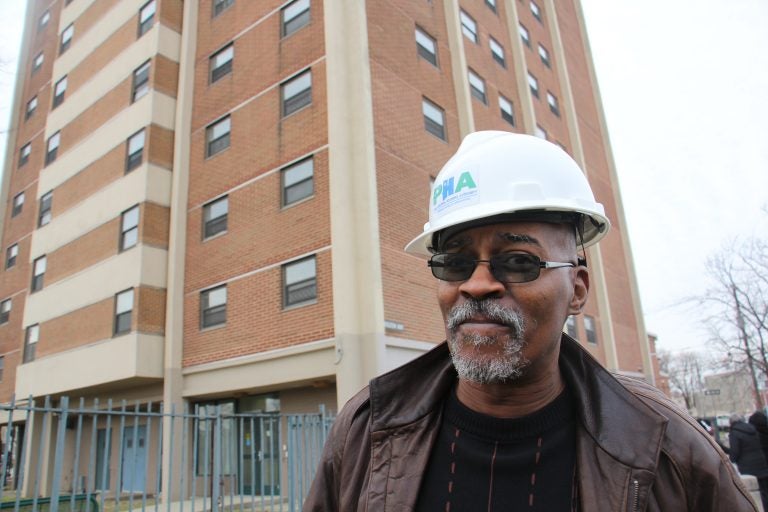 Rupert Alston is ready to head north.
For more than a year, he's been living at Wilson Park Apartments, a public housing complex in South Philadelphia.
Alston – and his 85 neighbors – had to relocate so the Philadelphia Housing Authority could renovate the Blumberg Senior Apartments in the Sharswood section of North Philadelphia.
That day has finally come. A year from now, Alston should be back in the old neighborhood, and he couldn't be happier.
"I've been here so long, it's all I know," said Alston after a Wednesday morning groundbreaking ceremony outside his old home.
All of the senior tower's former residents are guaranteed an apartment at the overhauled building, which will have new bathrooms and kitchens, as well as a new community center, elevators, and central air.
It's the building's first complete makeover since the 13-story tower was completed in 1967.
"We believe that seniors deserve modern, quality, affordable housing," said PHA president Kelvin Jeremiah.
Alston said he thinks the $28 million project will lure some of his former neighbors back to Sharswood, but he won't be upset if they decide to stay put to avoid the headache of relocating again.
"Anybody else that don't want to come back, that's on them," he said. "But I'm coming back."
The upgrades, courtesy of federal and private dollars, are part of a $500 million neighborhood transformation plan led by PHA.
The Blumberg Senior Apartments is the only remaining piece of the Sharswood Blumberg Apartments. The rest of the complex was demolished last spring.
PHA has also started building a new headquarters along Ridge Avenue, which is set to house 400 employees.
This September, Vaux Big Picture High School opened its doors after the agency purchased the hulking property. The School District of Philadelphia closed the old Vaux in 2013 amid budget woes.
The entire 10-phase project is expected to take a decade to complete.
WHYY is your source for fact-based, in-depth journalism and information. As a nonprofit organization, we rely on financial support from readers like you. Please give today.