Some tout Oscars as diversity win, but Philly filmmakers wait for more action
Some Philadelphia filmmakers say it's an exciting time to be a person of color in the industry because Hollywood finally seems to be addressing calls for diversity.
Many headlines touted Sunday's Academy Awards as a big win for diversity in Hollywood because of several noteworthy victories for minority filmmakers.
Two African-American women were the first ever to win in production design and costume design. Hannah Beachler won for production and Ruth Carter won for costume design for "Black Panther" — itself a milestone for African-American films.
Peter Ramsey made history as the first black director to win an Oscar for an animated feature for "Spider-Man: Into The Spider-Verse," which featured the first Afro-Latino Spider-Man.
And Spike Lee won the award for best-adapted screenplay after being passed over for Oscars for more than 30 years.
Cause for celebration
E.L. Wuel, an Afro-Latina, Philadelphia-based filmmaker,  said Sunday's winners show there's a market for diverse stories.
"We have a platform, there is a platform for our stories, and there is an audience," she said. "And there's money there if we tell them well enough."
Rob Buscher, director of the Philadelphia Asian American Film Festival, said it's an exciting time to be a person of color in the industry because Hollywood seems to be addressing calls for more diversity.
"And it's more of a sense that they can't use the same old adage that minority-led films aren't going to take on the box office," he said. "That's no longer the case when you've seen the kind of success we've seen with 'Black Panther' and 'Crazy Rich Asians,'" he said.
Work remains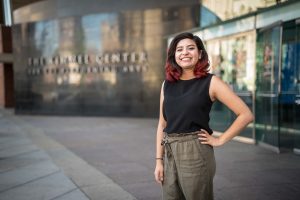 Still, Kristal Sotomayor, another Philadelphia filmmaker and programming coordinator for the Philadelphia Latino Film Festival, said the Academy of Motion Picture Arts and Sciences still has a long way to go, calling the institution classist and elitist.
The academy still seems to recognize minorities as part of a particular type of story, said Sotomayor, citing the award-winning "Green Book" and "Roma."
"Green Book" concerns a black pianist who hires a white man to drive him across the Deep South, while "Roma" is set in Mexico and follows an indigenous domestic worker and a middle-class white family.
"So 'Green Book' told the story of a white savior, and that won best picture," she said. "And what won best director was a film that used an indigenous woman as a prop to tell the story of this white family."
Buscher said he would like to see minorities cast in roles that aren't about their ethnicity.
"I think the point is, until we start to see people of color being cast in roles that have nothing to do with their ethnicity, we'll still be kind of put in these stereotypical typecast roles," he said.
A welcome stage
Imran Siddiquee, a Philadelphia based filmmaker who also writes about race and gender representation on screen, said the most notable thing about these awards shows is the platform it offers for people of color to speak truth to power.
On Sunday, for instance, Spike Lee brought up America's history of slavery and later called on people to mobilize for the 2020 presidential election.
"So that is what feels significant about some folks within historically marginalized communities — who continue to be systematically excluded — occasionally having the opportunity to have the stage at the Oscars," Siddiquee said.
WHYY is your source for fact-based, in-depth journalism and information. As a nonprofit organization, we rely on financial support from readers like you. Please give today.