August 5th – 12th: Dover Comic Con, All-American Day and Creating Whimsical Masterpieces with John Donato
From concerts and movies to special events for the whole family, there is always something to see and do in Delaware. Here are some of our picks.
New Castle County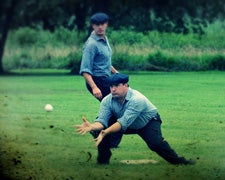 Hagley Museum presents: All-American Day, August 6th
Enjoy a historically accurate nineteenth-century "Base Ball" game featuring Diamond State Base Ball Club vs. Mohican Base Ball Club of Kennett Square. Come early for batting practice and try out some other traditional nineteenth-century games, such as hoop-and-stick and tug of war. Ballpark food will be available for purchase. Be sure to bring your own seating – this game is very informal. This is a Let's Move! event. Activities are included with admission and free for members and visitors to the game only. Hagley Museum and Library, Wilmington.
Shiloh Hill with Matt Wheeler, August 11th
Shiloh Hill, based out of Greensboro, NC, began as a solo project for Nick Wes, and within the past three years has grown into a full fledged, multi-instrumental machine. They have crafted the ability of balancing folk inspired lyricism and melodies with purposefully driven riffs and rhythms. World Cafe Live at the Queen, Wilmington.
Kent County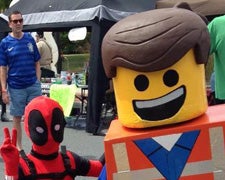 Dover Comic Con, August 6th
Dover Comic Con is a unique FREE festival with artists, vendors, authors, cars, panels, crafts, gaming, fan groups, and more! An indoor & outdoor comic con festival in Dover, Delaware. Beginning at the Dover Public Library in 2013 to help promote our graphic novel collection and just a really cool teen program, Dover Comic Con has quickly grown from 120 teens the first year, in just the library, to over 7,000 attendees of all ages attending a variety of events citywide. Now we have partnered with more community groups to make the event even bigger & better. Dover Public Library.
Brian Richards: Magic & Comedy, August 10th
We love to laugh. Don't you? Of course you do! And Brian Richards uses magic to make people laugh! Brian has been entertaining families full-time for over 20 years and makes over 300 appearances annually! Brecknock County Park, Camden.
Sussex County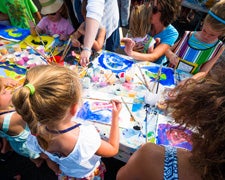 Creating Whimsical Masterpieces with John Donato, August 6th
Renowned local artist John Donato will delight children during his energetic and educational painting class. His art is like walking into a smile factory. Your child will enjoy hands-on learning to create a masterpiece using one of his high-spirited characters and blasts of color for which his art is known. John collaborates with communities, schools, and businesses; anywhere required for others to access this unique creative experience. He is also an accomplished fine artist with works of art collected and enjoyed throughout the world. The Freeman Stage at Bayside, Selbyville.
Zydeco-a-go-go, August 9th
"Laissez Les Bon Temps Rouler!!" or "Let The Good Times Roll!!" with Zydeco-a-Go-Go, the Mid Atlantic's premier Zydeco band. Founded in 1992, this all-star group boasts colorful personnel with decades of experience: bandleader Pete Gumbo, on accordion, piano, and vocals, Billy Baltera on guitar, drummer Bob Holden, on bass guitar Jimmy Pritchard, tenor saxman Bobby Michaels, and Pamela Eshelman on rubboard and vocals. At the heart of any Zydeco-A-Go-Go song is the classic zydeco sound of accordion and frattoir (rubboard) augmented by saxophone, electric guitar, electric bass and drums. Stango Park, Lewes.