2011 Preservation Alliance Award winners
2011 AWARD WINNERS JUST ANNOUNCED!
Detailed listing including all project participants to follow. List currently includes project, honoree, architect.
THE JAMES BIDDLE AWARD
for lifetime achievement in historic preservation
Nick Gianopulos, PE
GRAND JURY AWARDS
Baptist Temple 1837 N. Broad Street, Philadelphia (pictured)
Temple University
rmjm/Hillier
Christ Church Neighborhood House 20 N. American Street, Philadelphia
Christ Church Preservation Trust
Voith &Mactavish Architects LLC
Delaware County Public History Feasibility Study and Implementation Plan Delaware County, PA
Delaware County Planning Department
Fairmount Water Works & Park Sculpture Signage Fairmount Park, Philadelphia
Philadelphia Parks and Recreation
Greenwood Cemetery House at Rush Farms 930 Adams Avenue, Philadelphia
Knights of Pythias Greenwood Cemetery
EwingCole
The Jayne House Delancey Place, Philadelphia
John Milner Architects, Inc.
Le Meridien Hotel 1421 Arch Street, Philadelphia
HEI Hotels
Blackney Hayes Architects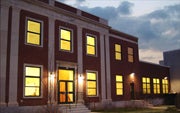 Mercy Family Center 1939 West Venango Street, Philadelphia
Mercy Neighborhood Ministries (pictured)
Brawer & Hauptman, Architects
Norristown Farm Park 2500 Upper Farm Park Road, Norristown, PA
Pennsylvania Department of Conservation & Natural Resources
BAU Architecture LLC
Old Mortality Sculptural Group Laurel Hill Cemetery, 3822 Ridge Avenue, Philadelphia
Laurel Hill Cemetery Company
Kreilick Conservation, LLC
Old Town Hall 512 N. Market Street, Wilmington, DE
Delaware Historical Society
Frens and Frens, LLC
Philadelphia Main Post Office 2970 Market Street, Philadelphia
Brandywine Realty Trust
Bohlin Cywinski Jackson
Presser Senior Apartments 101 W. Johnson Street, Philadelphia
Presser Senior Apartments, LP
JKR Partners, LLC
Richard Humphreys Hall 1837 University Circle, Cheyney University, Cheyney, PA (pictured)
Pennsylvania Department of General Services
UCI Architects, Inc.
SEPTA Regional Rail Stations Improvement Project
Stations: Allen Lane, Folcroft, Clifton-Aldan and Morton, North Wales, Queen Lane
SEPTA
Stenton Avenue Bridge Stenton Ave. over Wissahickon Creek, Whitemarsh Township
PennDOT District 6-0
TranSystems
St. Peter's Churchyard 313 Pine Street, Philadelphia
Historic St. Peter's Church Preservation Corp.
Milner + Carr Conservation, LLC
St. Stephen's Episcopal Church 158 Warren Street, Beverly, NJ
St. Stephen's Episcopal Church
Farewell Mills Gatsch Architects, LLC
Trolley Car Café at the Bathey House 3269 South Ferry Road, Philadelphia (pictured)
Philadelphia Parks and Recreation
KSK Architects Planners Historians, Inc.
Wagner Free Institute of Science 1700 W. Montgomery Avenue, Philadelphia
Wagner Free Institute of Science
Landmark Facilities Group, Inc.
Warden's House 150 High Street, Mount Holly, NJ
County of Burlington, NJ
Regan Young England Butera, P.C.
WHYY is your source for fact-based, in-depth journalism and information. As a nonprofit organization, we rely on financial support from readers like you. Please give today.