The Shambles is rambling anew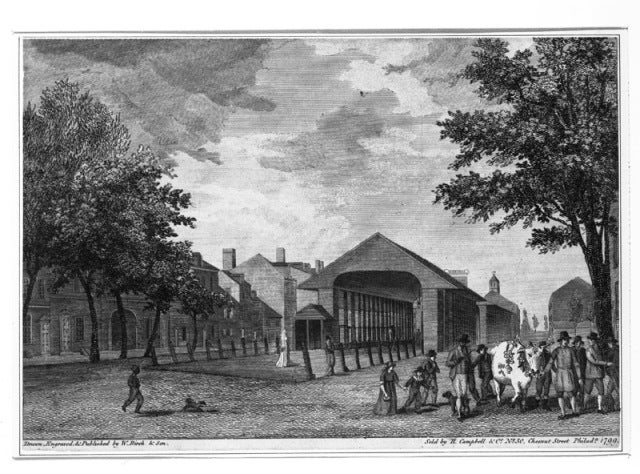 By Linda K. Harris
For PlanPhilly
Headhouse Square, part of the Second Street Market where more than two centuries ago, such bold-face names as Martha and George Washington, Stephen Girard and Dolly Madison once shopped for an array of goods, is back in the grocery business.
Thanks to the Food Trust (www.TheFoodTrust.org), dedicated to creating easy access to fresh healthy food for everyone, Headhouse Square's historic purpose has been revitalized. The Sunday farmer's market celebrated its grand opening on July 22 and will remain in business until Thanksgiving (hours are 10 a.m. to 2 p.m.).
Where farmers from throughout the area now are selling heirloom tomatoes, basil and miniature eggplants, among many other offerings, merchants once offered up freshly-slaughtered beef, salted and cured fish, oranges from the Caribbean, vegetables and other staples, all part of the commerce that filled the shops of Second Street and the stalls of what was also known as the New Market.
The sheds, or shambles, of Second and Lombard and the Head House, completed in 1804, were the practical fruits of a city succeeding and growing. The main markets had been on High or Market Street, but as the populous expanded, the demand for more convenient shopping (yes, convenient shopping!) pushed business south to Second Street between Pine Street and Cedar Street, which later became known as "the hippest street in town," or South (www.southstreet.com). (Meet me on Cedar Street? Just not the same.)
According to the 1800 Philadelphia Directory available at the Historical Society of Philadelphia (www.hsp.org),
Second Street was occupied by a variety of citizens, well-known merchants, hairdressers, toy merchant John Wigglesworth and sea captains such as a Capt. James Cook, who lived at 277 South Second Street. Tailors (they spelled it taylor back in the day), silversmiths, grocers, milliners, druggists, tobacconists and confectioners were also neighbors.
The Head House, designed by architect John Haviland, was completed by 1804 and served as the firehouse.
Merchants such as tobacconists and confectioners were especially dependent on the arrivals of ships at the nearby port along the Delaware River.
Those ships hauled in the deliveries, which, despite the occasional hurricane or lost ship, proved to be a lucrative business.
Bills of lading at the Independence Seaport Museum (www.phillyseaport.org) show that on Feb. 4, 1804, for example, "on board of Brig Concordia," arrived from St. Bartholomew's, there were "3 bags of coffee, two casks brown clayed sugar, eight casks brown clayed sugar, forty-six casks brown clayed sugar, coffee, oranges & limes." Sugar also arrived from "Havanah" on Feb. 13, 1804, the bills of lading show.
Merchants were dependent upon the seaport for other goods as well. On May 18, 1804, a ship arrived in Philadelphia from Bordeaux, France. The bill of lading showed many fine specialty items, for which, one can imagine, the populous eagerly awaited:
"Lute strings, shawls, 2 cases lute strings, one case shawls, one case parasols, one case gloves, Twenty-nine casks claret, Eighty-four casks claret, One hundred & eight pipes Brandy, One hundred half boxes Prunes, Seventy-five hampers Oil, Seventy-five pipes Brandy, Twenty pieces of velvet Shawls, Sixteen dozen Silk Gloves, Silk Stockings."
Ships also brought molasses from Havana, white sugar, sasparella, brown sugar, preserved limes, honey, oranges, pineapples and nuts. From St. Thomas came tobacco, sugar, coffee, molasses, limes, tamarinds, goatskins.
The booze poured in from Cadiz, Spain — brandy and sherry, plus cork. From Halifax, barrels of salmon, shad and oil arrived. And from England, glassware, earthenware, cheeses and pickled mushrooms made their way.
In Archaeology at New Market, a catalogue of a 1978 exhibition sponsored by the Athenaeum of Philadelphia (www.philaathenaeum.org), archaeologist Barbara Liggett writes, "the artifacts discovered during excavations remind us that, above all, 18th century Philadelphia was an English city." Many of the artifacts listed in the catalogue such as "Small English earthenware bowl," are testament to that.
Despite its historical significance, much of the Second Street Market was razed in the 1950s, though the shambles, or shed, and the Head House ultimately were spared.
On March 18, 1956, the New York Times reported that "wrecking crews began the month-long job of leveling the structure this week… Until this month food stalls still thrived at the site where Martha Washington and other famous colonial dames went shopping in carriages attended by liveried footmen."
Were it not for the efforts of historian Margaret B. Tinkcom and a bevy of community activists, the Head House and shambles would have succumbed to the wrecking ball as well. They mounted a campaign touting the historic riches of the area and succeeded in saving them, according to documents available at the Philadelphia Historical Commission (www.phila.gov/historical).
On Sept. 20, 1963, then-major James H.J. Tate led the dedication of the "Restored Second Street Market." It was a Friday afternoon and the ceremony included singing of "The National Anthem" by Officer Vincent Di Napoli of the Police and Firemen's Band, according to the official program on file at the Historical Commission.
While the history of the market area is clearly fascinating, it was not the reason Mary Richardson Graham of Bella Vista recently showed up. Pushing daughter Lily, 2, in a stroller, Graham was thrilled to find a bunch of purslane at one table. Her husband, she said, adores it in salad.
"It's a great market," Graham said. "It has so much selection. Anything you want is here."
And Denise Brown of Center City liked that it was open on Sunday.
"I like to use organic or fresh vegetables. I believe this is the only market open on Sunday, and I work on Saturday," she said after buying a bunch of divinely ruby red beets.
The market purveyors are enthusiastic, too. John and Sherry Jaunsem of Accomac, Va., drive almost four hours to set up a stand of early tomatoes, miniature eggplants and other vegetables, and dried plant and flower arrangements.
They stop on Saturday in Dover, Del., so the whole weekend is devoted to selling what they produce on their 15 acres of farmland known as Sugar Hill Botanicals. Sherry Jaunsem said they do all the work themselves, without a single helper, so 15 acres is plenty. "Anymore than that would kill us," she said wryly.
Her dried-plant arrangements include peanuts, baby artichokes, okra. The only thing in the arrangement that they didn't grow, she said, were the pineapples.
David Adler, communications manager of the Food Trust, which sponsors the market, said the Head House market, the city's 28th fresh food market, is already a success. The Center City Market Advisory Committee searched the city and decided on Head House because of its layout, conducive to selling.
On a recent Sunday, he was on hand to peruse the crowd that moved up and down the shambles, eyeing tomatoes, checking out the squash.
"It is a good turnout," he said. "It's a great turnout for July on a Sunday!"
"People have been very excited," Adler said. The quality and selection of the food presented and the usage of the space, a market for much of its life, is important to the thrill of shopping there, too, he said.
The market even has a history of being open on Sunday. An October 1958 article in the Pennsylvania Magazine of History and Biography, said that "for awhile a market was held on Sundays, but this practice offended the inhabitants of New Market Ward and a group of them petitioned the president and members of the Select Council to have this market discontinued 'not from religious reasons only,' but because the 'morals of the young are thereby depraved in a very alarming degree: on the evening of Saturday the Butchers Boys, dissipated men, and idle women collect, and the Market during the whole night is the scene of every species of riot and debauchery; the people in each side of the street are not only molested by their wicked and vulgar noise but even are prevented from sleeping.'"
Because the workers who were paid on Saturday would not have any Sunday dinner, the council agreed to let the market stay open on Saturday night until 9 for them.
Who knew!
Linda K. Harris is a former writer and editor for The Philadelphia Inquirer. She lives in South Philadelphia.

WHYY is your source for fact-based, in-depth journalism and information. As a nonprofit organization, we rely on financial support from readers like you. Please give today.