State oversight agency has casino concerns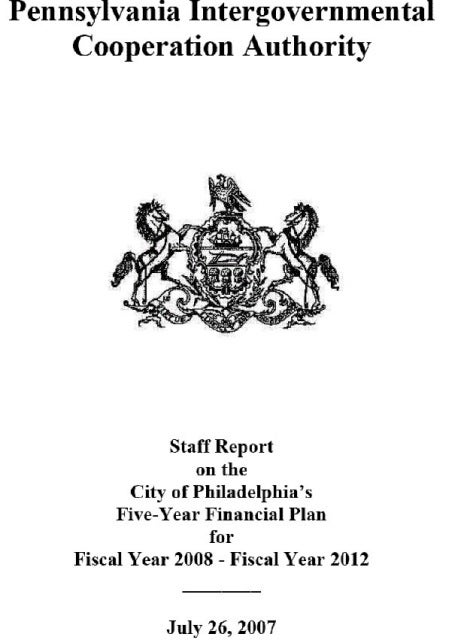 July 26
By Matt Blanchard
For PlanPhilly
Philadelphia government should take a second look at the costs of casino gambling; it's likely to bring expensive social impacts, and it just might leave the city with a net loss of jobs.
So says the latest report of the Pennsylvania Intergovernmental Cooperation Authority (PICA), a state run body that, ever since the city's 1991 budget crisis, has had the power to approve or reject annual budgets of the City of Philadelphia.
On Wednesday, the PICA board voted to approve the city's five-year financial plan (2008-2012), while at the same time issue a report to highlight areas where the city's budget dreams may be too optimistic.
Casino executives, politicians, and tourism officials have extolled the benefits of casino revenues, some $82 million of which are factored into the city's five year plan. Reductions to the city's hated wage tax are also anticipated.
But PICA's survey of academic research on the impact of casinos suggests the city itself may be taking a gamble. Casinos may cannibalize existing businesses, drawing diners from restaurants and moviegoers from theaters. By doing precisely that in other cities, PICA says casinos have managed to create some jobs while causing greater job losses in other sectors of the economy.
Casinos may also cannibalize the existing tax base, by merely substituting casino tax revenue with tax revenue from sales taxes, amusement taxes, etc. And a new crop of 9,000 gambling addicts may incur social and policing costs topping $200 million – over twice the sum of predicted revenue.
Those concerns are detailed in the following excerpt from pages 21-22 of the report:
PICA Staff Report on FY08-FY12 Five Year Plan
GAMING COSTS
Overview
The Administration's inclusion of revenues from proposed new casinos creates two distinct risks. The first is that any delay caused by the need for local legislation or by successful legal challenges would delay the City's receipts of revenues. Secondly, since the Plan includes revenues from gaming, but no City costs, any of the City costs that are likely to be created by the opening of new casinos will create a hole in the Plan.
When the casinos open, they will produce immediate tangible benefits for Philadelphia. The Five-Year Plan includes $70 million in gaming fees and $12 million in payments in lieu of taxes from casino operators. Moreover, casino revenues will also be used to reduce the City's wage tax, helping improve the City's competitiveness with other jurisdictions. At the same time, the casinos will clearly create new criminal justice, social and infrastructure costs for the City and their impact on the economy is not easy to predict.
While economists' views vary widely, the uncertain impact of gaming was summarized by University of Illinois economist Earl Grinols who said:
"Partly in response to negative perceptions, many in the gambling industry have promoted the idea that gambling is an economic development tool, creating jobs for depressed regional economies and revitalizing lagging areas. Gambling experts and even gambling spokesmen frequently suggest that such arguments are exaggerated or false, but their cautions are often ignored by elected officials who face pressures to do what they can to aid their communities and therefore want to believe that gambling will help. It is an empirical matter subject to a number of special factors as to how gambling affects a particular economy."

Costs of Additional Law Enforcement
A recent study conducted by Grinols and David Mustard concluded casinos can impose costs as much a 1.9 times the benefits. In addition, Grinols and Mustard found that in the five years after casinos opened, robberies increased five fold; aggravated assault increased six times on average in each county.

In another study, Grinols put the cost of apprehension, adjudication, incarceration, and regulation at between $20,500 and $45,700 per pathological gambler per year. The Mayor's Gaming Task force estimates Philadelphia's diagnosable pathological population to be as many as 9,450. Even on the low end of the estimated cost per pathological gambler, if Grinols numbers are accurate, the costs would be close to $200 million. Additionally, the likely additional criminal activity would further burden an already overtaxed criminal justice system.

Social Costs
The American Psychiatric Association estimates that 30,740 Philadelphians are at risk for pathological or problem gambling. The City has said that City of Philadelphia Behavioral Health funding will cover the costs associated with gambling addiction, but it is not clear that gambling addiction is a cost that would be covered by CBH. If it is covered, there is a possibility that treatment would be effective for most, but not all, recipients. Minnesota's comprehensive study on gambling treatment shows that recidivism occurs roughly 30 percent of the time and that treatment merely decreases gambling activity, unable to eliminate it. According to Grinols, treatment of pathological gamblers costs state agencies an average of $1,700 per year, with problem gamblers that cost is $670 per year.

Casino Effects on Local Businesses and Labor Market
Casinos directly benefit those they do business with; but they can also draw customers from other businesses. Calvin Kent, Vice President of Business and Economic Research Marshall University said in a recent interview, "It makes a lot more sense if you're going to do gambling to put it in a depressed area." In Chester, Harrah's Casino has spawned modest business growth, as several proprietors filled a needed supply gap.
Casino construction and operation can, but does not necessarily, mean job creation and growth. Of the 16 regressions run in an Illinois study, only three municipalities showed a statistically significant increase in employment or decrease in unemployment. The same regressions indicated that for every job created, local businesses lost one or more jobs. Another study, conducted by the New York Times found that 27 out of 57 counties analyzed experienced a net job loss.

Casino Commitments to Offset Costs
While the potential costs of casinos are substantial, the City has secured an agreement with one of the operators – SugarHouse to help offset some of those costs. The casino's operators have agreed to pay for all infrastructure and security costs on the site. In addition, they have agreed to pay $1 million annually to a Special Services District to help cover costs for programs and improvements in the area surrounding the facility. The Administration is negotiating a similar agreement with Foxwoods. It is unlikely, however, that those agreements will be sufficient to offset all of the costs that new casinos will create for the City.
Read the entire PICA report at: http://www.picapa.org/docs/Plan_Reports/2008_2012_plan.pdf
WHYY is your source for fact-based, in-depth journalism and information. As a nonprofit organization, we rely on financial support from readers like you. Please give today.