Art market skewered in new documentary from Philly filmmaker
Philadelphia filmmaker Nathaniel Kahn skewers the art market with his new documentary, "The Price of Everything."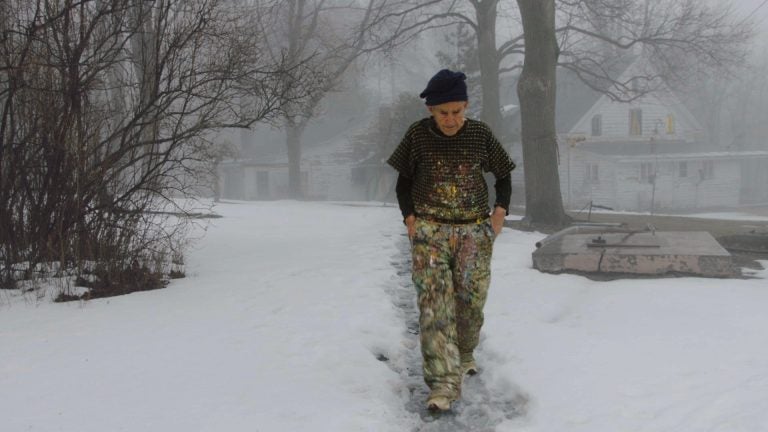 "The Price of Everything" opens with a fast-paced montage of art auctions, where the prices quickly rise through tens of millions of dollars. Over the images is a comment by Simon de Pury, the Swiss auctioneer known for his flamboyant style at the podium.
"It's very important for good art to be expensive," he said. "You only protect things that are valuable."
"The Price of Everything" looks at the ultra high-end art market, where a painting can sell for several lifetimes of fortunes. It was made by the Philadelphia-based filmmaker Nathaniel Kahn.
"We start with this comment that you have to place monetary value on something to make us care about it, but then nobody wants to say how much they paid for something," said Kahn.
Kahn traveled among the cognoscenti of collectors and dealers, then into the working studios of artists, and found a gaping chasm between them.
The Chicago apartment of collector Stefan Edlis is full of art worth many hundreds of millions. While many collectors are shy to reveal what they paid for art, Edlis is more than happy to share with Kahn a spreadsheet of the art he has bought and sold over the decades.
Compare that with Larry Poons, an artist who had a "hot" moment in the 1960s with his dot paintings. He turned his back on the art market when it demanded he repeat the same thing. Poons now lives in a farmhouse in upstate New York, hunchbacked, dressed in a paint-splattered sweater, toiling at large-scale abstract paintings in the barn.
"Art and money have no intrinsic hookup at all," he says to Kahn's camera while making a point that price and value are not related. "They've tried to make it like that: The best artists are the most expensive artists."
"Is that not true?" says Kahn.
"How could it be true?"
"The Price of Everything" focuses on just a small sliver of the greater art world, but one that gets the most attention: the part that generates dizzying numbers at the auction block, the part where art is leveraged as a financial asset.
"Art and money have always had a connection, but the degree it is being used as a financial instrument today is far beyond anything that's ever happened before," said Kahn. "The idea, that we have to put a price tag on something to care about it, is fundamentally flawed."
'Don't buy anything with a fish'
Kahn, whose 2003 documentary, "My Father, My Architect" about Louis Kahn, was nominated for an Academy Award, is not immune to the thrill of the ups and downs of the art market. He follows Amy Cappellazzo, chair of Global Fine Art at Sotheby's, as she prepares for a multimillion-dollar auction. Cappellazzo admits her favorite part of the job is not the gavel, but "the chase and the deal" of brokering collectors and artworks behind the scenes.
She sits with Edlis in his apartment, reviewing catalogs. They go over the informal rules of art collecting.
"Red is better than brown," said Edlis. "And don't buy anything with a fish."
Cappellazzo adds that lobby art is a death knell. Once an artist's work is installed in a building entrance, it's over. "It will never get out," she said.
Kahn is using the rarefied world of extremely rich collectors to say something about the art world as an expression of our current values. The film traces a tension between the excitement of buying something — having something that's yours and yours alone — and the conditions artists must nurture in order to make good work.
"There is something fundamentally at odds between the world of commerce and the world of creation," said Kahn. "There is something fundamentally at odds, but everything in our current society would make you think they are not."
"The Price of Everything" screens Oct. 28 as part of the Philadelphia Film Festival, then opens for a theatrical run on Nov. 2. HBO will show the film Nov. 12.
WHYY is your source for fact-based, in-depth journalism and information. As a nonprofit organization, we rely on financial support from readers like you. Please give today.