Here for the Drama: Sanditon, Season 2 Episode 4
☕  Get the tea on your favorite PBS dramas with our recap newsletter, Here for the Drama. Subscribe for free. 💌
Dear reader,
If you thought the Midsummer Fair was filled with drama, just wait for Lady Denham's garden party!
We begin this week's story with Alison and Carter's romance. Carter is chasing down Lennox to ask for his permission to propose to Alison. And Alison is chasing down Charlotte to get her approval for their whirlwind romance. Charlotte doesn't approve, of course, but how is she going to put a stop to it?
While Carter has lied to Alison, Tom is also lying to Mary — AGAIN. He promised her no more lies last season! We were all there! I mean, we were on the other side of the screen, but we were witnesses. What will Mary do when she finds out this time?
The controversy continues down the street, where Georgiana finally has the answer to why Sidney was in Antigua: A man — yet to be named — questioned Georgiana's moral character, alleging she was unfit to receive the inheritance. Readers, did any of you guess that as the reason why Sidney was traveling? Mary tells Georgiana she must live her life in a way that they can't say she's immoral, because it's always on the woman to live up to society's high standards. But Georgiana is tired of society and of trying to fit in. She agrees to let Lockhart paint her, but the session — "I'm not asking you to bare your skin, Ms. Lambe, but to bare your soul!" — ends with all argument and no art.
Over at Colbourne's, Charlotte is attempting to teach Augusta the cotillion — a country dance you might say was a predecessor of the square dance — and casually mentions to Colbourne that they "need a gentleman." Oh, that it were that easy to break Colbourne. He says no, but then he says yes to taking Augusta to the garden party? Let your hems down, girl! It's time to get dressed up!
There's no party invite over at Clara's country cottage though, where Esther is pleading with her to care for little George. (Downton Abbey, anyone?) But Edward also knows about George now, and has a scheme up his red sleeves.
Finally: the garden party. There are three conflicts competing for most disastrous: First, the cake — the very, very sugar-filled cake — that Lady Denham asks Arthur, then Georgiana, to cut. Neither will because of the sugar boycott — then every guest returns their plate too. Her face filled with emotion, Lockhart asks to draw Georgiana again. She agrees, he steals a bottle of wine and they wander off together.
Second, the proposal. Literally everyone is telling Alison not to marry Carter because they've all figured out that he wasn't at the battle he says he fought in. But love truly is blind, and Alison storms off, to boat away with Carter. Carter proposes, Alison accepts. But then Alison falls out of the boat. And Carter does not go in! He doesn't even try! Cut to Alison, soaked, on the shore, with Fraser, also soaked — and Carter still trying to row himself back in. Finally, finally, Alison gets it.
Third, the archery competition. Lennox and Colbourne are each aiming to win the Silver Arrow, but both hand off their final shot to Charlotte. Charlotte shoots for Lennox first and hits the bull's eye. Then she shoots for Colbourne and… completely misses. Readers, is this a sign? Or an unfortunate mistake?
Til next time,
Christine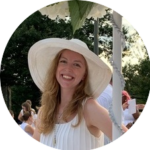 P.S. Did you stick around to watch the teaser for next week? Charlotte confronts Colbourne with: "I must know who you are!" We must know too! What secrets will we find out next week?