SEPTA considering an end to transfer fees as part of bus system overhaul
It's empty buses like the 150 why SEPTA's bus ridership has fallen 33 million, or 17 percent, over the last five years.
Listen
5:36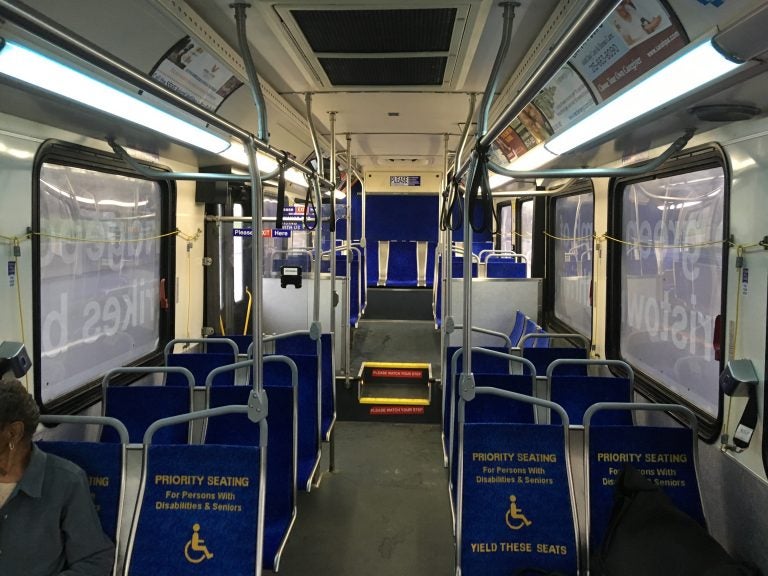 Your standard SEPTA bus comfortably seats 40 passengers, with standing room for many more.
The typical 150 bus carries less than four. The direct line between the Plymouth Meeting Mall and Parx Casino in Bensalem is SEPTA's least-ridden route. It's five trips to the casino and seven trips back to the mall average just 42 riders a day. On a recent Friday, there was just one passenger to Parx, and no one besides the driver and a reporter heading back.
That's pretty common, bus operator Derek Howell said after arriving at the casino. On rainy days like this one, the bus is usually barren. When the weather's nice, he'll get a small group of senior citizens on their way to work the slots.
"I don't pick up anybody that's going to work," said Howell. "This bus is like a casino bus, like those buses going to Atlantic City. This is like that for them. And it's a whole lot cheaper because [seniors] ride for free."
Unsurprisingly, route 150 also ranks as SEPTA's worst-performing route, financially speaking. In transit-funding language, the Plymouth-Parx line carries an operating ratio of just 8 percent, way below SEPTA's average rate of around 29 percent. That means taxpayers subsidize 92 percent of the cost of running the 150.
It's empty buses like the 150 why SEPTA's bus ridership has fallen 33 million, or 17 percent, over the last five years. Ridership peaked in 2012, with 189 million trips that fiscal year. Last year, it had fallen to just 156.2 million. Meanwhile, ridership on SEPTA's rail modes has mostly remained flat or even gone up.
In response to the cratering figures, SEPTA last year brought in Jarrett Walker, an influential transit policy consultant who has consulted other cities, including Houston, Baltimore, and Indianapolis, on their bus systems. His assignment: to consider the pros and cons of a complete bus network reevaluation. SEPTA isn't ready to publicly release the report Walker prepared but the agency says the consultant gave the idea of an overhaul a green light.
This summer, the agency will take the first steps towards a redesign of the 126-route system — starting with a search for additional planning consultants to help its staff handle the two-to-three year-long remapping process. The agency hopes to begin work in earnest early next year.
The choice was relatively simple. "We can do nothing, or we can make changes," said Rich Burnfield, SEPTA's deputy general manager. "The null alternative is not a good place for SEPTA, for the city, or for the region."
Right now, nothing's been decided yet — besides the fact that SEPTA wants to improve its ridership numbers. Some routes might change, others might not, and others still might disappear completely. Almost everything about how SEPTA allocates its 1,500 buses across the five-county region — where they go and how many they run — is on the table.
Burnfield said SEPTA would likely look to beef up service on nights and weekends. "As the economy has moved from a Monday-through-Friday, 9-to-5 type of business operation, [to] now seven-days-a-week, it is a good time to look at [off-peak] service levels," said Burnfield.
Just how comprehensive the redesign will be may come down to a single dollar. That's how much SEPTA charges for a bus transfer ticket. At least, for now.
"The fare policy and a transfer fee impact the kind of network you can design, and so making a decision about a transfer fee would affect our eventual network redesign," said Jennifer Barr, SEPTA's manager for long-range planning.
From one-seat ride to one-fare ride
Many transit agencies don't charge transfer fees, which discourage riders from taking more than one bus to get somewhere. So, instead, SEPTA tries to provide direct, one-seat rides between destinations. Eliminating transfers would allow the transit agency to rethink completely how the bus system works.
"It changes it from the hub-and-spoke network where everything is trying to reach a downtown, or a health center or some big employer, into more of a grid network where you have a variety of choices," said Barr. "So, not every single bus is trying to get to the one major destination."
That won't work if riders have to sit around too long between buses. And if they have to do so outside in bad weather or an unfamiliar neighborhood, they'll be even less willing to wait. SEPTA won't know if it can work until it starts the network reevaluation in earnest.
In theory, though, rather than running one bus that goes north, another that goes east, and another that runs northeast, SEPTA could run just the northern and eastern routes, shifting the buses from the northeastern line to beef up service on the remaining two.
If SEPTA can pull it off, a gridded bus network would mean faster, more frequent and more reliable service for most riders. But there will be some losers — to pull off a grid network effectively, SEPTA will need to shrink how many areas it covers. That'll make some commutes worse, and service to some farther-flung areas may go away completely.
Even with the exact destination still undetermined, SEPTA has already garnered praise for the direction it's heading in.
"The idea of getting rid of the transfer fee is a huge improvement in itself," said Jon Orcutt, advocacy and communication director at Transit Center, a nonprofit transportation advocacy group.
To improve ridership, SEPTA will look to run more between dense residential areas and job centers. But that's easier said than done. While Center City and University City both have large concentrations of jobs, most of the region's population works in the suburbs. Philadelphia contains just 26 percent of the region's jobs.
The Delaware Valley's imbalance toward working in suburbia wouldn't be too bad for SEPTA if the jobs were contained to just a few dense commercial centers, but the Philadelphia region ranks as the fourth most decentralized in terms of employment, per a 2013 Brookings Institution paper on job sprawl. Employers are fairly evenly spread out, making it difficult to serve efficiently with public transit.
SEPTA's not the only transit agency facing a ridership slump. Bus ridership is down in nearly every city across the nation. There are a number of factors at play. Transit ridership tends to be a lagging, counter-cyclical economic indicator — after the economy starts to improve, people are more willing to spend their money on cars, parking, and gas instead of usually cheaper public transportation options. And after a period of relatively high fuel costs, gas prices have declined. Ride-hailing services like Uber and Lyft have also increased competition for butts-in-seats — a recent study from UC Davis researchers suggested that between 49 and 61 percent of ride-hailing trips replaced taking transit, biking, or walking. Add in the fact that, besides piecemeal tweaks, most bus networks, like SEPTA's, haven't been redesigned in decades to address shifts in urban living and employment patterns, and you have a recipe for low ridership.
Some transit agencies have been quicker to respond to the nationwide plunge in passengers. SEPTA officials say they're looking to follow their examples.
"You really need to listen to your customers"
Houston saw "two dramatic changes," to its bus network, said Kurt Luhrsen, Metro's vice-president of service planning. "Greatly expanded weekday service, and a grid-like network with more frequent routes running every 15 minutes or better most of the day."
Houston started its redesign with eight months of community outreach, convening a group of 120 riders, drivers, civic leaders, business owners and planners to ensure that Metro and its bus network consultants, including Walker, understood how the city used and relied on transit. Only after that did they sketch out a redesigned bus system, which underwent further rounds of stakeholder and community feedback before the Metro board ever saw it. Luhrsen urged SEPTA to take the same approach.
"You really need to listen to your customers and your stakeholders on what they want," said Luhrsen. "Just because we went to a frequent grid here in Houston, doesn't necessarily mean that's what the people in Philadelphia want."
Maryland Transportation Authority Administrator Kevin Quinn echoed that advice. The MTA debuted its redesign of Baltimore's bus system in June, also moving toward a Walker-inspired grid-like bus system with increased frequency. "It's a really big undertaking, and I think community involvement, community outreach, [and] working with elected officials is going be key to success."
After months of planning and designing, both cities made the switch overnight, changing dozens of routes serviced by hundreds of buses going to tens of thousands of bus stop signs over a weekend.
"We treated it like a hurricane," said Luhrsen. "We actually set up our emergency management center, and staffed it for twenty-four hours a day with folks from planning, operations, safety, customer service, social media."
Both cities offered customers free rides for a few days after the switch, so no one confused with the new routes had to pay for getting on the wrong bus. And in the weeks after, the transit agencies made tweaks to the new routes in response to customer feedback.
SEPTA officials held up both Houston and Baltimore as models they seek to emulate in terms of approach, if not any specific outcome. "There is going to be a lot of stakeholder outreach to our constituents," said Burnfield. "[Not just] the professional constituents that we work with day-in, day-out, but also riders in the community. We want to make sure whatever changes we make are meeting the needs of our customers."
SEPTA's got an ally already in City Hall. "The Administration [of Mayor Jim Kenney] will be deeply involved in this work both in terms of concept development and coordinating with stakeholders," said Mike Carroll, deputy managing director of the Office of Transportation and Infrastructure Systems (OTIS) and SEPTA board member. "Of course, we will give careful attention to the thoughts and concerns of City Council members, as we come to terms with how different neighborhoods and different types of transit riders would be affected by any given concept."
SEPTA and the city showed a commitment to listening to rider feedback earlier this year when the transit agency introduced a new bus route connecting Grays Ferry and Brewerytown through University City, providing residents of both underserved yet growing neighborhoods with a one-seat ride to the city's second-largest employment hub. A response to rider demand, the new route was redesigned several times to reflect neighborhood concerns.
In Houston, the network redesign has been hailed as a success. Bus ridership increased 7.5 percent in the first year. It stayed flat the year after, but that's a win compared to the downward trend nationally.
The picture's a little bit more mixed in Baltimore. While Quinn points to a number of positive metrics — on-time performance up seven percent crashes down 20 percent — ridership has declined 6 percent since BaltimoreLink began. Quinn says goosing ridership figures was never their goal — unlike Houston and SEPTA.
After paying the consultants and other one-time costs, SEPTA expects the network redesign to be budget neutral. Houston's overhaul cost $25 million to design and implement, including updated bus stop signs, maps, and the free bus trips. Houston also simply runs more buses now, raising annual operating costs around $12 million, or four percent. Baltimore spent $135 million, but that included the construction of designated bus lanes and implementing transit-signal prioritization on a few routes.
For now, the network reevaluation will stick just to the transfer policy and how SEPTA deploys its existing bus fleet, said Burnfield. Off the table are other service improvement ideas like all-door-boarding (for quicker passenger pick-ups) building new bus-only lanes, and cracking down on bus-slowing traffic violations like double-parking.
Orcutt thinks those are ideas SEPTA should pursue. "Especially in a congested, older city like Philly, you're going to have to give the buses some room to move if you're going to make them more attractive, and keep those frequent schedules on track."
But Orcutt understands that's asking for a lot beyond SEPTA's control. "In fairness to SEPTA, bus lanes and traffic enforcement are not in their powers."
In Philadelphia alone, those efforts would require the Philadelphia Parking Authority, the Police Department, city's Streets Department, and PennDOT to all cooperate. Add in the suburban counties and municipalities, and you're talking coordination among hundreds of government entities.
Separate to the bus network overhaul effort, OTIS is looking to expand upon the recent success of the Roosevelt Direct bus, which has seen a 14 percent ridership over pre-existing service on the Boulevard. The Roosevelt Direct is an "enhanced bus service" — there are fewer stops and the specially-branded buses use transit-signal prioritization, a technology that gives buses more green lights. At SEPTA's city council budget hearing last week, Carroll said OTIS wanted to explore similar services on other major thoroughfares like City Avenue and Delaware Avenue.
SEPTA officials have no preconceptions about this process being easy or pain-free. But they hope their comprehensive look at the system will help mollify those who might see their particular service reduced.
"This is an all-hands-on-deck kind of process," said Barr. "You need everybody to get on board with it, [but] it really is very exciting. It's a lot of work it's a heavy lift, but it's really worth it."
WHYY is your source for fact-based, in-depth journalism and information. As a nonprofit organization, we rely on financial support from readers like you. Please give today.