Breaking down the basics of bariatric surgery with Penn's David Sarwer
Listen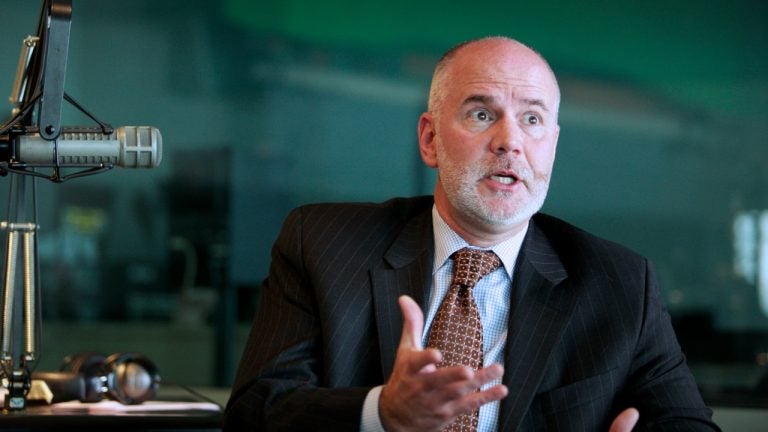 Even with surgery, there's no magic bullet for weight loss.
To find out about the challenges of getting a successful weight-loss surgery, we sat down with Dr. David Sarwer, a professor of psychology at the University of Pennsylvania's Perelman School of Medicine and asked him some basic questions about the procedure
Bariatric surgery doesn't work for all patients, why do you think that is?
The surgery is not a magic bullet. Patients will sometimes think that this is the easy way out. There is absolutely nothing easy about this at all. Patients who undergo bariatric procedures, regardless which kind, are going to be on the most restrictive diet they've ever been on, because they're only going to be consuming maybe 1,200 to maybe 1,500 calories per day for the rest of their lives. And if they don't do that and they don't follow those dietary recommendations, and they give in to the temptations of our toxic food environment, they really put themselves at risk for regaining their weight.
What makes a patient suitable for bariatric surgery?
So many patients who come for bariatric surgery are what I call "dietary veterans"—they've done all the programs. And what we really encourage patients to think about, and where we think the surgery is most powerful, is that it really limits your ability to eat those larger portion sizes. There are ways to out-eat these procedures. Some of the most common ways involve consuming what we call "soft solid foods" or "liquid calories." So, if you're going to a coffee shop and getting a large mocha Frappacino…whatever, and consuming that several times a day, you're consuming 300-400 calories in that cup of coffee. The unfortunate reality, as we've come to learn in the last few years, is that almost all barriatric patients regain about ten percent of their weight within the first five to ten years after surgery. And the evidence now tells us that somewhere in the neighborhood of 20 to 30 percent [of patients] regain a significant amount of weight within the first five years.
What are keys to success for patients?
We make sure that patients have realistic expectations of what the surgery can do for them, the changes that they need to make, and one of the most important things is to make sure that the timing in their lives is right. It's important that you're doing this at a time when you can really dedicate time and energy to taking good care of yourself. How can you make these changes and make the post-operative diet a priority? That's really the key. As you start your day, you should know, "Here's when I'm going to have my lunch, here's my snack, here's my dinner," as opposed to making those decisions on the fly, because when we do that, it often leads us to the higher-calorie foods.
It sounds like we can restrict what fits into our stomachs, but it sounds like most of this is 'in our heads'?
Some of this is definitely in our heads, but some of it is how we interact with our environment. You live in an environment where food is readily available, and our environment has really spun out of control in that way. I think about the library at Penn, and the fact that it has at least one, if not two, coffee shops in it. But when I was an undergrad, you weren't allowed to bring any food and drinks into the library at all. Clearly, we have food available to us day in and day out, and so if we're really not mindful, we end up overeating and over-consuming without sitting behind a Wawa eating a half gallon of ice cream.