Low-performing school rebounds with academic rigor, investment in teachers
Listen
4:42
Laurel is a rough little rural town.
The municipality of 4,000 residents near Delaware's southwestern tip is surrounded by watermelon farms and chicken houses. There's no other industry in town to speak of, and the nondescript Main Street is mostly deserted at noontime on weekdays.
So it's no surprise that more than half of Laurel School District's nearly 2,500 students live in poverty.
Superintendent Shawn Larrimore, who took over in 2015, was once one of them.
"I believe we have five federally subsidized housing units in Laurel," Larrimore told WHYY.
"And certainly poverty is a disadvantage. I don't care what you say. But it doesn't have to be the end all, to close off someone from a successful life, a successful career."
That's easier said than done in distressed Laurel, whose schools have long been among the lowest performing in Delaware.
Nowhere was that more evident than at Laurel Middle School, where in 2015 barely one in seven students were proficient in math on state standardized tests. In English less than three in 10 were up to par.
The historically poor showing had led then-Governor Jack Markell in 2014 to declare Laurel Middle a so-called Priority school along with five high-poverty schools in Wilmington. The schools were given about $1 million apiece and told to improve or face teacher firings, leadership changes, or even possible closure.
But Larrimore preaches that economic distress shouldn't be an impediment to improvement, and tries never to miss an opportunity to instill that attitude in students.
"Students who come from low-income housing units, I tell them it can be done,'' he said. "It definitely can be done because I've done it. You've just got to take advantage of the great equalizer, which is education."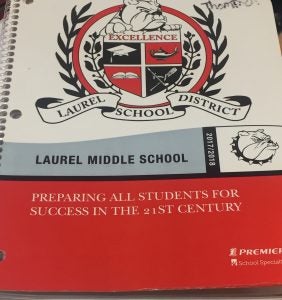 So Laurel went to work, and the results speak for themselves. While Wilmington's Priority schools have languished, proficiency at Laurel Middle has increased dramatically in two years.
In Math, 14 percent were up to state standards in 2015 but in 2017 proficiency rose to 38 percent.
In English, 29 percent were proficient in 2015 but in 2017 that figure was 48 percent.
Principal Rick Evans predicts continued gains in this year's tests.
Susan Vanderslice, who has two children in the district, said she stuck with Laurel even when other families chose to go to Sussex Tech, other schools outside the district, or a charter school.
"My husband and I never lost faith,'' Vanderslice said. "There were some down parts within the district then and a lot of people would even ask why would we continue to keep both of our children here.
"We never wavered. We always had faith that the district would improve. And it's shining. Now it's superior."
Rigor in the classrooms
So how did the lowest performing school in this distressed agricultural community rebound?
Many trace the origins as far back as 2010, when the district sought voter approval for a tax increase to pay for three new schools, including the middle school.
The first attempt failed by nearly 200 votes, but the district tried again and won by 14 votes.
Recalled Larrimore: The referendum was like a civil war around here."
Shakhan Toppin, a police officer and parent in the district, said many neighbors opposed spending more for new schools.
"I had friends who were like, 'No, no. The property taxes are going to go up.' At the time it was just the economy. The thought of having to pay more taxes, that's not encouraging. But this has been a great investment."
The new middle school and high school, which share a sprawling building, opened during the 2014-15 school year.
That's the same year Larrimore became superintendent and Evans was moved from principal at the high school to head the middle school. The two got cracking on an intense and focused route to improvement.
"One of the big things that we've focused on was what does our instruction look like on a daily basis here,'' Evans said. "Does it have the big three that we're looking for? Which is higher order thinking, use of graphic organizers and student collaboration. Are they talking to each other, are they organized in what they're doing and is it rigorous? Is it grade level?"
Evans decided to focus on teaching students to meet the standard expected in the state's Smarter Balanced standardized tests. He stressed that while a key goal is to do better in the test, teachers aren't giving them test questions in class.
"We don't teach to the test. We teach to the standards,'' he said. "The test is based on standards but what we do is provide on a daily basis the rigor that they are going to see on that test."
The former college baseball player added that he's "a firm believer in the old sports analogy that practice should be harder than the game and we've kind of embraced that motto here."
Students were nervous at first but adapted quickly.
"Everyone was kind of scared,'' recalled seventh grader Mirta Angel Gabriel. "We were like, 'Oh my gosh. Is this too hard for us?' But we got the hang of it. We had to do a lot of adjusting for ourselves. We had to start thinking out of the box. We couldn't think of the simpler. We have to go higher than that."
Teaching the teachers
Evans and Larrimore and their staffs also decided to invest more resources into the heartbeat of every school — the teachers.
"They're the constant in the room from year to year, day to day,'' Evans said. "So we wanted to put money to making them the best teacher they could be."
Professional development meetings are held every morning and educators from the University of Delaware visit periodically to work with teachers on curriculum and strategies designed to get the most out of students.
Amy Handy, an English teacher, said the experts have taught and inspired her to be better.
"A lot of them are retired educators who are at the top of their fields,'' Handy said. "They come in and work with the math and the language arts departments and basically they are taking a look at our curriculum and lesson plans. They are coming in and adding any new innovation to it. So it has allowed me to grow tremendously, just by having this time, this collaboration."
Alison Travers, a project manager for UD's Academy for School Leadership, says Laurel's approach could be a model for other struggling schools to emulate.
"The neat thing about this partnership is that the school and the district really bought into a common plan. There was one mission: to turn around Laurel Middle School,'' Travers said.
"Everyone understands what their focus is educationally, academically, and behaviorally and everyone is working hard to make that mission happen."
WHYY is your source for fact-based, in-depth journalism and information. As a nonprofit organization, we rely on financial support from readers like you. Please give today.