Iraq veteran overcomes war injury to race in Wilmington Grand Prix
Told he might never walk again, Wilmington's Iraq vet Brian Tibbits will tackle the Monkey Hill Time Trial as part of the Wilmington Grand Prix bike race this weekend.
His bike tires slipped as Brian Tibbits made a practice run up the steep, cobblestoned incline of Wilmington's Monkey Hill Friday morning. After a week of rain and a forecast for more storms this weekend, Tibbits said he expects the weather to offer a more challenging race course than usual.
"I just don't feel like I'm going to push it as hard and as fast as I can … I just want to stay safe," he said after assessing the conditions.
But even riding his bike — let alone riding competitively — is something Tibbits's doctors thought he might never do.
He had just become a Wilmington Police officer when he was called up to serve in Iraq with the 8th Marine Regiment out of Camp Lejeune, North Carolina. Just a few months into his deployment overseas, a Humvee he was driving ran over an IED that detonated and left him with spinal compression fractures. He was evacuated to a hospital in Germany.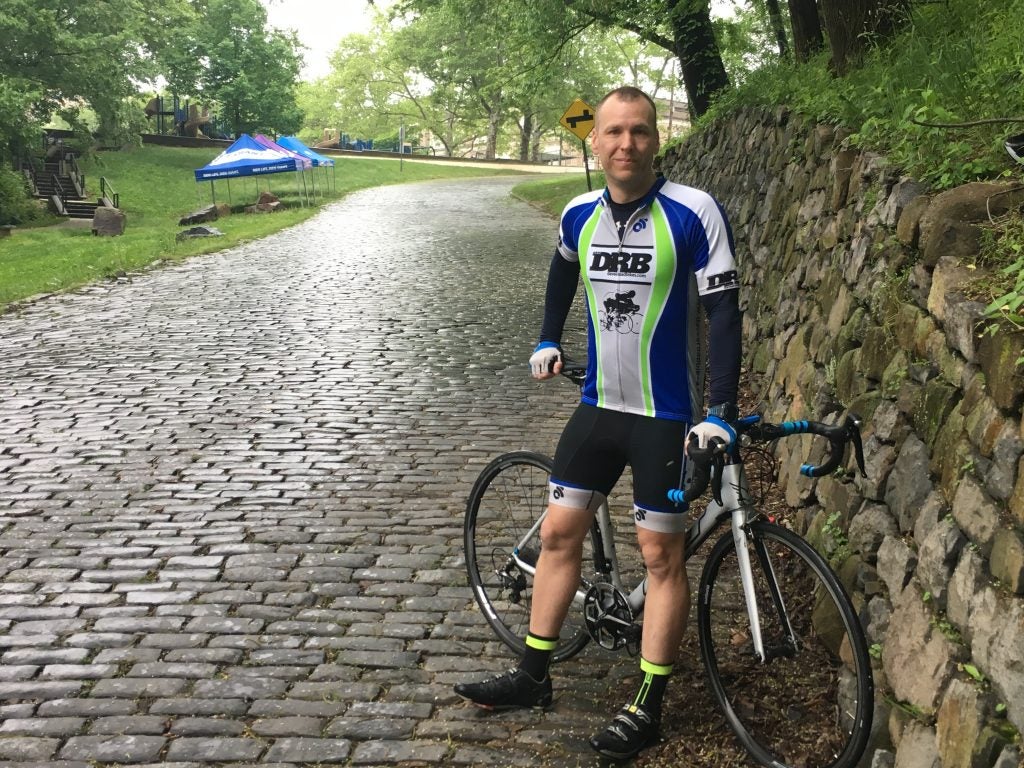 "The doctors of course were trying to figure out what's going on, they're telling me, 'Just be prepared to never walk or run again, you're probably looking at a career-ending type of injury.' And that was really hard to digest," Tibbits said.
He took that initial prognosis as a challenge he was determined to overcome.
"It created a more of a burning desire to get out there and overcome that other barrier, that stigma that you might have when people hear that you have some kind of injury," he said.
Now Tibbits has progressed well beyond just walking. He's competed in bike races and triathlons in the region. "Just because you don't succeed at something, or if something is very challenging, just work at it," he said. "Don't give up. It's when you stop trying is when I would consider it as a failure."
His latest challenge is the Wilmington Grand Prix's Monkey Hill Time Trial. The 3.2-mile race against the clock takes professional and amateur racers through Wilmington's iconic Brandywine Park along the now-swollen Brandywine River. The race's namesake hill is made up of cobblestones that can make for a bone jarring ride.
Tibbits said he hopes his riding can inspire others to keep fighting to overcome whatever challenges they may face.
"If you're at your rock bottom or not, you can still always rise above that. It's kind of like what you do from that point in recovering is what really determines what kind of person you are and what you are as far as character and what you can or can't do," he said.
Tibbits now works as a constable at A.I. DuPont Hospital for Children in Wilmington, providing security for patients, employees, and families.
WHYY is your source for fact-based, in-depth journalism and information. As a nonprofit organization, we rely on financial support from readers like you. Please give today.