Eagles fans give jerseys — and Foles — another chance after Wentz injury
Eagles coach Doug Pederson has confirmed that star quarterback Carson Wentz has a torn left ACL and will miss rest of the season and playoffs.
Listen
2:00
Chris DiCerbo's lives somewhere at his family home in Bay Head, New Jersey, awaiting an excavation.
Paul Verdi wears his every Sunday, compelled by a curse he cannot break.
Kevin Lancaster was so scarred by the experience of buying his, he typically wears it only when he's alone — and he refuses to buy any others.
And Tyler Kern's sat in the upstairs closet at his house in Warminster, Pennsylvania, until late Sunday, while he was glued to his television watching a crucial contest between the Philadelphia Eagles and the Los Angeles Rams.
"As soon as Wentz went down last night I ran upstairs … and threw on my Nick Foles jersey," said Kern, a recent Drexel University grad, with a chuckle. "They showed Nick Foles' goofy face on TV, and I knew I had to go get it."
In a sport where fortunes turn on cracked bones and snapped muscles, the Eagles saw their fate take a crushing turn Sunday afternoon. With three minutes and 55 seconds left in the third quarter in their tilt against the Los Angeles Rams, Carson Wentz stretched toward the end zone and was met there by a sandwich of Rams defenders. When the dust cleared, Wentz had torn the anterior cruciate ligament (ACL) in his left knee, a blow that will sideline him for the remainder of the season, the Eagles announced Monday.
Through the first 12 and three-quarters games of their season, the 2017 Philadelphia Eagles had been a freight train of positivity. Based largely on the revelatory play of 24-year-old Wentz –the Birds' irrepressibly upbeat and undeniably talented quarterback — Philadelphia had the NFL's best record and its first realistic shot at a Super Bowl title since at least 2008.
Wentz's injury could become the latest snake bite for a franchise haunted by what-ifs and close calls. The Eagles won their third and final championship in 1960. Since then, they've lost two Super Bowls, dropped four NFC championship games, and endured soul-crushing, season-altering injuries to star quarterbacks Donovan McNabb and Randall Cunningham.
There is, though, a possibility — however slight — that Wentz's wound will open the door to an unlikely, uplifting comeback story.
Encore performance
That's because Wentz's backup is Nick Foles, a former Eagles quarterback once touted as Philadelphia's future before poor health and poor play consigned him to a backup role. Foles was the last quarterback to lead the Eagles to the playoffs, a feat he accomplished during his stellar 2013 season. Foles suffered an injury of his own the next season, was traded the following off season, and played erratically after the trade.
This season, Foles landed back in Philadelphia, his blazing star now diminished to a faint glow. For the Eagles to salvage this promising season and deliver the city its long-awaited Super Bowl title, the former headliner will have to take up where the franchise's current "it" boy left off.
And so, around the Delaware Valley this week, those hardcore fans with the foresight to save their Nick Foles paraphernalia get to dust it off and wear it anew. Like zombies, Foles jerseys have risen again, emerging from their moth-balled graveyards.
Chris DiCerbo, a student at Rowan University, texted his mom on the Jersey Shore to see if she could find his in their new house. He hasn't worn it since they moved, but he figures he could use it now for the playoff run.
"I'm hoping she'll find it," DiCerbo said. "I need to wear it."
Kevin Lancaster of Marlton, New Jersey, bought his Nick Foles jersey four years ago, shortly after the University of Arizona product threw a record-tying seven touchdowns in one game. It was Lancaster's first jersey purchase, made "in a sort of euphoric haze."
The euphoria cooled off with Foles' play, and now Lancaster calls the jersey the "most unwise investment" he's ever made.
"It was the first jersey I bought, and I've been too embarrassed to make a similar mistake again," he said.
Lancaster still wears the uniform, but typically when he's alone in his house. One such occasion came Sunday, when Wentz went down.
"I was watching the game wearing my dumb Foles jersey when it happened," Lancaster said.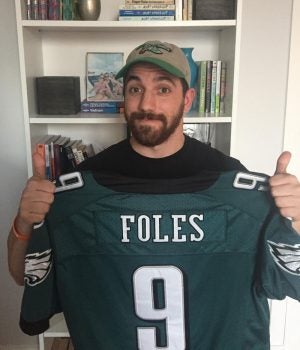 Paul Verdi, a Philadelphia transplant living in New York City, was also wearing his Foles jersey Sunday, but not totally by choice. Verdi has what his friends call "the jersey curse."
Every time he's bought an Eagles jersey, the player flames out. Wide receiver Terrell Owens started well, but ultimately tore the locker room apart with his strong personality. Defensive end Jerome McDougle was shot in an armed robbery, one of many calamities that derailed a once-promising career.
After Verdi bought Foles' jersey and the quarterback faded from glory, Verdi's friends forbade him from buying the uniform of any current player. He wears the Foles shirt because it's the only one he has left with any connection to the current team.
When Wentz went down Sunday, Verdi's friends flooded him with text messages asking if he'd overstepped his bounds and purchased a forbidden Wentz uniform. He swears he hasn't, but the Wentz injury, while sad, does afford him a rare opportunity.
"I'm excited I get to wear a jersey with pride a little bit again," Verdi said. "Hopefully I'll get a few more head nods when I do go to the stadium."
It could happen
Verdi believes in Foles.
"I do think he's one of the best backup quarterbacks in the league. If not one of the best," Verdi said. "I think we can do some damage in the playoffs."
Though few would expect Foles to deliver the Eagles a title at this stage in his career, he wouldn't be the first backup to lead a championship charge. Jeff Hostetler of the New York Giants and Kurt Warner of the St. Louis Rams both took over for injured starting quarterbacks and led their respective teams to Super Bowl titles. And, back in 2001, an early-season injury to Patriots quarterback Drew Bledsoe opened the door for a little-known backup who would go to give New England its first championship.
That backup's name? Tom Brady.
Still, most Eagles fans know it will be tough for any backup to fill Wentz's role and carry the Birds past the league's top teams.
"It's hard to see us getting all the way to the Super Bowl without Wentz, but man I'd love to see it happen," said Lancaster. "I'm sure Nick Foles would, too."
At the very least Lancaster's Foles jersey is in vogue — proving once again that fashion, and quarterbacks, are cyclical.
WHYY is your source for fact-based, in-depth journalism and information. As a nonprofit organization, we rely on financial support from readers like you. Please give today.