'The Craftsman' and another craftsman's new play (Lantern Theater Company)
Listen
2:14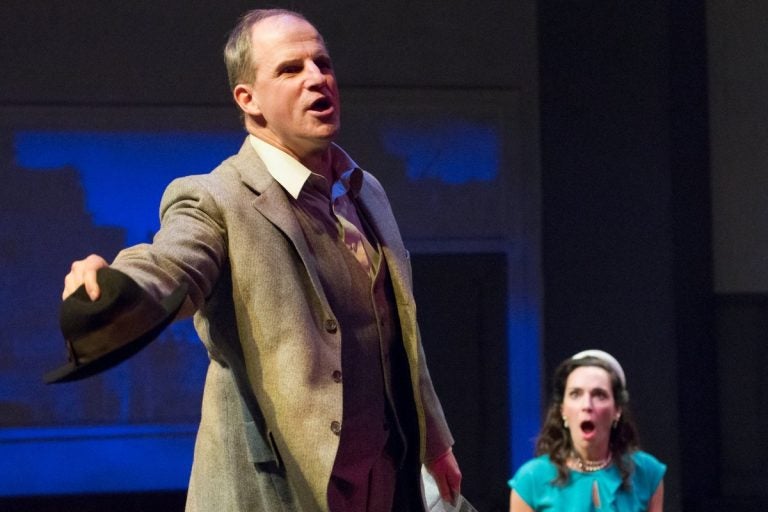 I haven't seen everything that Bruce Graham, the prolific Philadelphia playwright, has written — 14 of his plays are published and about a dozen are not. But I can say that "The Craftsman," in a stirring world-premiere production from Lantern Theater Company, has to be among the very best of them.
This commission by Lantern, under the stage company's initiative for new work, is a seamless piece of writing with easily believable dialogue, no questionable plot twists and no coincidences to buy into. It goes from A to Z without stumbling or looking back. It's also proof that real life can be at least as strange as fiction. "The Craftsman" is a true story, told with Graham's flourishes that turn the tale into riveting theater.
In a season already ripe with new plays, Graham's stands out for its bold plot colors, but also for more subtle hues he uses to provide characters with nuance. If I sound like I'm turning Graham into a painter, that's appropriate. "The Craftsman" is about a Dutch painter named Han van Meegeren whose arrest for treason as a Nazi collaborator was a cause célèbre just after World War II.
Van Meegeren — played fittingly by Anthony Lawton as an arrogant opportunist with a mission and a nagging need for recognition — was a visible artist in the Netherlands, but never treated with much respect by critics. He also became an art dealer. During the Nazi occupation of the Netherlands he sold a painting, through another party, to Hitler's right-hand marshal, Hermann Göring.
Göring was apparently ecstatic to have the painting, of Jesus with an adulteress, believed to be by the great Dutch master Johannes Vermeer, hanging in a place of honor at his home in Germany. After the war, authorities traced the provenance of the work to Van Meegeren, and the provisional Dutch government arrested him for selling the Nazis a national treasure of the Netherlands.
That would have been the end of Van Meegeren, except for one detail: His accusers, eager to upbraid and punish any collaborator after an occupation that left many Dutch people starving and freezing, didn't have it right.
If you've never heard of Van Meegeren and think you'll see "The Craftsman," don't go running to the Internet to look him up. It won't ruin the play if you do — M. Craig Getting's muscular production stands assuredly on its own. But not knowing the details will make "The Craftsman" a more surprising experience.
One of the reasons Graham many have been drawn to this little piece of European history is the involvement of a gargantuan but eminently fallible critic, so revered that people are said to have called him The Pope, not always kindly. He was also real — Abraham Bredius, played self-confidently by Paul L. Nolan.
Van Meegeren's life, at least in the play, is driven in part by a deep hatred of Bredius. When the two men argue after Van Meegeren stakes out Bredius in front of his house, Graham scripts a sharp and heartfelt interchange about issues between artists and critics that will be relevant, probably forever. Far be it from me to go around bad-mouthing colleagues, but if you're going after a critic, Bredius is a good choice. History, clearly reflected in "The Craftsman," backs me up here.
You can call this a revenge play — several of the characters want it, almost as a form of redemption for the way the war changed them. That is particularly true of the prosecutor, a character meticulously performed by Ian Merrill Peakes, who comes to realize that his sudden power in the post-war government is not really a blessing, and that the art dealer he's demonized has his own scars.
The cast is terrific — in addition to those I've cited, Dan Hodge plays a Jewish prosecutor whose reverence for the law trumps the national thirst for getting even; Mary Lee Bednarek is the somewhat mysterious wife of Van Meegeren; and Brian McCann plays a number of smaller but important roles. Meghan Jones' scenic design allows the several settings of the play to morph easily from one to the other and in the intimacy of St. Stephen's Theater, we all feel like the jury during courtroom scenes in the play's second half. When the courtroom action began, I was still unsure about being for or against Van Meegeren. But already, I was eagerly voting for the play.
---
"The Craftsman," produced by Lantern Theater Company, is extended through Dec. 17 at St. Stephen's Theater, to the rear of St. Stephen's Church, at 10th Street between Market and Chestnut Streets. 215-829-0395 or lanterntheater.org.
WHYY is your source for fact-based, in-depth journalism and information. As a nonprofit organization, we rely on financial support from readers like you. Please give today.