Can you actually learn a new language through an app?
Definitely maybe, research suggests. What doesn't help: conjugation, and odd bits of practice conversation no one ever uses.
Listen
6:41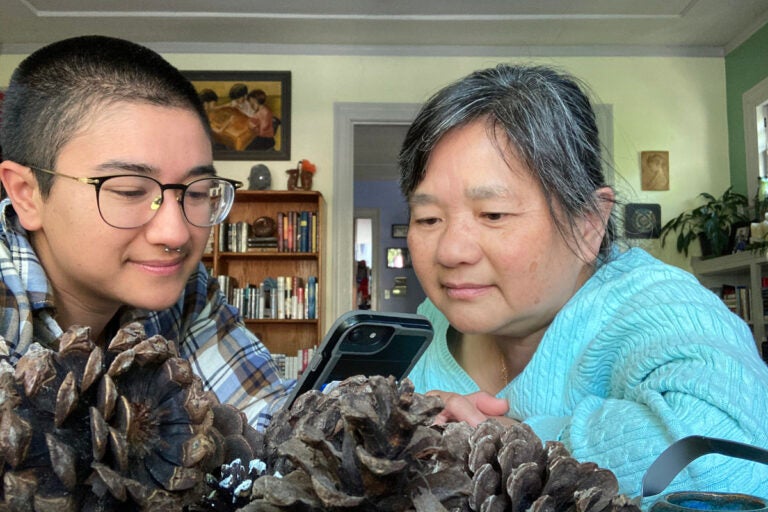 This story is from The Pulse, a weekly health and science podcast.
Subscribe on Apple Podcasts, Stitcher or wherever you get your podcasts.
---
I come from a mixed family: I'm Chinese, Mexican and Italian, but not fluent in any of the corresponding languages. I've taken a couple years of Mandarin at school and speak very minimal Spanish.
During the pandemic, my mom, who is Chinese, and I have challenged ourselves to learn an entirely new language. We picked Arabic on an app called Mango Languages, which is free from our local public library.
You repeat words, eventually phrases, and hear the vocabulary used in a dialogue. Over the course of a month, we made very little progress. And I couldn't help but wonder: Could it ever lead to fluency? I decided to investigate.
I started with Shawn Loewen, a professor at Michigan State University and head of the Second Language Studies Program, and asked him if language apps really work.
"Sort of?" he replied.
There hasn't been a ton of research done, in part, Loewen said, because academics view apps as "gimmicky." He's done two small studies on the efficacy of language learning apps, one about Duolingo and another about Babbel.
He said you have to be realistic about what you can learn: Don't expect to have in-depth conversations in that language quickly. People tend to improve their grammar and vocabulary, but they don't make as much progress with conversational skills.
In a recent study on Babbel, however, Loewen did find that 60% of participants who spent at least six hours on the app showed improvement in understanding and answering questions on a spoken test. The test asked questions such as, "What do you do with your free time?" or "What does your best friend look like?" The improvement was surprising to Loewen because you don't get a chance to practice talking to another real person in the app format.
Zach Sporn, a senior communications manager for research and pedagogy at Babbel, said that hearing dialogues spoken with authentic, correct pronunciation within the app might account for these improvements among users.
"I think the effect of seeing and taking part in so many dialogues within the app helps prepare people better for the format of that test," Sporn said, but the ultimate goal is for learners to be understood.
"If the person you're speaking to comprehends you, that's a success," he said.
With many language apps, you don't get to interact with other speakers. Instead, you focus more on vocabulary, repeating phrases, or filling in the blanks. There's also conjugation practice and rearranging sentences.
But is that an effective way to learn languages?
Kara Morgan-Short, a professor of Hispanic linguistics and psychology at the University of Illinois at Chicago, is interested in the neurocognitive mechanisms we use to learn grammatical structures and word meanings.
She said researchers can study language processing and language acquisition through a method called electrophysiology. They measure your brain waves by sticking a cap on your head with a bunch of electrodes placed in it.
"These electrodes are actually able to pick up the electrical activity that's occurring in your brain related to language that you may be processing, so related to specific words, specific types of words, and even specific grammatical construction," she said.
Researchers can then compare the brain activity reflecting how native speakers process versus how second-language learners do. The idea is that the more similar the brain waves, the closer a learner is to fluency.
In one of her experiments, Morgan-Short split learners into two groups: Members of one group received grammatical instruction before they began learning; members of the other group didn't. Both groups did very well on proficiency tests, but the learners who were not exposed to grammar were the ones who developed more native-like brain processing signals. She said that makes sense, based on how we naturally acquire language growing up.
"We know that in natural language, or in our first language, we never use language in ways that are not meaningful," Morgan-Short said. In everyday life, we don't go around conjugating verbs, (I talk, you talk, he talks, we talk, they talk.) We never use words or grammar without context.
That's where some apps can go astray.
"The frustrating thing about Duolingo is the sentences are often somewhat nonsensical," researcher Loewen said. When he was learning Turkish, he said, there would be sentences like, "The cat is drinking tea in March."
"As a language researcher, I find those very frustrating because I believe that using the language communicatively is the best way to learn it," he said. "So, when you have stupid sentences like that, they don't really help you."
Using language communicatively would be trying to get an idea across or accomplish a task. It's not that useful to say a sentence for the sake of saying it, and it's pretty unlikely that you'll need to describe your cat's affinity for green tea.
Sometimes, when people are just starting to learn a new language, they end up translating each word, one at a time, back to their primary language, rather than being able to intuit meaning automatically. Sporn, from Babbel, said this is incorporated when lessons in the app purposefully don't translate or explain everything.
"We try to also train learners' ambiguity tolerance at the highest level, that is, their willingness and ability to kind of go with the flow. And even if they don't understand every single word of a reading passage or a listening exercise, that they feel empowered that they can still kind of catch the gist."
He said lessons also pay close attention to cognitive load. Research has shown people can  accommodate learning only a certain number of new concepts at one time, so Babbel lessons focus on only six or seven new phrases at a time. These "bite-sized lessons" keep users from being overwhelmed, Sporn said.
But language apps can be fun — and that's important for learning, too. Lauren Mezey, a friend who recently retired, has used her new free time to improve her Spanish. Babbel is her favorite online platform, and she likes that the lessons are short, but also amusing.
For instance, there was a dialogue called "Rumores." The subtitle was, "Dicen Que Victor Tiene Un Amante (They Say That Victor Has A Lover.)"
"The whole thing was all this gossip flying about the office as to who the lover was, is it, was it the new secretary?" She said it taught her words like pregnancy, lies, and excuses.
"I just gobbled up that vocabulary."
Since the more time you spend on an app, the more you learn, staying motivated is a major factor. Babbel strives for this with its short, bite-sized lessons and fun dialogues, but competition can also help. When studying Duolingo, Loewen found the gamification aspect to be fun and motivating.
In Duolingo, you lose "hearts" when you answer questions incorrectly, but you gain experience points and level up in exchange for completing lessons. Loewen said he's on a 29-day streak.
"It's stupid, but I'm really motivated to keep that streak going, right? So it keeps me using it."
As for my own efforts to learn Arabic with my mom, we've realized we don't have the motivation to keep it up. Instead, I've shifted to Spanish, Mandarin and Cantonese.
We'll see how that goes …
WHYY is your source for fact-based, in-depth journalism and information. As a nonprofit organization, we rely on financial support from readers like you. Please give today.