ZCC manages to send preliminary report to City Council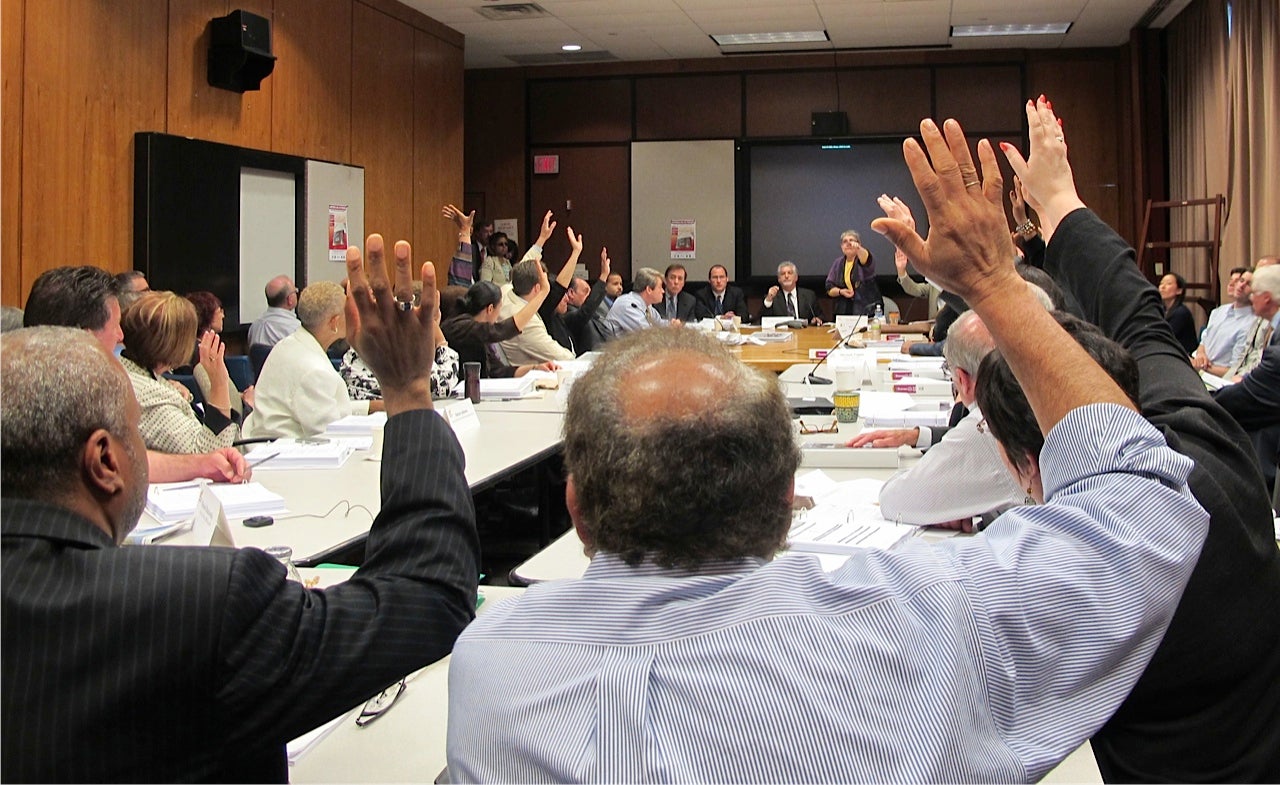 After a two-month delay following its March meeting, and after three and half years of work, Philadelphia's Zoning Code Commission managed to vote to send its preliminary report on zoning reform to City Council. But not without some hitches, including a minority report recommending a change that—if adopted by Council—could delay the implementation of the new code for years and create a situation in which the city could have two operational zoning codes, according to some commissioners.
The Wednesday vote was close. Two-thirds of commissioners—21 of the 31 members—needed to approve the report, and 22 voted in favor of it. The seven remaining commissioners in attendance abstained from the vote. Fifth District Councilman Darrell Clarke, appointed by Council President Anna Verna, was absent, and one ZCC seat is currently unfilled.
Following very brief reports from ZCC Chairman and Deputy Mayor Alan Greenberger, Executive Director Eva Gladstein, Commissioners Stella Tsai and Peter Kelsen, and a short review of "purple-line" draft changes by consultant Kirk Bishop, Greenberger turned to First District Councilman Frank DiCicco. DiCicco drafted much of the original language for the charter amendment authorizing the ZCC's work. He moved to adopt the resolution to send the preliminary report to Council. Commissioner Greg Pastore seconded the motion, and then the abstainers began to announce their reasons for abstention.
"I'll be abstaining on this vote," said Tenth District Councilman Brian J. O'Neill. "That charter question was to rewrite the zoning code, not to do the remapping. This zoning code is a remapping. I think it violates the spirit, if not the letter of the authority that we had."
"I'm sorry to hear that from Councilman O'Neill," replied Commissioner Emanuel Kelly. "I'm wholly surprised by that and disagree with it. This is the most transparent process in planning that has occurred in this city."
The abstainers, however, may represent what Commissioner Glenn Romano called a "political reality."
"I'm voting with what I see as the political reality here, and I don't particularly like it. But I would much rather see this go to Council and come back with some guidance, and not be stillborn, or lost in the legislative shuffle. I'm going to have to abstain on my vote," Romano said.
The full lineup of abstaining commissioners included:
Will Carter, who, as of this meeting, is the new appointee from the Fifth District, taking over the seat previously held by Andy Toy; Carter is an aide to Councilman Clarke.
Councilman At-Large Bill Green, appointed by Fourth District Councilman Curtis Jones, Jr.
Michael Hnatowsky, vice president of IBEW Local 98, who was appointed by Councilman O'Neill.
Marion Johnson, an aide to Ninth District Councilwoman Marian B. Tasco, who also appointed Johnson.
Councilman O'Neill, appointed by Council President Verna.
Guy Pigliacelli, a union representative from the Local 1050 Carpenters and Joiners, appointed by Verna.
Glenn Romano, the Greater Northeast Philadelphia Chamber of Commerce appointee.
While abstention is not opposition, the issue of apparent concern was what O'Neill called "de facto remapping." Because some zoning districts are being consolidated, and because the regulation of property uses is changing from managing individual uses to managing categories of uses, some districts will see changes to permitted uses—both more liberal and more restrictive changes—if the new code is implemented as-is.
Commissioner Greg Pastore sought to distinguish between policy decisions—changes the ZCC has made about what uses and dimensional standards should and should not be permitted in the city's zoning districts—and the remapping.
"Anybody who thinks this is going to be solved by mapping in the future is setting themselves up for heartache," said Pastore.
Commissioners and developers John Westrum and John Binswager both argued that the ZCC should send the preliminary report along to City Council.
"I understand about the remapping and the de facto remapping, but it allows people to know if I'm here as an investor, I know what can be built because [the new code] says what can be built," Westrum said. "If we're going to try to do something, it's time to take it to council."
Westrum pointed out that an enormous majority of Philadelphia voters approved the 2007 charter amendment authorizing the revision of the city's zoning code.
"If we stay with what it was, that's a problem," Westrum said.
Commissioners Eleanor Sharpe and Bill Salas Jr. agreed.
"At some point we have to put it in Council's hands. When do we do that if not now? What else needs to be done to get it to them? After three years of doing this, put it in their hands. Let them tell us. I don't even know why we'd contemplate not doing this," Sharpe said.
"I think we have a mandate to send it to Council by June 30," added Salas. "This is the most open process I've been involved with ever in the city of Philadelphia. We just got to submit it to Council, and let the debate begin. At some point, we have to hear back from Council as to what they want to change or modify."
Green proposed one such modification.
"I want to be clear that I fully support the proposal today, with one small change, that you have in front of you. With that small change, I am fully prepared to send it to Council to let the work begin," Green said.
That change was an amendment, proposed by Green and O'Neill, to the legislation that would implement the new zoning code. The significant change was about the effective date of the code, reworded to read, "This ordinance shall not become effective in any individual planning district of the City until the final zoning map revisions for such individual planning district have been approved by ordinance."
Green was concerned that the changes in uses that will happen in the automatic conversion will become vested rights, and that the Planning Commission will not be able to take those rights away in the remapping process.
"We don't yet know the scope of unintended collateral consequences that will result from the automatic conversion," Green said.
A number of commissioners strongly objected to Green's amendment, arguing that the amendment itself, were it to make it into law, would have unintended consequences.
"The primary problem with the amendment is that we would have two different codes and two different administrative procedures for an indefinite period of time," said Commissioner Daniela Voith.
Commissioner Wendella P. Fox, a former chair of the Zoning Board of Adjustment, asked how long remapping would take.
"Under the best of circumstances, at least five to seven years of re-planning plus the ordinances" that would need to pass through City Council, Greenberger replied.
"Generally speaking, do you have a professional opinion as to how much of the city will need to be remapped?" Fox asked.
"I've never had a number in my head, but there's a significant portion of the city that does not get remapped," Greenberger replied. He said that commercial corridors and areas transitioning away from industrial use will probably get the most attention.
DiCicco suggested that Green's amendment should not be recommended by the ZCC.
"Concerning your proposed amendment, I think it's a reasonable request. I think this would be more appropriate as a proposed amendment coming out of City Council," DiCicco said.
"I would urge you to take your proposed amendment and place it at the City Council level," agreed Kelsen. "The other thing I would urge the members of the commission and the public—let's not have two zoning codes for the city. If the mapping is done at the district level, what a horrible situation we have where major portions of the city could be following the current code, and other sections would follow the new code."
Public comment before the vote was limited. Kiki Bolender excoriated Green and O'Neill for what she said was a failure of leadership. Bolender led the Common Ground for Building our City Project in early 2010.
"We soft-pedaled something in the report. The thing that we heard over and over again was about the lack of leadership in City Council, and what I've seen today is the most craven example. Councilman O'Neill, you sound like you're getting ready to retire," Bolender said. "Councilman Green, I'm disappointed in you."
"Your small amendment will delay the code for five to ten years," she said. "We'll have five to ten years of a morass of not knowing what will happen next."
Craig Schelter of the Development Workshop thanked Green and O'Neill for proposing such an amendment. Throughout the zoning code revision process, Schelter has encouraged fully completing the city plan before executing the zoning code, arguing that such a successive order follows best practices for city planning. The amendment from Green and O'Neill would indeed delay the code's implementation until the final zoning map for each planning district is complete.
After Bolender's and Schelter's brief comments, the ZCC passed its resolution sending the preliminary report to Council.
Green then moved to ask the commission to approve a minority report, which he said was exactly the same as the majority report, plus the amendment. The minority report has the same zoning code as the majority report; the amendment only affects the time line for implementation. Seven votes were needed to issue a minority report. Councilmen Green and O'Neill were joined by the five other abstaining commissioners, and two who voted in favor of the preliminary report—Michael Johns and Nick Shinoy.
City Council now has 45 days in which to begin holding public hearings on the preliminary report. Council's 12-week summer recess begins in 36 days; initial public hearings could be pushed into September, and Council is not obliged to close those hearings within a specified time. With a primary on May 17, and an October 1 deadline to redistrict Council seats based on census data—City Council members will not be paid their salaries unless that plan is done—other Council priorities may stretch the zoning reform process for some time to come.
The next meeting of the Zoning Code Commission is scheduled for June 8 at 8:00 a.m. 1515 Arch Street, 18th Floor.
Contact the reporter at ngilewicz@planphilly.com
WHYY is your source for fact-based, in-depth journalism and information. As a nonprofit organization, we rely on financial support from readers like you. Please give today.