Your PhillyPlans: Urban Geek Drinks at The Porch, Kenney DJing TGIFridays, Downtown Delivery Symposium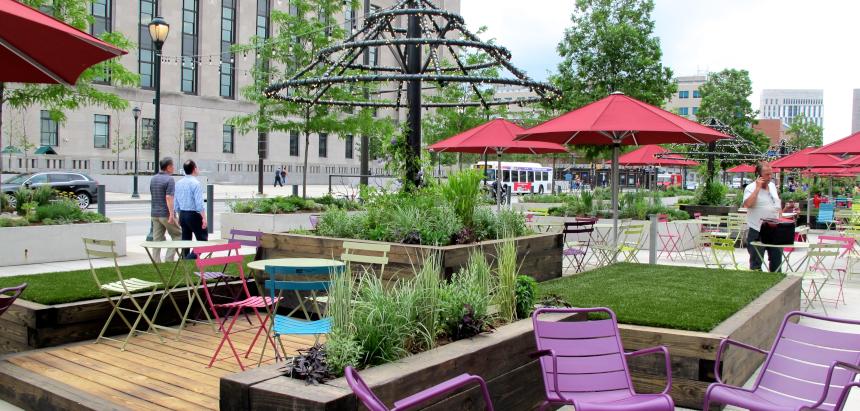 Each week the PlanPhilly staff curates our top picks of the week's most informative, entertaining, and important happenings from our events page, and you can sign up here to get our events email in your inbox every Monday morning.
If you're hosting an event, submit it here and we'll consider including it in our weekly email. Also, a tip of the hat to my friend Matt Monroe for coming up with the new PhillyPlans events email name!
Monday 7/13
7:00 pm: PARC presents the final design for a new South Philly pedestrian plaza at 12th, Morris, and E. Passyunk to the East Passyunk Crossing board. Free.
Tuesday 7/14
1:30 pm: Philly.com's Start-up City half-day symposium looks at entrepreneurship in Philadelphia. $18-40.
5:00 pm: The first Bicycle Coalition summer happy hour meet-up at Tattooed Moms. Free.
6:30 pm: A major stormwater project and a new traffic triangle are among the infrastructure updates to be discussed at this South Kensington Community Partners meeting. Free.
Wednesday 7/15
8:30 am: The Downtown Delivery Symposium at DVRPC. Free, registration required.
4:30 pm: A walking tour of Washington Street Pier from Lizzie Woods of DRWC, hosted by AIA. $25-35, registration required.
5:00 pm: Opening day at The Oval, with various foods, drinks, and activities. Free.
Thursday 7/16
1:00 pm: Mural Arts Program is hosting some "geometric-inspired art activities" at The Oval. Free.
5:30 pm: The Economy League's "World Class Summit" features the release of their Expanding Opportunity report and a keynote from Amy Liu of Brookings. $25 advance, $35 door.
6:00 pm: A very special Urban Geek Drinks at The Porch at 30th Street Station.Free.
Friday 7/17
5:30 pm: Jim Kenney is the guest DJ at The Flow this month, at TGIFridays. $10.
Saturday 7/18
11:00 am: Forgotten North Broad Street walking tour with GroJLart. $12 – $18, spots limited.
12:00 pm: Art Market at the Point Breeze pop-up. Free.
1:00 pm: An underground tour of Philly's subway system from Harry Kyriakodis, author, historian, and Hidden City contributor. $12-18, spots limited.
3:00 pm: SOSNA's Summer Social at Julian Abele Park. Free.
Sunday 7/19
12:00 pm: The Free Library's Techmobile mobile computer lab will be at The Oval. Free.