Wolf, Wagner waste no time trading barbs post-Pa. primary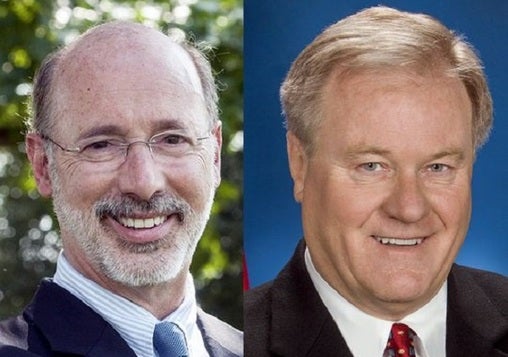 The race for Pennsylvania governor is only a few days in, but the negative ads are already starting.
Only minutes after Scott Wagner clinched the Republican nomination for governor, Gov. Tom Wolf's campaign sent out a press release calling the York County state Senator "the worst of Harrisburg."
The campaign also released an ad deriding Wagner as a bully, and included footage of various speeches in which he used violent-sounding metaphors.
"I would say the next six months in Harrisburg with me in leadership are going to get a little bloody," he is shown saying.
Wagner's campaign shot back.
A statement criticized Wolf's primary night press release, accusing him of getting "down in the gutter" and not focusing on issues that matter.
Negative ads have also been released on Wagner's behalf.
The Republican Governor's Association has put out a video accusing Wolf of "let[ting] the economy stall," and calling him a "tax-hiker who sat on the sidelines while Pennsylvania was brought to the brink of bankruptcy."
Wagner and Wolf are both relative political newcomers from York County, and both have spent millions of their own money on their campaigns.