Wolf leads Wagner in large donations in Pa. governor's race — a breakdown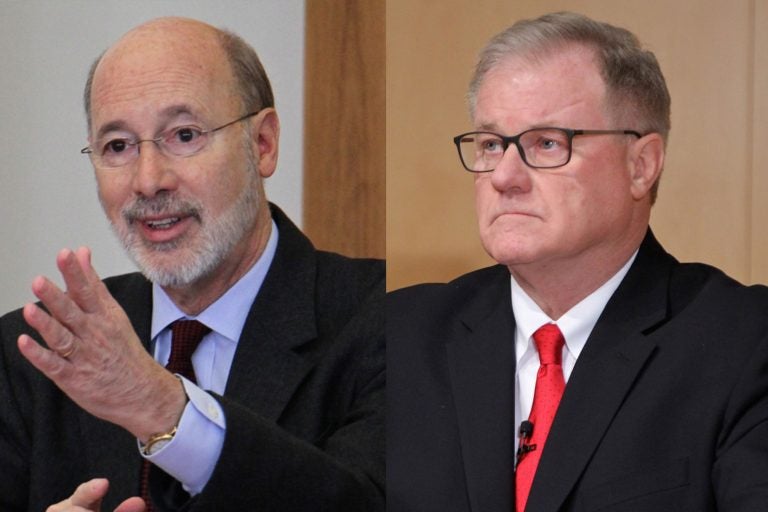 About a month before Election Day, Pennsylvania Gov. Tom Wolf has raised significantly more money than Republican challenger Scott Wagner.
Wolf has raised $15 million, compared to Wagner's $8.5 million.
Wolf's edge is especially pronounced based on the number of large donations that he has received.
Based on contributions greater than $25,000, Wolf has raised $9.5 million, with Wagner raising just under $3.8 million. These figures come from public filings tracking contributions from January 1, 2018 to September 17, 2018.
Labor unions have made up over half of Wolf's large contributions. They include the Pennsylvania State Education Association, Service Employees International Union, and the Committee for a Better Tomorrow, which represents Philadelphia trial lawyers.
Wagner has received large contributions from the Republican Governors' Association of Pa., as well as a $1 million contribution from Students First PAC, an organization that supports school choice.
Wolf's largest individual donors are Michael Rubin, CEO of the e-commerce company Kynetic and part-owner of the 76ers; David Magerman, a philanthropist with the Kohelet Foundation; and Michael Bloomberg, former mayor of New York City.
Wagner has been his own largest individual contributor, pledging over $1 million of his own money to his campaign. He also received large individual donations from John Arnold, CEO of PPC Lubricants in Jonestown; Matt Desoto, leader of MI Windows and Doors, LLC.; and Michael W. Rice, CEO of Utz Quality Foods.
The candidates are next required to disclose their latest contributions by October 26th.
The tables below show all contributions above $25,000 that candidates have received.
Gov. Tom Wolf
| | | | |
| --- | --- | --- | --- |
| Name | City (Pa. unless noted) | Amount ($) | Date (All 2018) |
| AFSCME | Washington, DC | 400,000 | 03/26 |
| AFSCME | Washington, DC | 250,000 | 05/30 |
| AFSCME District Council 13 | Harrisburg | 100,000 | 02/27 |
| American Federation of Teachers COPE | Washington, DC | 250,000 | 09/03 |
| American Federation of Teachers COPE | Washington, DC | 250,000 | 03/15 |
| Brad E. Hollinger | Mechanicsburg | 25,000 | 03/09 |
| Caivis Investment Company LLC | Washington, DC | 25,000 | 09/12 |
| Carpenters Legislative Program of Greater Pennsylvania | Pittsburgh | 100,000 | 08/09 |
| Carpenters Legislative Program of Greater Pennsylvania | Pittsburgh | 150,000 | 08/31 |
| Committee for a Better Tomorrow | Philadelphia | 200,000 | 09/13 |
| Committee for a Better Tomorrow | Philadelphia | 250,000 | 03/20 |
| Committee for a Better Tomorrow | Philadelphia | 250,000 | 05/22 |
| Cozen O'Connor PAC | Philadelphia | 25,000 | 05/03 |
| Cynthia Shapira | Blawnox | 50,000 | 09/04 |
| David Magerman | Narberth | 100,000 | 08/24 |
| Democracy Fund | Harrisburg | 25,000 | 09/04 |
| Democratic Governors' Association – PA | Washington, DC | 250,000 | 03/05 |
| Donald B. Rodgers | Cranberry Twp | 25,000 | 08/13 |
| Doug Hoke | York | 25,000 | 09/14 |
| Doug Hoke | York | 25,000 | 03/23 |
| Edward P. Roski Jr. | City of Industry, CA | 25,000 | 02/27 |
| Edwin H. Beachler III | Pittsburgh | 25,000 | 08/07 |
| Erie Insurance PAC | Erie | 25,000 | 08/21 |
| Fairness PA | Philadelphia | 100,000 | 09/17 |
| Fairness PA | Philadelphia | 50,000 | 06/14 |
| Fairness PA | Philadelphia | 250,000 | 07/30 |
| Fairness PA | Philadelphia | 100,000 | 06/29 |
| Fairness PA | Philadelphia | 100,000 | 03/26 |
| Gerry Lenfest | Conshohocken | 50,000 | 05/24 |
| Highmark PAC | Camp Hill | 25,000 | 09/05 |
| IBEW Local 5 Political Action Committee | Pittsburgh | 250,000 | 07/10 |
| IBEW PAC Voluntary Fund | Washington, DC | 150,000 | 09/17 |
| IBEW PAC Voluntary Fund | Washington, DC | 94,500 | 09/17 |
| International Association of Fire Fighters | Washington, DC | 100,000 | 07/16 |
| International Brotherhood of Teamsters | Washington, DC | 125,000 | 03/16 |
| International Union of Operating Engineers Engineers Political Education Committee | Washington, DC | 50,000 | 04/26 |
| International Union of Operating Engineers Local 542 Political Action Fund | Fort Washington | 100,000 | 04/28 |
| Intl Longshoremen's Assn | North Bergen, NJ | 25,000 | 09/05 |
| Ira Gumberg | Pittsburgh | 25,000 | 09/11 |
| James Miller | Los Angeles, CA | 25,000 | 03/29 |
| Joseph Neubauer | Philadelphia | 50,000 | 05/18 |
| Leo A. Holt | Gloucester City, NJ | 33,400 | 06/12 |
| Local 66 PAC Club Int'l Union of Operating Engineers | Pittsburgh | 100,000 | 04/30 |
| Local Union #98 I.B.E.W. Committee on Political Education | Philadelphia | 150,000 | 07/24 |
| Local Union #98 I.B.E.W. Committee on Political Education | Philadelphia | 100,000 | 05/10 |
| Marie T. McKellar | Dobbs Ferry, NY | 25,000 | 06/22 |
| Mark L. Butler | Carlisle | 50,000 | 03/26 |
| McNees PAC | Harrisburg | 25,000 | 01/25 |
| Michael Bloomberg | New York City, NY | 100,000 | 07/12 |
| Michael Brochu | Philadelphia | 25,000 | 07/02 |
| Michael Holt | Gloucester City, NJ | 33,400 | 06/12 |
| Michael Rubin | Conshohocken | 250,000 | 03/02 |
| Mid-Atlantic Laborers' Political League | Reston, VA | 250,000 | 09/14 |
| Mid-Atlantic Laborers' Political League | Reston, VA | 250,000 | 03/26 |
| Mitchell L. Morgan | Bryn Mawr | 50,000 | 01/08 |
| National Democratic Redistricting PAC | Washington, DC | 250,000 | 03/23 |
| Patrick Burns | Sprimgfield | 25,000 | 08/29 |
| Pennsylvania Orthopaedics Society PAC | Harrisburg | 25,000 | 06/25 |
| Pennsylvania SEIU COPE | Harrisburg | 500,000 | 03/22 |
| Pennsylvania SEIU COPE | Harrisburg | 375,000 | 05/17 |
| Planned Parenthood Pennsylvania PAC | Harrisburg | 25,000 | 05/29 |
| Plumbers & Steamfitters Local 27 PAC | Coraopolis | 30,000 | 06/20 |
| Plumbers and Pipefitters Local 520 PAC | Harrisburg | 25,000 | 06/20 |
| Plumbers Union Local 690 Election PAC | Philadelphia | 25,000 | 06/20 |
| PSEA PACE | Harrisburg | 250,000 | 07/16 |
| PSEA PACE | Harrisburg | 100,000 | 09/17 |
| PSEA PACE | Harrisburg | 250,000 | 03/26 |
| PSEA PACE | Harrisburg | 250,000 | 03/26 |
| PSEA PACE | Harrisburg | 250,000 | 05/09 |
| Raymond Hoover | Mechanicsburg | 25,000 | 02/07 |
| Richard Schiffrin | Wynnewood | 25,000 | 05/10 |
| Robert Dyson | Poughkeepsie | 25,000 | 03/20 |
| Ross Nese | Pittsburgh | 25,000 | 07/02 |
| Saul Ewing, LLP | Philadelphia | 30,000 | 05/24 |
| Savinis, Kane, & Gallucci LLC | Pittsburgh | 75,000 | 07/12 |
| SEIU Healthcare PA COPE | Harrisburg | 100,000 | 05/14 |
| Sheet Metal Workers Union Local 19 – League for Political Education | Philadelphia | 50,000 | 09/17 |
| Sheet Metal Workers Union Local 19 – League for Political Education | Philadelphia | 50,000 | 05/23 |
| Steamfitters Local 420 Committee on Political Education | Philadelphia | 50,000 | 06/20 |
| Steamfitters Local 420 Committee on Political Education | Philadelphia | 100,000 | 07/27 |
| Steamfitters Local 449 PAC Fund | Pittsburgh | 50,000 | 06/20 |
| Stephen Frobouck | Pittsburgh | 25,000 | 02/15 |
| Teamsters Local 115 Political Action Fund | Philadelphia | 35,000 | 03/16 |
| Teamsters Local 830 Drive | Philadelphia | 25,000 | 03/16 |
| Thomas C. Norris | Naples, FL | 25,000 | 06/25 |
| United Association Local 524 Political Action Fund | Scranton | 30,000 | 06/20 |
| United Association Political Education Committee | Annapolis, MD | 100,000 | 06/20 |
| United Food and Commercial Workers, Local 1776 PAC | Plymouth Meeting | 25,000 | 09/06 |
| United Food and Commercial Workers, Local 1776 PAC | Plymouth Meeting | 50,000 | 05/10 |
| United Steel Workers PAC | Pittsburgh | 75,000 | 08/16 |
| United Steel Workers PAC | Pittsburgh | 125,000 | 03/12 |
| UnitedHealth Group PAC | Washington, DC | 25,000 | 09/17 |
| UnitedHealth Group PAC | Washington, DC | 25,000 | 07/31 |
Scott Wagner
| | | | |
| --- | --- | --- | --- |
| Name | City (PA unless noted) | Amount ($) | Date (All 2018) |
| Alfred Barbour | Sewickley | 25,000 | 06/27 |
| Alfred Barbour | Sewickley | 50,000 | 01/29 |
| Charles Joyce | Wellsville, NY | 25,000 | 08/20 |
| Citizens Alliance of PA, Inc | Lemoyne | 25,000 | 08/14 |
| Erie Management Group LLC PAC | Erie | 25,000 | 09/14 |
| Jay Cleveland, Jr. | Pittsburgh | 25,000 | 07/30 |
| Jay Cleveland, Jr. | Pittsburgh | 25,000 | 09/06 |
| Jay Cleveland, Jr. | Pittsburgh | 50,000 | 02/09 |
| Jay Cleveland, Jr. | Pittsburgh | 25,000 | 04/10 |
| John Arnold | Mechanicsburg | 300,000 | 09/07 |
| John Arnold | Mechanicsburg | 250,000 | 05/18 |
| John Disanto | Harrisburg | 40,000 | 07/30 |
| John Ortenzio | Lemoyne | 50,000 | 09/06 |
| Kathleen Coulter | Brimfield, IL | 25,000 | 04/19 |
| Mark W McClymonds | Portersville | 25,000 | 07/05 |
| Matt Desoto | Gratz | 25,000 | 09/13 |
| Matt Desoto | Gratz | 27,500 | 06/04 |
| Matt Desoto | Gratz | 27,500 | 06/04 |
| MI Windows and Doors, LLC. | Gratz | 25,000 | 04/13 |
| Michael Savastio | Mechanicsburg | 25,000 | 04/23 |
| Michael W. Rice | New Oxford | 50,000 | 06/05 |
| Michael W. Rice | New Oxford | 50,000 | 06/28 |
| Michael W. Rice | New Oxford | 50,000 | 04/06 |
| Michael W. Rice | New Oxford | 50,000 | 05/04 |
| Neal DeAngelo, III | Lake Harmony | 25,000 | 04/02 |
| Northwest Good Government PAC | Erie | 25,000 | 05/22 |
| Patrick Egan | Lancaster | 25,000 | 03/27 |
| RGA PENNSYLVANIA 2018 PAC | Washington, DC | 250,000 | 09/17 |
| Ronald H Muhlenkamp | Butler | 40,000 | 07/12 |
| Scott Wagner | York | 80,000 | 09/05 |
| Scott Wagner | York | 120,000 | 01/30 |
| Scott Wagner | York | 128,410.11 | 01/12 |
| Scott Wagner | York | 113,000 | 02/02 |
| Scott Wagner | York | 475,000 | 03/26 |
| Scott Wagner | York | 30,000 | 04/18 |
| Scott Wagner | York | 132,978.35 | 04/19 |
| Selvin Passen, M.D. | Baltimore, MD | 25,000 | 01/15 |
| Selvin Passen, M.D. | Ft. Lauderdale | 25,000 | 05/25 |
| Students First PAC | Wynnewood | 1,000,000 | 07/05 |