With nearly magical touch, concierges grant hotel guests' wishes — but numbers diminish
Listen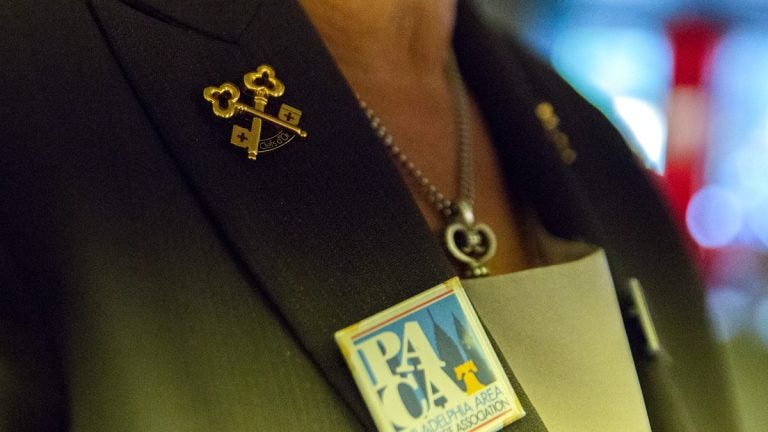 Jeannie Green, who works in marketing in the Denver area, finds herself in Philadelphia at least once a month for work. Often, she'll stay at the Sonesta Hotel near Rittenhouse Square. That's where she was in the lobby recently, looking at the Open Tables app on her phone.
"I select, 'dinner tonight,' and I kind of just get a scroll of what's available for the area," Green said. Proximity and availability are part of her calculus, but also "where I see four-and-a-half stars," she said.
Green and other travelers who rely on apps for local recommendations have become the norm. And that has sent jitters through the profession of concierges, the friendly hotel staffers who have spent their careers providing a service that may now seem obsolete.
In New York, at a recently opened hotel, guests check in and pick up their keys by tapping a tablet. Want to call room service? You'll have to send a Facebook message to a chatbot.
Does this spell the end for concierges? Jack Nargin of Les Clefs d'Or — or the Society of Golden Keys — says no way.
"We are human beings," Nargin said. "We are the people who know our cities the best. So no app, no Internet, can ever replace us."
The trend, however, is pushing against Nargin's sanguine outlook.
An exclusive society
According to the American Hotel and Lodging Association, the number of luxury hotels with concierges has dropped nearly 20 percent in just two years.
Les Clefs d'Or members are responding. They are some of the most rigorously trained concierges in the world. Their membership is signified by pins with crossed golden keys, worn on their lapels.
Getting into the club requires working in a hotel lobby for at least five years, then passing a series of written and oral exams. The concierges in Wes Anderson's murder-mystery film "The Grand Budapest Hotel" were fictional members of this fraternity.
Les Clefs d'Or member Fran Nachman stands ready to serve guests at the Sonesta hotel in Philadelphia, where she is lead concierge. (Lindsay Lazarski/WHYY)
In the real world, the elite fraternity has launched an awareness campaign to market the value of … human contact.
"More and more people are so tired of looking down at their laptops and their iPads and their iPhones that they actually are enjoying the human, one-on-one interaction, and the eye contact," said the group's president, Robert Marks. "And actually having someone who takes a true vested interest in their well-being and their needs."
Recently, members met in Washington to address ways of staying relevant in 2017.
They discussed how apps are not the enemy of their profession. Travelers feel overwhelmed by options. And so, concierges need to be more upfront about their role, as Marks puts it, like a purifier of information. Instead of you approaching them, they may approach you — perhaps holding an iPad.
"Before they used to be behind these imposing marble desks that look like altars, and were very intimidating for some guests. Now you're going to find the concierge a little more involved throughout the hotel, with the use of technology," Marks said. "Again, it's a tool for us."
Tales of derring-do
Another thing they're doing: Promoting concierge success stories, and oddball requests, as a way of generating new interest and excitement about the old-timey profession.
Like when a guest asked Nargil to remove a fly from a room. Without probing further, he and a bellman scurried to the room and did a fly inspection. Alas, the fly proved elusive.
Or this memorable request.
"Once a guest wanted me to send a goldfish to a certain lady in Connecticut, because she was in the hospital," said Nargil. "And I said, 'what's the hospital? I got the name of the hospital. 'Who was the guest?' And she said, 'Send it to Kate,' and I said, 'Kate? Who do you mean, Kate?' And she said, '"Katharine Hepburn, of course."
Then there are the heroic tales.
Like when a bride discovered that her dress was trapped in a closed dry-cleaning business the day of her wedding. She was frantic. Marks, who leads the U.S. chapter of Les Clefs d'Or from San Diego, offered to take her shopping or to find her another dress.
"None of those were options she was willing to accept," Marks said.
So, he found the phone number of the security company monitoring the store. He contacted them and tracked down contact information for the owner, who unlocked the shop and handed him the dress.
"Crisis averted, happy bride," he said.
Role may diminish but it will remain
Bjorn Hanson, a professor at New York University's hospitality program, said he has heard many concierge stories like the happy bride one. He said concierges do plenty of things no app can accomplish, yet he expects technology to continue to force layoffs.
The luxury hotel industry, he said, is still finding its bottom in terms of the number of active concierges. Right now, about 80 percent of them employ concierges, down from 100 percent in 2014. He said that rate will likely dip even lower to 70 or 60 percent, though hitting that low point will take several years.
Will concierges go the way of the dinosaurs? Hanson doesn't think so.
"It may that instead of three shifts a day, it's two shifts a day, or instead of two shifts a day, it's one," Hanson said. "It may be certain times of the year. And then there are positions that are being retitled, so someone who has been a full-time concierge may now be part of the front office staff."
Back at the Sonesta in Rittenhouse, concierge Fran Nachman said she has the inside track at many restaurants around the city. She has a jam-packed Rolodex to prove it, often flipping through it to get the cell phone number of a restaurant manager or some other connected service-industry professional.
Fran Nachman at her desk at the Sonesta hotel in Philadelphia. (Lindsay Lazarski/WHYY)
She also pulled out her thick binders of restaurant menus, categorized according to the type of meal someone might be craving.
Say a guest wants a steak dinner.
"I have a section that has steak," Nachman said. "I've got Chops. I've got Davio's. We got Fogo. Morton's. Prime Rib. Urban Farmer. Yep, lots of steak houses."
All the menus in one place with Nachman's own personalized tips. Maybe you can get some of that on Open Table, but  getting the hookup? That's harder to land with an app.
"Calling the restaurant manager and saying, 'Can you squeeze someone in, if you can't do it at 7:30, can you do it at 8?'"
If your app shows it's not available, Nachman says, "Let me see what I can do." Sometimes, she said, working the phones can fulfill wishes that appear out of reach by screen.
"There is so much more value that the iPad cannot give," she said. "Human connection just can't be replaced with technology."
Nargil, of the Mandarin Oriental hotel in Washington, agreed. Deep personal relationships can, to guests on the other end, "make concierges look like magicians."