Wilmington takes control of failing agency that builds homes for working poor
Listen
2:34
A public-private partnership that builds homes and renovates dilapidated ones in Wilmington's roughest neighborhoods has itself fallen on hard times.
Donors have withheld promised grants, and the Wilmington Housing Partnership hasn't been able to make interest payments on a $3.4 million bank loan. The city government stepped in to pay $10,000 a month over the last nine months to keep the loan out of default. A review by the city auditor found financial mismanagement.
Contractors have been stiffed. Work has virtually stopped. And the result is that developments meant to stabilize and beautify poor neighborhoods have themselves become billboards for blight.
Consider this scene at Eighth and Bennett streets on the city's impoverished East Side on a recent windy morning.
About a dozen houses are framed and wrapped in Tyvek insulation — but no workers are on site,  and it's obvious that the project is on hold.
Across the street, a stretch of old brick row homes are vacant and boarded. Their renovation is nowhere near ready to start.
Troy Curtis, who lives a few blocks away, said it's been months since he's seen anyone working on them.
"That's a waste of money. That's a waste of property. People could be living in these properties,'' he said.
Asked if people lived on these blocks a few years ago, Curtis said: "Yeah, yeah, sure. It was populated. Look at this. All these vacant houses. What are they doing? They stopped working on them. It's just an eyesore."
'Cash crunch' suspends work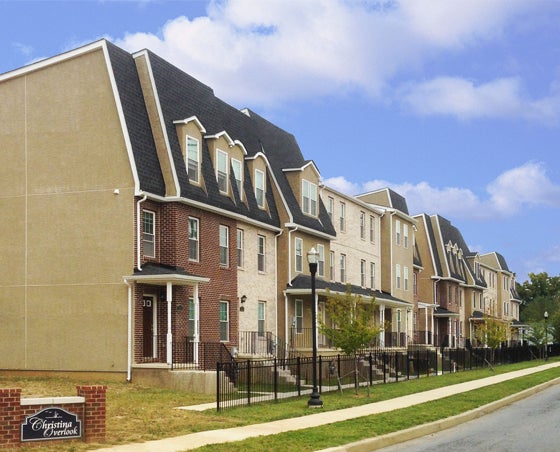 The lack of activity on Bennett Street isn't what the Wilmington Housing Partnership envisioned two years ago when it bought about 150 city properties. It had grand plans to build new homes with modern amenities.
The partnership has made a marked difference in neighborhoods since its formation in 1989, building more than 500 homes.
But the recent buying spree has backfired. Donations dried up. Work stopped. Since homes weren't being completed and sold, there was no revenue to replenish accounts. The staff was let go.
"The partnership found itself in a terrible cash crunch that rendered it incapable of operating,'' Mayor Mike Purzycki said in an interview. "They had properties they started to rehabilitate that they couldn't afford to finish."
Contractor Paul Molloy has felt the pinch of the partnership's financial straits. He framed a block of new homes in Northeast Wilmington, along Vandever Street. He submitted a bill for more than $100,000.
"When we turned around looking for our payment, they said there was going to be some delay in it for whatever reason," Molloy said. "Those delays kept mounting until they finally admitted they didn't have the money to build the buildings at all."
Molloy complained publicly last year, and city officials who assist the partnership made sure he got most of his money. He said others still haven't been paid.
Wilmington's auditor reviewed the partnership's books. The audit report found poor financial management and improper use of city funding. The operations account had a negative balance.
Purzycki, who went public with the problems in January, said the city would take over projects. It would attempt to work out deals with creditors and secure more private funding.
The mayor's proclamation was followed by one from Wilmington's treasurer. Velda Jones Potter said the city has paid $90,000 in interest on what she called a failing $3.4 million loan with JPMorgan Chase. The city is liable for the loan.
Meanwhile, the bank's charitable foundation has withheld a $400,000 grant. Officials at the bank and foundation would not comment.
While Purzycki wants to renegotiate the loan with the bank, Potter wants to pay off the loan completely to protect the city's credit rating.
"Then the partnership can work to pay back the city,'' she said. "My interest is making sure that the $3.4 million obligation of the city is handled the most economically expeditious way possible.''
Counting on grants that never materialized
Developer Rob Buccini, who heads the partnership's board, acknowledged that officials miscalculated. Buccini and his firm, Buccini/Pollin Group, are best known for building residential and commercial projects at the Christina riverfront area and downtown, including a swank new midtown apartment complex that includes an outdoor swimming pool.
"We had known that, if we did not get certain grants, we would run out of money,'' Buccini said. "We made the false assumption, an incorrect assumption" that the Chase grant and others would be received.
Buccini is asking creditors for patience. Echoing Purzycki, he said the projects are getting back on track.
"There's enough assets for people to be paid off and the bank to be paid off,'' Buccini said. "It's just going to take some time."
There are signs of rejuvenation. At the homes Molloy framed, masonry workers were back on the site recently, doing their part to finish houses for the working poor.
WHYY is your source for fact-based, in-depth journalism and information. As a nonprofit organization, we rely on financial support from readers like you. Please give today.