Wilmington school attack victim's family sues district, claiming 'gross negligence'
Listen
1:48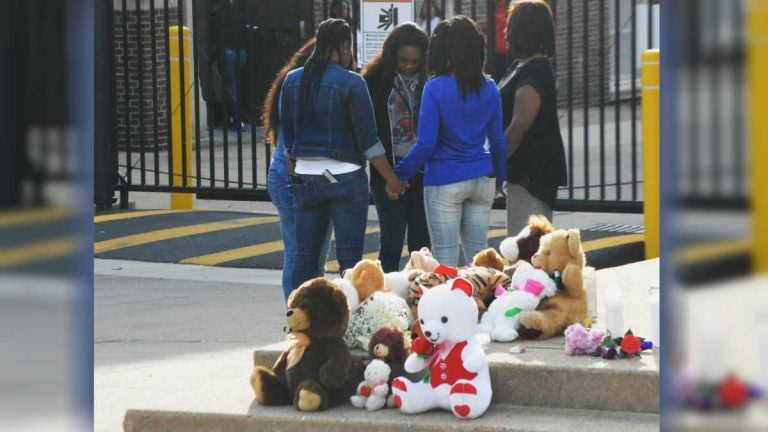 The family of a Wilmington high school student who died after being attacked in the school bathroom nearly two years ago is suing the school district and two girls who attacked her.
The Superior Court lawsuit filed this week accuses the New Castle County Vocational-Technical School District of "gross and wanton negligence" because officials knew Amy Joyner-Francis was in imminent peril and failed to protect her.
Joyner-Francis was 16 when her life ended on a bathroom floor at Howard High School of Technology. She died of cardiac arrest from an undiagnosed heart condition after being punched and kicked by two classmates over a perceived slight on social media. Cell phone footage taken by a witness shows her being dragged on the floor and beaten; she did not fight back but tried to shield herself from the punches and kicks.
One attacker was found guilty of criminally negligent homicide, but the Delaware Supreme Court reversed that conviction in February. The high court ruled that the attacker could not have known her blows would lead to Joyner-Francis' death. Both attackers were also convicted of third-degree conspiracy.
The lawsuit points out that state law forbids cameras in school restrooms, so students looking to break rules or commit crimes took advantage of this "safe haven." Even though Howard officials knew students had a history of violating rules and even breaking the law in restrooms, staff didn't monitor them.
A school employee had warned the district the day before the fatal attack that trouble was brewing but no action was taken, said Roger Landon, the lawyer for Joyner-Francis' brother and mother.
"The handwriting was on the wall that there was a problem between these girls the day before," Landon said. "The district completely missed these signals that were there to be seen. We know that there was a resource officer assigned to the school who was a uniformed armed officer who was nowhere to be found during this whole episode."
Another indication that the girls who attacked Joyner-Francis were gearing up for a battle was in their attire, Landon said. According to the lawsuit, they wore sneakers, no jewelry, and had their hair pulled back, "a look that signaled to anyone familiar with adolescent culture that they were ready for a fight."
Joyner-Francis, however, "had her hair down and was wearing sandals. Amy had always been a peacemaker, not a fighter," he said.
"There were all sorts of indications that something was going to happen, and these administrators and employees of the district just simply completely blew it."
The family is seeking compensatory and punitive damages for Joyner-Francis' wrongful death. The lawsuit says the district has "thus far avoided and failed to acknowledge any responsibility for its role in contributing" to the teen's death, but should pay compensatory and punitive damages.
Contacted Tuesday, a district spokeswoman said that "as it is a legal matter, we will not be making any comment."