Where we are in rebuilding New Jersey two years after Superstorm Sandy
Listen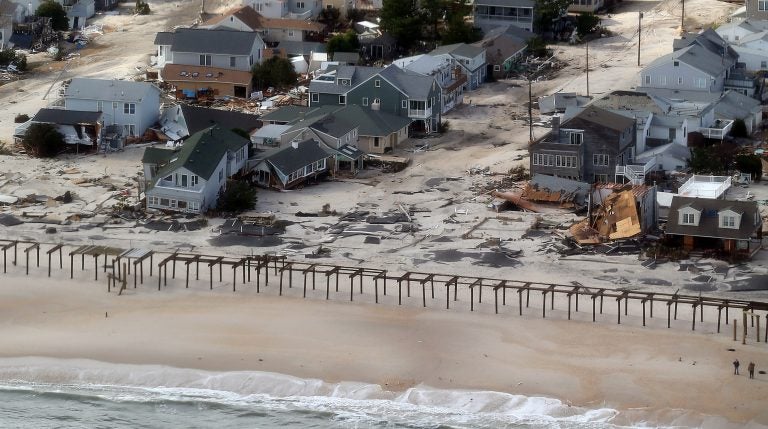 Two weeks after the storm, on a chilly Friday afternoon in November of 2012, Gov. Chris Christie stood before a gaggle of reporters in an empty parking lot near Seaside Park's Funtown Pier. He reflected on the damage he had just witnessed while touring the boardwalk and then turned to the challenge of the long-term recovery that lay ahead.
"I want to be honest and direct about this," he said. "This phase is going to take months — months, if not years — to be completed fully and to our satisfaction. The devastation we've seen is not something that can be rebuilt overnight."
A year later, the governor stood behind a podium in Little Ferry,, having just announced a program to assist displaced homeowners. "No one ever said that this was all going to be fixed within a year," he reminded the crowd. "I said right from the beginning this was an 18-to-24 month project, and it's proven to be right."
Now, on the second anniversary of the storm, as some Sandy victims continue to wait for aid they've been promised to finally arrive, it appears that even Christie's own estimates of how long it would take weren't conservative enough. The recovery is ongoing, and while New Jersey has certainly come a long way over the past two years, assessments of how successful things have been thus far vary depending upon whom you ask.
True, enormous progress has been made. The governor's office sent out a news release last week highlighting that the state has committed more than $1 billion in assistance through its various housing recovery programs.
The numbers sound impressive, considering that just across the river in New York City, a recent internal investigation found that 90 percent of Sandy victims who applied for aid had yet to receive any assistance from the city, and checks have only started to go out in the past few months.
In addition to the housing recovery funding, the New Jersey Department of Environmental Protection has awarded elevation grants to over 1,000 homeowners and offered voluntary buyouts for some 500 properties. Meanwhile, the state's Economic Development Authority says it's awarded $159 million to support small businesses and communities affected by the storm. FEMA has disbursed over $427 million for individual homeowners and granted in excess of $1.5 billion in public assistance to help communities recover. And more than $8 billion in private insurance and federal flood insurance has been paid.
While vacant tracts of land remain in some places, construction and home-elevation crews have become a familiar sight, businesses have returned, and anecdotally, the 2014 tourism season seemed much improved from the previous summer. Driving along the coast two years later, much of the visual evidence of the storm is no longer present, though a peek in the windows of still-vacant homes might tell a different story.
Which leads to the flip side of this narrative: It has been and continues to be a slow and at times rocky recovery for many storm victims.
Shortly after the governor's office distributed its news release about the $1 billion committed to New Jersey's housing recovery, state Senate President Steven Sweeney — who's been a frequent critic and who's rumored to be considering a run for governor himself in 2017 — emailed his own statement in response.
"Gov. Christie misses the mark on Sandy progress," he said. "There is an extremely big difference between being in the pipeline and being in your home."
Indeed, while it's accurate to say that $1 billion has been "committed" thus far, the amount the state has actually spent — including on checks that storm victims have been able to deposit in the bank to help them start rebuilding — is actually about $630 million (as of October 6), which is less than a third of the total amount the state has told the federal government it intends to spend on housing–recovery programs once all is said and done.
Looked at another way, about 3,600 residents have received funding through RREM — the state's largest housing-recovery program,–, which provides grants of up to $150,000 to help primary homeowners repair, rebuild, or elevate their homes. But there are more than twice that number of applicants who either remain on the waiting list or have been told they're approved but are still waiting for the money to actually arrive. State officials say there isn't a typical timeframe from when people are notified of an award to when they receive their checks, since each case is unique, but some applicants report waiting as long as a year.
"Because there is no clear set of steps from point A to point B, or checklist that once done will result in getting the money, people who do not have money yet have no way to know when they will get it," said Adam Gordon from Fair Share Housing, which has been working on behalf of displaced storm victims. "In many cases, people are told 'if you just do this next step, that is the last step,' only to find that there are then more documents, etc. beyond that."
The reasons for the delays and related problems are numerous, with observers and critics saying the state, the federal government, and the private contractors hired to help with the recovery likely all share some of the blame.
From the Christie administration's standpoint, many of the complaints critics have raised about the state's handling of the recovery — including overly rigid rules, an opaque application process, and too much bureaucratic red tape — are a thing of the past.
"We've made good strides and steady progress over the past several months by refining the RREM Program in substantial ways," said Department of Community Affairs spokeswoman Lisa Ryan in an emailed statement.
"First, we've streamlined the process so that program participants can now mail in documents and work remotely with their Housing Advisor rather than make repeated trips to a Housing Recovery Center. We've also simplified procedures so that all eligible participants in the RREM Program have the flexibility and freedom to select the contractor they want to use, provided they are registered and licensed in the State of New Jersey."
"To accelerate repair work, we've reduced the number of site inspections. Also, now when a RREM homeowner submits their selected contractor, the State immediately pays 50 percent of the grant award to the homeowner so they can quickly pay for necessary expenses. And we've increased communications with homeowners by having information sessions on the RREM Program in heavily impacted communities. So far, we've held six of these sessions and will hold more in the near future."
Gordon acknowledges that he's seen improvements on the ground, but he's still worried about the lasting effects of issues that came up early in the recovery process.
"We can't underestimate how much people are still digging out of that hole, how much people are still dealing with the fact that someone lost their application a year ago and then the application period was closed so they couldn't put in a new application," he said, adding that in other cases, people were wrongly rejected for aid, and now their application are still being reviewed in an appeals process.
"These are things that have real impacts on people, because they're stuck in this limbo, and they can't start rebuilding," he said.
Gordon's concerns are borne out by the experiences of people like Frank and Mary Ellen Azack, whose house in the Silverton section of Toms River took on four feet of water during the storm. The original assessment they received from FEMA said they only had $38,000 of damage — less than a third of their home's total value — making them ineligible for a RREM grant. Months later, they were finally able to get a more thorough inspection from the town, which found that their home was actually 82 percent damaged, but by that time, the deadline to apply for RREM grants had expired. Two years after the storm, their house remains gutted, vacant, and unlivable.
"I wish it would stop and I could go back to what I know is a normal life again," Frank said.
Long Branch resident Ted Friedli received a $26,000 RREM grant to help repair and elevate his home. A few months ago, he got a letter from the state giving him five days to pay back the money because state officials had overestimated how much aid money he'd received from other sources, including a loan from the Small Business Administration.
"That's ridiculous! That's not fair," he said, explaining that he had no idea the amount he had been awarded was an estimate and not a final determination. "I'm not even saying I won't pay them back. I'm asking for an explanation, and I cannot get an explanation, nor can I get an understanding from them of what will happen if I don't pay them back. 'Cause quite frankly, we don't have the money. It's in the house."
Cases like Friedli's may become more common. FEMA says it's conducting audits of 4,500 households in New Jersey and other states that may have received improper payments, and the New Jersey Department of Community Affairs has asked more than 50 homeowners to return a total of close to $1 million, with more audits currently underway.
A Monmouth University poll released yesterday found that a large majority of New Jersey Sandy victims remain dissatisfied with the storm recovery and feel like they've been overlooked. Just 29 percent of residents agreed that the state's recovery effort was focused on helping people like them, while 71 percent felt like they had been forgotten. Even among residents who have finished rebuilding their Sandy-damaged homes, only about half said they were satisfied with the process.
Looking at another indicator of how much progress has been made, the poll's authors noted that there is no official estimate of how many New Jersey families remain displaced.
"The survey results suggest that this number is still high and that only a small number have made it back into their homes over the past year," they said. "Specifically, among survey participants who were waiting to return to their homes when Monmouth spoke with them last year, just 28 percent have been able to move back, while two-thirds (67 percent) are still displaced and another 6 percent say they will never return to their damaged homes."
It's clear that plenty of work still lies ahead. For example, in Toms River where the Azacks live, less than one-third of the 1,020 new home building applications and only about 75 of the 400 elevation permits filed with the town have been completed.
The recovery continues, and the state has pledged to reach all eligible homeowners who remain on the RREM waitlist with a third round of federal aid money that's expected to arrive next spring.
"We're committed to continuing to listen to you about the ways we could make these things better," Christie said, while speaking in Toms River last Thursday. "Many of these changes that we've talked about come from suggestions that we've gotten from homeowners. 'Why can't you do it this way? Why do we have to do it that way?' And it raised questions in our mind about it, and allowed us to then go back to the federal government and say we need these changes because homeowners are telling us this is what they need and want to make their experience better."
He pledged that the state would continue to make improvements.
____________________________________________
NJ Spotlight, an independent online news service on issues critical to New Jersey, makes its in-depth reporting available to NewsWorks.