Weekly Entertainment Guide – The Plough and the Stars
Robin Bloom on what not to miss this week in the Philadelphia region.
What's Happening
Chinatown Night Market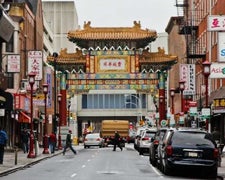 The Philadelphia Chinatown Development Corporation hosts a "Chinatown Night Market" Yè Shì, Thursday, October 13, 7pm-11pm. Food trucks and area restaurants offer samples and specials, along with arts and crafts, live entertainment and more, on 10th Street between Arch and Vine Streets and Race Street between 9th and 11th Streets, Philadelphia.
RUBBERBANDance Group
Montréal's RUBBERBANDance Group brings the cutting-edge blend of hip-hop and ballet to Philadelphia, October 13-16, with a full-length "best of" program that features a compilation of works that explore a variety of musical styles. "Vic's Mix," under the direction of Victor Quijada (who was nicknamed "Rubberband" during his youth), includes an interpretation of Prokofiev's "Dance of the Knights" from Romeo and Juliet, at the Prince Theater, 1412 Chestnut Street, Philadelphia. Part of Dance Affiliates' NextMove Dance Series. RBDG will conduct a master class taught by Quijada, Friday, October 14, 1pm, University of the Arts Dance Department, 211 South Broad Street, Philadelphia. Photo courtesy of RBDG.
Reading Terminal Market's Harvest Festival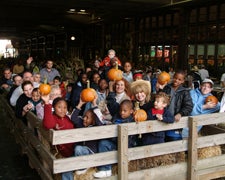 Celebrate fall and the Pennsylvania harvest at Reading Terminal Market's 16th annual Harvest Festival, Saturday, October 15, 10am-4pm, with food, hay rides, pumpkin patch, corn stalks, hay bales, beer garden, live music, arts and crafts, and more, on Filbert Street by 12th & Arch Streets, Philadelphia. Photo courtesy of Reading Terminal Market.
Bloktoberfest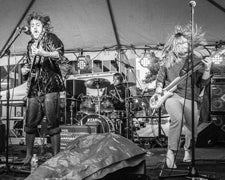 Bloktoberfest returns this Saturday, October 15, noon-8pm, offering a wide selection of beer by craft breweries from around the country, food from neighborhood vendors and food trucks, and multiple stages of live music on 4 blocks of South Street, between Broad Street and 18th Street, Philadelphia. Free to attend with beer proceeds going to local charities and programs. Pictured: Medusa's Disco, performing at this year's Bloktoberfest. Photo by Bill DiCecca.
Philadelphia Cheesesteak Festival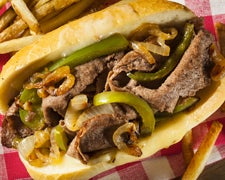 Celebrate Philly's favorite sandwich at the Philadelphia Cheesesteak Festival, Saturday, October 15, 12:30pm-5pm, at Citizens Bank Park. Sample over 50 different cheesesteaks from vendors around Philadelphia. The fun includes a cheesesteak challenge eating contest, cooking demonstrations, live music, beer, carnival games, and more. Vegetarian and gluten free samples will also be offered. Photo by Brent Hofacker.
Fall Fests
Celebrate Fall Family Fun Days in Sister Cities Park. Saturday, October 15, 11am-3pm, including music, family-friendly activities with the Franklin Institute, hay rides, scarecrow festival, crafts, and adoptable animals from Morris Animal Refuge. Free and open to the public, 18th Street and the Benjamin Franklin Parkway, Philadelphia. #SassySaysDilworth Park's Octoberfest is October 12-16, with live music and the Saultoberfest Beer Garden, offering a variety of craft ales and autumn-inspired cocktails, 1 South 15th Street, Philadelphia.Tyler Arboretum hosts Pumpkin Days Celebration, Saturday and Sunday, October 15-16, 10am-5pm, with family activities including crafts, games, hay wagon tours, food, live music, and pumpkins, 515 Painter Road, Media, PA.
Lighthouse Challenge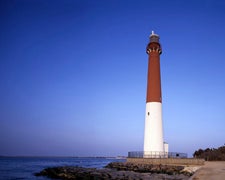 Tour the New Jersey coast from Sandy Hook to Cape May with the Lighthouse Challenge, Saturday and Sunday, October 15-16, and the opportunity to climb the Garden State's maintained lighthouses to help fund their preservation. The event includes a number of participating lighthouses, including Barnegat Light (pictured). Fees or donations differ for each location.
Hagley Craft Fair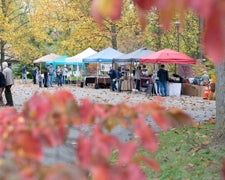 The Hagley Craft Fair is back this weekend, Saturday, October 15, 10am-5pm, and Sunday, October 16, 10am-4pm, featuring works on display and for sale in wood, pottery, jewelry, fibers, metal, and other media. Continuing this year is a specialty market featuring gourmet food vendors. Bring the kids and enjoy Hayrides at Hagley, and see the exhibit Driving Desire: Automobile Advertising and the American Dream, focusing on six traditional advertising themes used to see cars in the twentieth century, Hagley Museum and Library, Buck Road east entrance off Route 100, Wilmington, Delaware.
Delaware County Studio Tour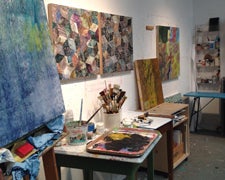 The very first Delaware County Studio Tour takes place this Saturday, October 15, 10am-6pm, and Sunday, October 16, 11am-5pm. Forty-five artists will present a large range of original artwork such as painting, sculpture, jewelry, photography, clay, glass, paper, and fiber. Modeled after the popular Chester County Studio Tour, artists will be available to talk about their work and meet potential buyers in 18 studios across Delaware County. Design your own self-guided tour with a downloadable map available on the website. Photo courtesy of Delaware County Studio Tour.
HarvestFest at Bartram's Garden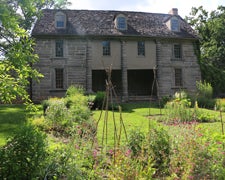 Bartram's Garden hosts a Harvest Festival, Sunday, October 16, 12pm-3pm, offering hayrides, cider pressing, face-painting, cooking and canning workshops, games of chance and skill, yoga, boating, and more. The oldest botanical garden in the United States, Bartram's Garden spans over 45 acres along the Schuylkill River in Fairmount Park, 54th Street and Lindbergh Boulevard, Philadelphia. Founded by father and son botanists John and William Bartram, the site includes the Bartram house, botanical garden, meadow, parkland and a wetland. Check out the "Franklinia" tree, the pair's famous discovery, named for family friend Ben Franklin.
Music
Philadelphia Chamber Music Society Concerts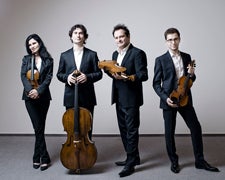 The Philadelphia Chamber Music Society opens its new season with Magdalena Kožená, mezzo-soprano, and Malcolm Martineau, piano, Thursday, October 13, 8pm, Perelman Theater, Kimmel Center, Belcea Quartet (pictured), Monday, October 17, 8pm, Perelman Theater, Kimmel Center, Colin Carr, cello, and Thomas Sauer, piano, Thursday, October 20, 8pm, the American Philosophical Society, Dover Quartet and Edgar Meyer, double bass, Friday, October 21, 8pm, Perelman Theater, Kimmel Center, Anna Polonsky, piano, and Orion Weiss, piano, Sunday, October 23, 3pm, the American Philosophical Society, and Jerusalem Quartet, Monday, October 31, 8pm, Perelman Theater, Kimmel Center. Photo by Marco Borggreve.
Les Brers at Fillmore Philly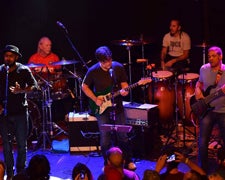 Les Brers performs at the Fillmore Philly Friday, October 14, 8pm. The group, comprised of key Allman Brothers Band members and associates, took its name from the instrumental jam "Les Brers in A-Minor" from the ABB "Eat a Peach" album and is known for its original southern blues rock and powerful renditions of Allman Brothers songs, 29 East Allen Street, Philadelphia. Photo by Brian Whitley.
Red Baraat at Johnny Brenda's
The Brooklyn party band Red Baraat brings their unique blend of traditional Indian bhangra and New Orleans jazz to the region with a show at Johnny Brenda's, Saturday, October 15, doors open at 8pm, show at 9:15pm, 1201 North Frankford Avenue, Philadelphia. Photo by Sachyn Mital.
Relâche's Very Old Film and Very Old Texts with Very New Music at Penn Museum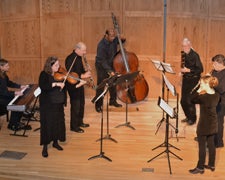 The music ensemble Relâche performs Very Old Film and Very Old Texts with Very New Music, in its fourth season in residence at the Penn Museum on Sunday, October 16, 3pm. The program includes new music inspired by some of the museum's oldest and most famous artifacts: clay cuneiform tablets bearing some of the world's earliest literature from ancient Mesopotamia. The afternoon features a premiere of Sumer Redux by composer and bassoonist Chuck Holdeman, his musical response to both the humorous and serious aspects of this ancient culture, and Paul A. Epstein's Music 2 and Fancy Flight, 3260 South Street, Philadelphia. Photo by Pam Kosty.
Onstage
"The Plough and the Stars" at Annenberg Center Live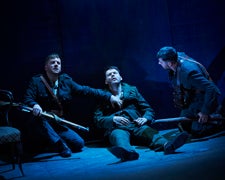 Onstage at Annenberg Center Live is the Abbey Theatre's revival of Sean O'Casey's dark comedy The Plough and the Stars, October 13-16. The third in the playwright's "Dublin Trilogy," the production explores the Easter Uprising, one of the most important moments in Irish history, telling the story of how ordinary lives of residents of a Dublin tenement are ripped apart while they shelter from the rising violence in the street. Commemorating the 100th anniversary of the birth of the Irish Republic, this drama is an essential part of understanding Ireland's 1916 revolution, 3680 Walnut Street, Philadelphia. Photo by Ros Kavanagh.
InterAct Theatre Company's "Grounded"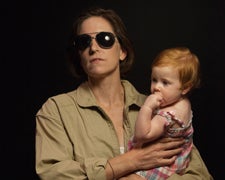 InterAct Theatre Company presents the Philadelphia debut of George Brant's Grounded. The one woman show, directed by Kathryn MacMillan and starring Kittson O'Neill, blends the personal and political as a fighter pilot's career is altered by an unexpected pregnancy that takes her out of the air and into the desert, piloting drones. Following an acclaimed London and New York run, the play is soon to be produced in a film starring Anne Hathaway. InterAct has partnered with Warrior Writers, a national non-profit created to promote a culture that articulates veterans' experiences. Artwork created by veterans will be on display during the run of the show, through October 23, The Drake, 302 South Hicks Street, Philadelphia. Related events include post-show discussions with the audience, Speaker Sundays, and Coffee Conversations. Photo by Plate 3 Photography.
"A Closer Walk with Patsy Cline" at Bristol Riverside Theatre
Bristol Riverside Theatre opens its 30th season with A Closer Walk with Patsy Cline by Dean Regan. The production features over 20 of the singer's unforgettable hits and traces her career from the early days of singing in honky tonk bars through her rise to fame at the Grand Ole Opry, to her pinnacle at Carnegie Hall. Directed by Susan D. Atkinson and starring Jessica Wagner (who performed as Patsy Cline in BRT's hit production "Always Patsy Cline"), Danny Vaccaro, Jared Calhoun, Nate Golden, Christopher J. Perugini, and Sean C. White, through October 16, 120 Radcliffe Street, Bristol, Pennsylvania. Special events include a Thirsty Thursday, October 13 and Theatre Theology, October 16.
Each week, the Entertainment Guide spotlights interesting local arts offerings happening now, including music, dance, theater, museums, special exhibitions and other arts events from across the region.
To submit an event to be considered, email Robin Bloom at artscalendar@whyy.org.