Weekly Entertainment Guide – The Freedom Principle
Listen
Robin Bloom offers 20 things to do this week in the Philadelphia region!
What's Happening
Philly United Jazz Festival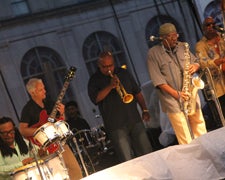 Philly United Jazz Festival returns September 14 for five days at four venues including SOUTH Jazz Parlor, Warmdaddy's, Relish, and Paris Bistro, with an all day festival, Saturday, September 17, 2pm-2am, featuring flutist Bobbi Humphrey, the Jazz Ambassadors, U.S. Army Jazz Band, G. Calvin Weston, Arpeggio Jazz Ensemble (pictured), Eric Mintel Quartet, Jackie Greggs, and more, South Street West between Broad and 16th Streets, Philadelphia. Presented by Lifeline Music Coalition. Free. Photo courtesy of Philadelphia United Jazz Festival.
Bill Graham and the Rock & Roll Revolution at NMAJH
Bill Graham and the Rock & Roll Revolution, the first comprehensive retrospective exhibit of the legendary rock promoter, arrives in Philadelphia for its exclusive east coast premiere at the National Museum of American Jewish History, September 16 through January 16. Graham (1931-1991) played a pivotal role in the careers of iconic artists including the Grateful Dead, Jefferson Airplane, Janis Joplin, Jimi Hendrix, Santana, Fleetwood Mac, the Who, Led Zeppelin, the Doors, and the Rolling Stones and was instrumental in the production of benefit concerts such as Live Aid (1985) – which took place in Philadelphia and London – and Human Rights Now! (1988). Organized by the Skirball Cultural Center in Los Angeles, the exhibit explores how Graham's childhood experiences as a Jewish emigrant from Nazi Germany fueled his drive and ingenuity as a cultural innovator and advocate for social justice and propelled him to become one of rock & roll's most influential figures. Look for more than 200 objects such as concert posters, rock memorabilia, photographs, films, and ephemera from lenders across the country – many shown for the first time publicly – such as original artwork of several iconic concert posters for the Fillmore Auditorium (where Graham produced groundbreaking shows through the 1960s), Janis Joplin's tambourine, Pete Townshend's 1968 Gibson SG Special, and more. The exhibit is accompanied by many public and educational programs, 101 South Independence Mall East, Philadelphia. Pictured: Fender Electric Instrument Co. Fender Stratocaster fragment smashed by Jimi Hendrix at Royal Albert Hall performance, Royal Albert Hall, London; smashed February 24, 1969, Alder, maple, maple veneer, rosewood. Photo by Robert Wedemeyer.
The Freedom Principle: Experiments in Art and Music, 1965 to Now
On view at the Institute of Contemporary Art (ICA) at the University of Pennsylvania is The Freedom Principle: Experiments in Art and Music, 1965 to Now, a large-scale group exhibition that links the vibrant legacy of avant-garde jazz and experimental music of the late 1960s (particularly within the African American arts scene on the South Side of Chicago) and its continuing influence on contemporary art and culture today. Organized by Museum of Contemporary Art Chicago through March 19, 2017. Accompanied by a fully-illustrated catalogue, 118 South 36th Street, Philadelphia. Pictured: Muhal Richard Abrams, "View From Within," 1985. Collage and acrylic on canvas. 17 ¾ x 25 ½ inches. Photo: Gavin Ashworth, © MCA Chicago.
Spruce Street Harbor Park
Spruce Street Harbor Park hosts a Fall Fest, September 16-18, as the pop-up park transitions to autumn-themed regional craft beers, pumpkin-inspired food specials, live music, free pumpkin carving, and children's activities, Columbus Boulevard at Spruce Street, Penn's Landing. Photo courtesy of Spruce Street Harbor Park.
The Rittenhouse Square Fine Arts Fall Show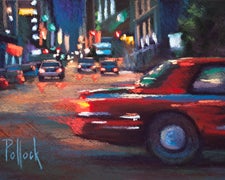 The Rittenhouse Square Fine Arts Fall Show once again "Circles the Square" September 16-18, featuring a diverse range of art for purchase. Originating as a "Clothesline Show" in 1932, it is now regarded as one of the most respected and active outdoor art shows in the country, 18th and Walnut Streets, Philadelphia. Hours: Friday, September 16, 11am-7pm, Saturday, September 17, 11am-6pm, and Sunday, September 18, 11am-5pm. Pictured: "Zip Zip," original pastel by Sarah Pollock, one of the artists featured in the Rittenhouse Square Fine Arts Show.
Park(ing) Day Philadelphia
Convert a metered parking space into a temporary park in this year's Park(ing) Day Philadelphia, Friday, September 16. Philadelphia joins with cities all over the world in an effort to raise awareness for the need for more green and pedestrian-friendly urban open spaces. See over 50 interactive parks on the city streets from approximately 8am-5pm. Visit the website for a printable Google map. A reception follows at the Philadelphia Center for Architecture from 5:30pm-7:30pm with food, drinks, music, and more. Photo courtesy of Park(ing) Day Philadelphia.
Peace Day Philly
Philadelphia takes part in the United Nations International Day of Peace with Peace Day Philly, a variety of events related to peace education, global citizenship and awareness, spiritual engagement, social justice, cultural storytelling, and more involving over 30 organizations throughout the city and the surrounding region. Activities take place through September 24 and include a concert by the Harmony for Peace Foundation on September 17, 5:30pm at the Kimmel Center. Delaware's inaugural Peace Week kicks off on September 18 with a Children's Peace Art Festival at the Delaware Contemporary. "Welcoming City" outside city hall with Sonia Sanchez is on Wednesday, September 21, culminating in the International Peace Day Festival and Market, September 21 at International House Philadelphia with music, food, vendors and more.
Korean Festival at the Delaware Art Museum
Delaware Art Museum hosts the annual Korean Festival and Harvest Celebration, Saturday, September 17, 11am-3pm. The free family-friendly event includes both traditional and modern Korean cultural activities and celebrates the Korean Thanksgiving, Chuseok with a fashion show, music and modern K-Pop dance, art, and more, 2301 Kentmere Parkway, Wilmington, Delaware. Photo courtesy of the Delaware Art Museum.
Scarecrow Festival at Peddler's Village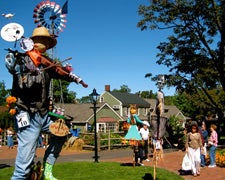 Celebrate Fall's arrival with the annual Scarecrow Festival at Peddler's Village, Saturday, September 17 and Sunday, September 18, 10am-6pm both days with pumpkin painting, pumpkin pie eating contests, live music, and a scarecrow-making workshop (reservations recommended), Routes 202 and 263, Lahaska, Bucks County, PA. Free admission and parking. Vote for your favorite scarecrow in the Annual Scarecrow Competition and Display.
Boots at the Beach Festival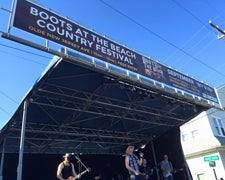 Extend summer at the shore with the Boots at the Beach Festival, Friday, September 16, 3pm-8pm and Saturday, September 17, 10am-10pm, presented by the Anglesea Irish Society. Featured bands include Shots of Southern, Steel Creek, Philbilly, along with country vendors, crafts, food, and more, Olde New Jersey Avenue, North Wildwood, New Jersey. Free admission, rain or shine. Photo courtesy of Boots at the Beach Festival.
Mexican Independence Day Festival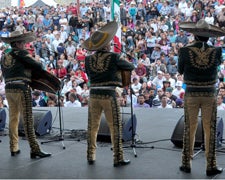 Celebrate Mexico's Independence with a fiesta this Sunday, September 18, 2pm-7pm, and a day of food, crafts, and live music at Penn's Landing's Great Plaza. Presented by the Mexican Cultural Center and the Consulate of Mexico in Philadelphia. Part of the PECO Multicultural Festival Series. Free.
Manayunk StrEAT Food Festival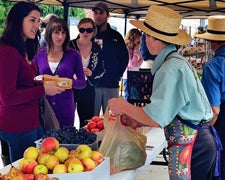 The Manayunk StrEAT Food Festival is Sunday, September 18, 11am-5pm, as Main Street is lined with over 50 of Philadelphia's best food trucks, gourmet food vendors and local farmers' markets, food-centric arts and crafts, live music on three stages and more, to kick off the Manayunk Restaurant Week beginning Monday, September 19. Theme is apples, as food trucks compete to create apple menu items. Photo courtesy of Manayunk Development Corporation.
Faerie Fest at Rockwood Park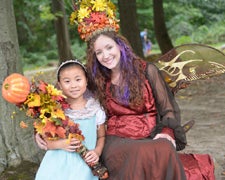 Bring a picnic to Rockwood Park and enjoy a Faerie Fest, Sunday, September 18, 12pm-4pm, along with crafts, outdoor games, a bubble blowing station, storytime, and with the opportunity to take pictures with the Fairy Queen, Tooth Fairy, Gnome and more. Also, performances by the Wilmington Ballet Academy of the Dance and Delaware Arts Conservatory on the South Lawn, 4651 Washington Street Extension, Wilmington, DE.
Jenkintown Festival of the Arts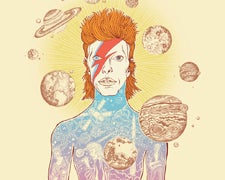 The Jenkintown Festival of the Arts takes place Sunday, September 18, 1pm-6pm, with over 60 juried artisans, food, beer tents, live music, and more, Greenwood Avenue, Jenkintown, PA. Pictured: "David Bowie," by Paul Carpenter, one of the artists featured in the Jenkintown Festival of the Arts.
New Jersey Storytelling Festival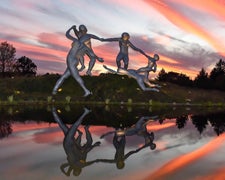 Celebrate the art of the spoken word at Grounds for Sculpture (pictured), the 42 acre sculpture park and arboretum, Sunday, September 18, 12pm-6pm, with the New Jersey Storytelling Festival, a story slam with the theme "Out of the Frying Pan." Contestants will be chosen at random to recount their personal story in five minutes or less. Prior to the festival, workshops are offered from 9:45am-11:45am for educators and others interested in storytelling techniques. Free with park admission. Programs geared for adults, families, and general audiences in different corners of the park, 18 Fairgrounds Road, Hamilton Township, NJ. Photo courtesy of Grounds for Sculpture.
The Philadelphia Orchestra's Free College Concert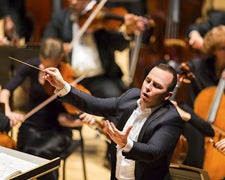 The Philadelphia Orchestra kicks off their season with the Free College Concert, Wednesday, September 21, 8pm, a program of Berlioz's Symphonie fantastique, conducted by Music Director Yannick Nézet-Séguin (pictured). Full-time college students in the greater Philadelphia region with a valid ID can follow along with a music app in real time to access custom-created information about the music, Verizon Hall, Kimmel Center, Broad Street, Philadelphia. Seating on first come, first served basis. While there, students can sign up for a membership program to attend an unlimited number of concerts for an annual fee of $25. Photo by Chris Lee.
Fringe
Omeletto, Like Hamlet Only Scrambled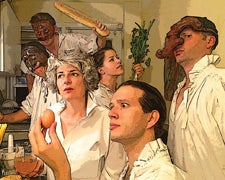 Ombelico Mask Ensemble continues its tradition of bringing fun theater to outdoor spaces in Philadelphia and beyond through the physically raucous style of Commedia dell-Arte. Their world premiere of Omeletto, Like Hamlet Only Scrambled tackles Shakespeare and Hamlet using the Bard's script as the jumping off point and letting the audiences see where to story goes, September 15-24, Liberty Lands Park in Northern Liberties, 913 North 3rd Street, Philadelphia.
The Church Bells All Were Broken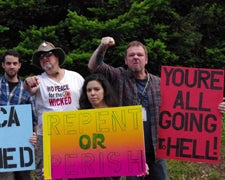 Casabuena Cultural Productions presents The Church Bells All Were Broken by Philadelphia playwright Dave Ebersole. The debut production is a fictitious story inspired by the Westboro Baptist Church (WBC) and its members. With song parodies, humor and drama, the new play challenges the audience to see all sides of the issues and how love and faith can rise above judgment and hate. Directed by Catherine Pappas September 16-24, The Playground Theater at The Adrienne, 2030 Sansom Street, Philadelphia. Photo by Mariangela Saavedra, Casabuena Cultural Productions.
Silken Veils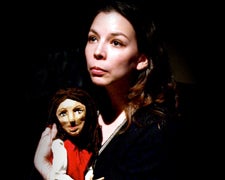 Leila Ghaznavi and Pantea Productions captures life in the Middle East with Silken Veils, a theatrical exploration of women and family, conceived by Leila Ghaznavi with music by Hamed Nikpay and Houman Pourmedhi. A hybridization of Rumi poetry, marionettes, shadow work, live performance, animation and contemporary Iranian history, the production tells the story of Darya, a young Iranian émigré who questions the value of love, while reliving her childhood and the turbulence and passion of her family during the Iranian Revolution of 1979 and the Iran/Iraq war, September 14-18, Studio X, 2340 South 13th Street, Philadelphia. Photo courtesy for Pantea Productions.
Exile 2588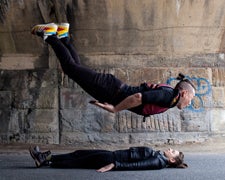 Almanac Dance Circus Theatre premieres Exile 2588, a full-length piece featuring live original music by the folk duo Chickabiddy, through September 23. The seventy minute acrobatic adaptation of the story of Io set 500 years in the future features break dance, static trapeze, and innovative ensemble acrobatics, asking timeless questions about mortality and how much control we have over our bodies, Painted Bride Arts Center, 230 Vine Street, Philadelphia. Photo by Kate Raines.
Each week, the Entertainment Guide spotlights interesting local arts offerings happening now, including music, dance, theater, museums, special exhibitions and other arts events from across the region.
To submit an event to be considered, email Robin Bloom at artscalendar@whyy.org.