Weekly Entertainment Guide – The Enchanted
Listen
Robin Bloom offers over 30 suggestions for fun with (or without) a Valentine.
What's Happening
Opera Philadelphia's "Tancredi"
Opera Philadelphia presents a fresh take on Rossini's rarely-performed Tancredi, February 10-19, at the Academy of Music. Based on a play by Voltaire, the dramatic opera premiered in 1813 and this production from Opéra de Lausanne and Teatro Municipal de Santiago transports the medieval story of chivalry and tragic love to the elegant atmosphere of Europe at the end of World War I. Featuring renowned mezzo-soprano Stephanie Blythe in the title role debut portraying a man, along with soprano Brenda Rae, tenor Michele Angelini, bass-baritone Daniel Mobbs, mezzo Allegra De Vita, mezzo and Opera Philadelphia Emerging Artist Anastasiia Sidorova. Directed by Emilio Sagi with Corrado Rovaris leading the Opera Philadelphia Orchestra. Performed in Italian with English Supertitles. Related events include Dito & Aeneas: Two Queens, One Night, a drag concert and dance party with Blythe and Martha Graham Cracker a/k/a Dito van Reigersberg, at the TLA (Theatre of Living Arts), Friday, February 24, 9:30 p.m., 334 South Street, Philadelphia.
BalletX's Winter Series 2017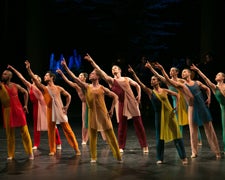 The contemporary ballet company BalletX's Winter Series 2017 offers eleven performances, February 10-19, at the Wilma Theater. The varied program features the world premiere of The Letter by Jo Strømgren, featuring choreography set to the sounds of traditional American folk and blues. R. Colby Damon's first commission for a major contemporary dance company, On the Mysterious Properties of Light, uses a collection of avant-garde and contemporary classical folk songs from different cultures, along with spoken text. The east coast premiere of Matthew Neenan's Credo is named after and set to Credo for String Quartet (2007) by Pulitzer Prize winning composer Kevin Puts, and offers a score performed live onstage by alumni of the Curtis Institute of Music, 265 South Broad Street, Philadelphia. Go behind the scenes with the X-Process, interactive lectures and events, conversations with the artists, and more. Photo by Erin Baiano.
iLuminate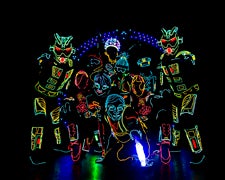 The New York based iLuminate brings their high energy show to Philadelphia for three performances, Friday, February 10, 8 p.m. and Saturday, February 11, 3 p.m. and 8 p.m. The group combines extraordinary lighting effects for their glow-in-the-dark suits on a darkened stage with inventive dance moves to create a unique visual experience for all ages at the Merriam Theater as part of the Kimmel Center for the Performing Arts' Family Discovery Series, 250 South Broad Street, Philadelphia. Courtesy of the Kimmel Center.
The Idiopathic Ridiculopathy Consortium's "The Enchanted"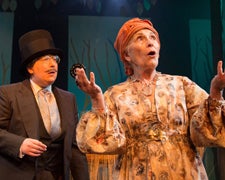 The Idiopathic Ridiculopathy Consortium continues its 10th season of presenting challenging and rarely-produced absurdist works from around the world with the regional premiere of The Enchanted. The comical meditation on life and death by French playwright Jean Giraudoux pokes playful fun at social conventions centering on a school teacher who is seduced by the ghost of a murderer. Directed by Tina Brock and featuring David Stanger, Anna Lou Hearn, Jane Moore, Tomas Dura, John D'Alonzo, Bob Schmidt, and Melissa Amilani, onstage through March 5 at Walnut Street Theatre's Studio 5, 825 Walnut Street, Philadelphia. Photo by Johanna Austin.
"Sans Everything" at FringeArts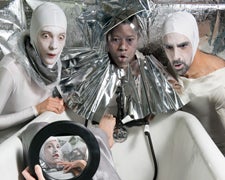 FringeArts transports audiences into the distance future with Sans Everything, a dystopian vision of our future humanity, February 9-11. The world premiere from Lightning Rod Special and Strange Attractor is set so far in the future that humans have been replaced by disembodied intelligence, 140 N. Columbus Boulevard at Race Street, Philadelphia. Photo by Johanna Austin.
The Three Philly Tenors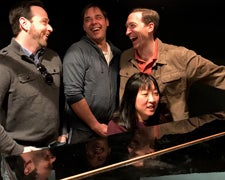 11th Hour Theatre Company showcases a trio of the region's top musical theater talents with The Three Philly Tenors, Monday, February 13, 7 p.m. Ben Dibble, Michael Philip O'Brien, and Jeff Coon have sung on stages across the city and will perform favorite classic and modern Broadway songs at the World Café Live, 3025 Walnut Street, Philadelphia. Musical direction is provided by Barrymore Award-winner Amanda Morton, who will play the piano with Justin Yoder on cello and Michael Reilly on drums. Photo by Steve Pacek.
"Romeo and Juliet" at Media Theatre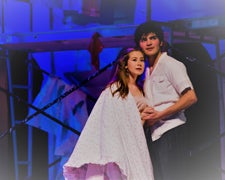 Media Theatre stages its first Shakespeare classic with the tragic Romeo and Juliet. The well-received production is adapted and directed by Bill Van Horn – known to Walnut Street Theatre fans – with Brandon O'Rourke and Lexi Gwynn as the star-crossed lovers, through February 19, 104 E. State Street, Media, Pennsylvania. Photo by Maura McConnell.
"White Guy on the Bus" at Delaware Theatre Company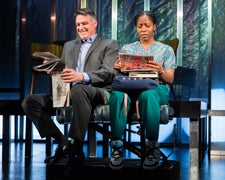 Onstage at Delaware Theatre Company is Bruce Graham's White Guy on the Bus. The story of the complex relationship that evolves between a wealthy businessman and a young, struggling single mother who ride the bus together each week, is directed by Bud Martin and transfers to Off-Broadway after the play's run through February 19, 200 Water Street Wilmington, Delaware. Catch a pre-show "Viewpoints" on Wednesdays. Community discussions follow every performance. A panel discussion on race, equity and education takes place Saturday, February 11, 4:30 p.m. Photo by Matt Urban, Mobius New Media.
"Lagan" at Villanova Theatre
Villanova Theatre continues its commitment to promote Irish studies with the American premiere of Irish playwright Stacey Gregg's critically-acclaimed Lagan. Directed by Villanova alumna Kathryn MacMillan, the play is set after "Troubles," the 30 year conflict that divided Northern Ireland from 1968-1998. Ten lives act as tributaries feeding into a single river, the Lagan, which flows through Northern Ireland and its capital city Belfast, with interlocking monologues of neighbors who have witnessed the tumult of war and the sudden, disorienting calm of peace, through February 19 in Villanova University's Vasey Hall, Lancaster and Ithan Avenues, Villanova, PA. February 16 is Speaker's Night, offering a post-show discussion. Free parking in VU's main lot. Photo by Paola Nogueras.
Valentine Variety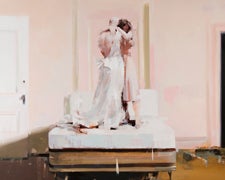 A More Perfect Union? Power, Sex and Race in the Representation of Couples, an exhibit exploring changing ideas about marriage and artists' depictions of couples from the time of the American Revolution to the present, is on display at Woodmere Art Museum. The examination of how artists over the years have responded to changing societal attitudes in the representation of human relationships includes painting, drawing, photography, sculpture, printmaking, and graphic work, as well as both fine art and popular culture imagery, through May 21, 9201 Germantown Avenue, Chestnut Hill. A free open house and gallery talk takes place Saturday, February 11, 3 p.m. – 6 p.m. Pictured: Hotel, 2008, by Alex Kanevsky (Collection of John and Judy Cacciola) courtesy of Woodmere Art Museum.
Take your sweetheart to the Clay Studios Valentine's Day Date Night, Friday, February 10 through Tuesday, February 14. Instructors guide you through four-handed throwing by candlelight while enjoying light fare, chocolate, champagne, wine and mood music. Wear or bring clothes to change into that you don't mind getting dirty, 137-139 North Second Street, Old City Philadelphia. Preregistration required.
Tongue & Groove, Philly's unique unscripted theater company, perform their popular Secrets of the Heart: Lusted, Busted or Trusted. The audience is asked to anonymously submit true secrets (of the heart) that they keep and all will be revealed Friday, February 10, 8 p.m., the Playground at the Adrienne Theater, 2030 Sansom Street, Philadelphia.
The Philadelphia Shakespeare Theatre hosts Shakespeare in Love: Open Mic Poetry Night, Tuesday, February 14, 6 p.m. – 8 p.m., celebrating the greatest love poets from around the world at the Free Library of Philadelphia, 1901 Vine Street, Philadelphia.
Painted Bride Arts Center hosts a salsa dance party, Salsa Caliente, Saturday, February 11, with salsa lessons at 8 p.m. and party at 9 p.m., 230 Vine Street, Philadelphia.
Glide along to your favorite love songs at the Sweetheart Skate at the Rothman Institute Ice Rink, Sunday, February 12, 4 p.m. – 8 p.m., with romantic activities, Dilworth Park, Philadelphia. Buy one get one to skate with your sweetheart.
First Person Arts' Anti-Valentine's Day StorySlam returns for a 7th year with "Ex-Files," true stories about breakups and heartbreak, Tuesday, February 14, doors open at 6 p.m. and show at 7 p.m., Punch Line Philly, 33 E. Laurel Street, Philadelphia.
Catch Valentine's Day with Joanna Pascale and her band at Chris' Jazz Café, Tuesday, February 14, 6 p.m., 8 p.m., and 10 p.m., 1421 Sansom Street, Philadelphia.
Discover how Valentine's Day was celebrated in the past at Hagley Museum and Library's Victorine's Valentine's Day, Saturday, February 11, 11 a.m. – 4 p.m., with crafts and treats at 200 Hagley Creek Road, Wilmington, Delaware.
Love, Letters, and Libations at the Rosenbach is Saturday, February 11, 6 p.m. – 9 p.m., embracing the time-honored Valentine traditions of arts, letters, and candy. Also, explore current exhibitions, crafts, light refreshments, and visit the rare book library. 21 and over.
Chestnut Hill's Valentines on Ice takes place Saturday, February 11, 12 p.m. – 2 p.m., as renowned ice sculptors Peter Slavin and Don Harrison of Ice Sculpture Philly perform live ice carving with complimentary s'mores and hot chocolate with Queen Elsa from "Frozen."
Eddie Bruce and Paula Johns perform Rhythm and Romance, a musical Valentine, Saturday, February 11, 8 p.m., the Rrazz Room at the Prince Theater, 1421 Chestnut Street, Philadelphia.
Allentown Symphony Orchestra performs Viennese Nights with pianist Katie Mahan and the Bel Canto Children's Chorus, Saturday, February 11, 7:30 p.m. and Sunday, February 12, 3 p.m., 23 N. 6th Street, Allentown, Pennsylvania.
The Delaware Contemporary hosts Love Letters: Art with Heart, part of "Free Family Sundays," February 12, 12 p.m. – 3 p.m., with guided tours, classroom activities, scavenger hunts through the galleries, and activities in the spirit of St. Valentine's Day, Steve Powers' mural project, A Love Letter For You, and the iconic Robert Indiana's LOVE sculpture, 200 South Madison Street, Wilmington, Delaware.
Spend Valentine's Day with the Philadelphia Orchestra, Tuesday, February 14, 8:30 p.m., as Cristian Macelaru leads an all-Gershwin program at the Kimmel Center for the Performing Arts.
RetroLove, an all-original evening of poetry, songs, stories and jazz that captures relationships before the Internet, was conceived and written by poet and performer Beth Feldman, with compositions and music direction by jazz artist Monnette Sudler and Barrymore Award-winning singer and actress Joilet Harris. Catch the show (originally commissioned by the Philadelphia Jazz Project), Sunday, February 12, 5 p.m., downstairs at World Café Live, 3025 Walnut Street, Philadelphia.
Discover haunting love stories and the ghosts they leave behind with the Ghost Tour of Philadelphia's 8th annual Valentine's Ghost Tour: Love Never Dies, February 11-14, 7 p.m. The 75 minute candlelight walking tour includes stops at haunted burial grounds and historic homes as well as a tour of the Powel House (where the tour begins), 244 S. 3rd Street, Philadelphia.
Head to the State Theatre of New Jersey for Dancing and Romancing with the New Jersey Symphony Orchestra, Sunday, February 12, 3 p.m., and Gemma New, conductor, Joan Hess, vocalist and dancer, and Kirby Ward, vocalist and dancer, with song and dance standards inspired by Fred Astaire, Ginger Rogers, Gene Kelly and more. Enjoy pre-concert festivities for ticketholders, 15 Livingston Avenue, New Brunswick, New Jersey.
Princeton University Concerts brings solo percussionist Colin Currie to Richardson Auditorium in Alexander Hall on Tuesday, February 14 for a "sensory Valentine's Day Concert," 6 p.m. and 9 p.m. Seating is limited – onstage around the performer – for the "Performance Up Close" series and a program of Elliott Carter, Per Norgaard, Toshio Hosokawa, Annuzio Paolo Mantovani, Iannis Xenakis, and Rolf Wallin's "Realismos Mágicos," eleven short pieces based on Gabriel García Márquez short stories, read by local actor Michael Dean Morgan.
In The Black Box: Northern Liberties Winter Festival Presents A Tribute to John Coltrane's A Love Supreme with David Fishkin and the Righteous Aquarium Band featuring Bobby Zankel, Tuesday, February 14, 9 p.m. (doors open at 8 p.m.), 1200 Callowhill Street, Philadelphia.
Fleisher Art Memorial's 17th annual Print Love In returns with an opportunity to learn about the printmaking process while creating your own Valentine's Day cards from designs by Philadelphia artists, with five sessions this Saturday and Sunday, February 11-12, 719 Catharine Street, Philadelphia.
The African American Museum in Philadelphia celebrates Black Love with a Macy's Family Fun Day! Saturday, February 11, 10 a.m. – 5 p.m. Activities include Hip Hop Musicology performance with Ali Richardson, collage and printmaking with Tanya Murphy, photography workshop, and Remember Your Rainbow workshop, 701 Arch Street, Philadelphia.
Each week, the Entertainment Guide spotlights interesting local arts offerings happening now, including music, dance, theater, museums, special exhibitions and other arts events from across the region.
To submit an event to be considered, email Robin Bloom at artscalendar@whyy.org.
WHYY is your source for fact-based, in-depth journalism and information. As a nonprofit organization, we rely on financial support from readers like you. Please give today.