Weekly Entertainment Guide – Pulitzer Prize Photographs, Léger, and Philadelphia Film Festival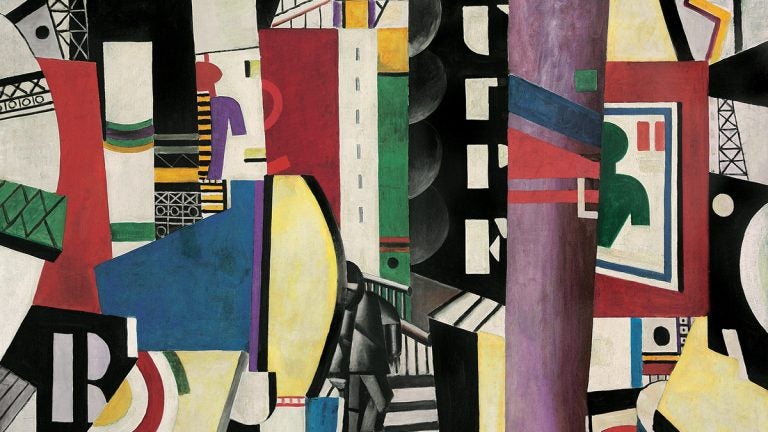 Looking for something to do this week? WHYY's Robin Bloom has some recommendations on what's happening in the Philadelphia region. Here are her picks:
Art Appreciation
Capture the Moment: The Pulitzer Prize Photographs
Experience the most comprehensive exhibition of Pulitzer Prize-winning photographs ever assembled, featuring every winning photo since the Pulitzer Prize board began awarding the prize in 1942, with "Capture the Moment: The Pulitzer Prize Photographs," at the National Constitution Center, opening October 11 through December 31. This traveling exhibition, made up of more than 150 photographs, arrives in Philadelphia after drawing millions of visitors on its worldwide tour. The collection, arranged chronologically, illuminates the enduring power of the still image and the key role of the press in documenting the stories of our time. Iconic images include U.S. Marines raising an American flag on Iwo Jima (pictured), Babe Ruth watching his number being retired at Yankee Stadium, Jack Ruby's assassination of Lee Harvey Oswald, the 9/11 World Trade Center attack, and other monumental times in history. Look for a number of photos that have a direct connection with Philadelphia. Related programming and events as well as activities that explore the role of photography in documenting history, 525 Arch Street, Independence Mall, Philadelphia.
American Moderns, 1910–1960: From O'Keeffe to Rockwell
"American Moderns, 1910–1960: From O'Keeffe to Rockwell," a major traveling exhibition drawn from the Brooklyn Museum's renowned American Art collection, is on view at the Delaware Art Museum, October 12 to January 5. The display recaptures the first half of the 20th century, a period during which America underwent tumultuous transformations, experiencing the Great Depression and two world wars, and emerging from these struggles as a major economic, industrial and military power. The 57 paintings and sculptures expand the discussion of what is modern and includes a wide array of artistic styles such as Synchronism, Cubism, Precisionism, Expressionism and Social Realism. The exhibition features a fascinating roster of artists, including Georgia O'Keeffe (pictured), Milton Avery, Marsden Hartley, Stuart Davis, Arthur Dove, Rockwell Kent, Joseph Stella, Elie Nadelman, and Norman Rockwell. This is one of the first major traveling exhibitions to be hosted by the Delaware Art Museum since 2008. Curated by Dr. Heather Campbell Coyle, Curator of American Art at the Delaware Art Museum, 2301 Kentmere Parkway, Wilmington. Related programming and events include members preview, Friday, October 11, 6pm-8pm, gallery talks, symposium, free family day and more.
Léger: Modern Art and the Metropolis
Opening Monday, October 14 at the Philadelphia Museum of Art is "Léger: Modern Art and the Metropolis," centered on the French artist's masterpiece "The City." The innovative piece is considered one of the greatest works in the Museum's collection and the exhibition examines its significance in Léger's career and the European avant-garde after World War I. The multimedia display includes approximately 160 works on loan from public and private collections in Europe and the United States, as well as other important paintings from this period. Also, works in film, theater design, graphic and advertising design, and architecture by the artist and his avant-garde colleagues like Piet Mondrian, Theo van Doesburg, Cassandre, Le Corbusier, Gerald Murphy, Francis Picabia, Man Ray, and many others, through January 5, Dorrance Galleries, Benjamin Franklin Parkway, Philadelphia. Curated by Anna Vallye, Andrew W. Mellon Postdoctoral Curatorial Fellow in Modern and Contemporary Art. Related programming and events include lectures, family activities, film series, musical performances, and more.
"In Danger" at the Schuylkill Center for Environmental Education
The Schuylkill Center for Environmental Education showcases the work of Sarah Kaizar. "In Danger," pen and ink depictions of many of the 1163 species of animals and plants identified on the U.S. Endangered Species list. Drawing from photographs by the U.S. Fish and Wildlife Service and other institutions, Kaizar has her work reviewed by biologists to ensure the accuracy of her representations. On display through January 4, 8480 Hagy's Mill Road, Philadelphia. Opening reception, Saturday, October 12, 4pm-6pm.
Onstage
FringeArts's first year-round season kicks off this Friday, October 11 with "Elephant Room," through October 20. In the winter of 2010-11, writers Steve Cuiffo, Trey Lyford and Geoff Sobelle set out to research the performative techniques of magicians. They were taken under the wing of Dennis Diamond, Louie Magic and Daryl Hannah, who granted them access to the Elephant Room. Forever changed by what they witnessed, the authors persuaded the magicians to showcase their craft. The result is an invitation into a secret society in FringeArts' new 240-seat theater, 140 N. Columbus Boulevard (at Race Street), Philadelphia. Originally premiered at the 2011 Live Arts Festival.
Pennsylvania Ballet's "Jewels"
Pennsylvania Ballet launches its 50th Anniversary Season with a premiere of the full-length George Balanchine masterpiece, "Jewels," October 17-27. Inspired by the artistry of jewelry designer Claude Arpels, each of the acts, Emeralds, Rubies, and Diamonds, has its own distinct ballet, music, and mood, set to the music of Fauré, Stravinsky, and Tchaikovsky. Jewels celebrates a half century of dance and pays tribute to choreographer George Balanchine, whose works have played a pivotal role in the history of the Pennsylvania ballet. This is the first time the company has danced all three acts in one show, at the Academy of Music, Broad and Locust Streets, Philadelphia. Related programming and events include a pre-show talk on Friday, October 18, a 50th anniversary gala, Saturday, October 19, "A Gift to the City," a free performance on Sunday, October 20, 3pm (which will be recorded by WHYY for national broadcast on PBS).
Curio Theatre Company's "Romeo and Juliet"
Curio Theatre Company explores gender roles with a same-sex staging of "Romeo and Juliet." Isa St. Clair and Rachel Gluck lead the cast as Juliet and Romeo, the adolescent daughters of two warring families in a modern Verona, portraying the universality of the Shakespearean classic of tragic teenage love. Cast also includes members of Curio's resident company: Aetna Gallagher, Colleen Hughes, Steve Carpenter, Josh Hitchens, Eric Scotolati, Ken Opdenaker, and Harry Slack. Krista Apple-Hodge makes her Curio directorial debut through November 2 in the sanctuary, at 4740 Baltimore Avenue, Philadelphia.
"Kansas City Swing" at Crossroads Theatre Company
Opening this weekend at Crossroads Theatre Company is "Kansas City Swing," a new play by Trey Ellis and Ricardo Khan (co-founder and former artistic director of the theater). It's the fall of 1947 in Kansas City, the year Jackie Robinson broke Major League Baseball's "color barrier." The Satchel Paige All-Stars of the Negro Leagues are gearing up to play the all-white Bob Feller All-Stars during the teams' cross-country barnstorming tour. Blending jazz, humor, legend, and lore, the production portrays a sport and a nation in transition, through October 27, 7 Livingston Avenue, New Brunswick, NJ.
Inis Nua Theatre Company's "Blink"
Inis Nua Theatre Company, known for showcasing contemporary plays from Ireland, England, Scotland and Wales, celebrates its 10th anniversary with the U.S. premiere of Phil Porter's "Blink," through October 27. Directed by Tom Reing and starring Adam Altman and Clare Mahoney, the love story is about the deep desire to connect and the simultaneous fear of being known, at the Off-Broad Street Theater in the First Baptist Church, 1636 Sansom Street, Philadelphia. "Blink" premiered at the Traverse Theatre as part of the Edinburgh Fringe Festival in 2012. Opening night is Friday, October 11, 8pm.
Theatre Exile opens a new season with the Philadelphia premiere of "Cock," by British playwright Mike Bartlett. The show centers on John, who takes a break from his boyfriend and unexpectedly falls for a woman and is forced to confront who he is and what he really wants. Directed by Producing Artistic Director Deborah Block and starring Wes Haskell, John Jarboe, Mary Tuomanen, and Benjamin Lovell, "Cock" is onstage October 17 through November 10 at Studio X, 1340 S. 13th Street, Philadelphia.
"Kingdom of Earth" at South Camden Theatre Company
South Camden Theatre Company opens its 9th season with the regional premiere of Tennessee Williams' rarely produced "Kingdom of Earth," October 11-27. Also known as "The Seven Descents of Myrtle," the "Southern Gothic" play confronts race and sexuality against the backdrop of Southern mythology. Directed by Connie Norwood and starring Alissa Nesson, John Schultz, and Roderick Slocum in the 96 seat Waterfront South Theatre, 400 Jasper Street, Camden, NJ.
Travel back to Ice Age & Jurassic Age
Dinosaurs Unearthed at Academy of Natural Sciences
Don't miss 13 life-size animatronic dinosaurs on display at the Academy of Natural Sciences of Drexel University. "Dinosaurs Unearthed" makes its East Coast debut this weekend with full-size Jurassic period skeletons, a comprehensive collection of real fossil casts, hands-on activities, and extra events for opening weekend. On display through March 30 at 1900 Benjamin Franklin Parkway, Philadelphia.
"Ice Age Imperials" at Delaware Museum of Natural History
Discover what life was like during the Ice Age with the Delaware Museum of Natural History's latest exhibit, "Ice Age Imperials," opening October 12 through January 5. Highlights include full-scale dioramas of a Sabertooth cat, Wooly Mammoths, 6 feet tall beavers and other giant creatures that roamed the Earth long ago, along with a fossil "dig box," specimens from the museum's collection and more, 4840 Kennett Pike, Wilmington. Members Preview party, Friday, October 11, 5:30pm-7:30pm with activity stations, science lab, live animals and more.
Music
"Viva Philadelphia" with the Philly POPS
This Columbus Day weekend, the Philly POPS open a new season as Maestro Michael Krajewski (pictured) makes his official debut with "Viva Philadelphia," celebrating the city and its Italian spirit. Performances feature Philly's own Eddie Bruce, the "Poperazzi," vocal trio, and the POPS Festival Chorus, paying tribute to Mario Lanza, Tony Bennett, Frank Sinatra, Andrea Bocelli, and more, Friday, October 11, 8pm, Saturday, October 12, 3pm, and Sunday, October 13, 3pm, in the Kimmel Center's Verizon Hall, Broad Street, Philadelphia.
Keswick Theater hosts October concerts and shows: Steve Hackett: Genesis Revisited, Saturday, October 12, 8pm (make it a day on October 12 at catch Keswick Village's 2nd Annual Fall Festival, noon-6pm with food, crafts, music and more for the whole family. Rain date October 13); Colin Hay, Sunday, October 13; Sandwich To Go Tour, Tuesday, October 15; Zappa Plays Zappa (pictured), Wednesday, October 16; The Piano Guys, Friday, October 18; The Fab Faux, Saturday, October 19; Lyle Lovett & John Hiatt, Friday, October 25; Cheech & Chong, Sunday, October 27; Hugh Laurie & Copper Bottom Blues Band, Wednesday, October 30; 291 North Keswick Avenue, Glenside, PA.
The 24th annual Rehoboth Beach Jazz Festival is October 17-20 featuring Sheila E (pictured), Steve Cole, Pete Escovedo, Keiko Matsui, Najee, Marion Meadows and many more on 5 stages in Lewes and Rehoboth Beach, Delaware.
Festivals, Fairs & More
Learn about local Victorian heritage at the 41st annual Victorian Weekend, Friday, October 11 through Tuesday, October 15, as the Mid-Atlantic Center for the Arts & Humanities hosts events including house tours, living history programs, food and wine events, a crafts and antiques show, murder mystery dinners and more in Cape May, NJ. While there, check out "Scarecrow Alley" on the grounds of the Emlen Physick Estate, 1048 Washington Street.
Philly Fests
The Independence Seaport Museum's 2nd Old City Seaport Festival is this Friday, October 11 through Sunday, October 13 along the Museum's waterfront. Explore tall ships along with music, crafts, food and more. A Parade of Boats opens the festivities on Friday with a Pirate Battle on Saturday, and Sunset River tours on Sunday. New this year, Gosling's Dark 'n Stormy Tavern, on the Museum's 2nd floor outdoor terrace overlooking the Delaware River and a sampling of Philly food trucks, Penn's Landing, Philadelphia.Celebrate fall and the Pennsylvania harvest at Reading Terminal Markets 13th annual Harvest Festival, Saturday, October 12, 10am-4pm, with food, hay rides, live music, arts and crafts, and games, along with cooking demonstrations by Celebrity Chef Gil Hovav, market tours, and more, on Filbert Street by 12th & Arch Streets, Philadelphia. Admission and activities free.South Philly Fest returns on Sunday, October 13, noon-6pm with live music, food and drink specials, vendors and more, hosted by Lucky 13 and Sweet Jane Vintage, corner of East Passyunk and 13th Street, Philadelphia. Start the fun on Saturday, October 12 with East Passyunk's Second Saturday.Philly Pride's biggest event of the year, Outfest 2013, is Sunday, October 13, beginning at noon with over 140 vendors, groups, and activities for a full day of entertainment, 12th/13th and Locust Street in the "Gayborhood," Center City, Philadelphia, Free.The 215 Festival, celebrating literary arts, is back October 17-20, showcasing talent in several Philly neighborhoods with author readings, workshops, talks and more.
The Philadelphia Film Society presents the 22nd annual Philadelphia Film Festival, October 17-27 offering over 100 films from 36 countries at venues throughout Philadelphia including Ritz East, Ritz at the Bourse, Prince Music Theater, Rave, and Perelman Theater at the Kimmel Center. Special programming includes Festival Lounge, Closing Night Extravaganza and more. Program available online. Pictured: Bombay Talkies.
Philadelphia's 3 day Terror Film Festival is back Thursday, October 17-19. This year's lineup of 28 short films and 3 feature films from around the world brings together horror, science fiction, fantasy, thriller and dark drama. Watch the movies, then meet the actors and filmmakers, enjoy free treats and refreshments at the parties, concluding with the Claw Awards, Saturday, October 19, Ethical Society Building, Rittenhouse Square, Philadelphia.
Autumn/Halloween events
The 10th annual South Jersey Pumpkin Show is Friday, October 11 through Sunday, October 13, with music, vendors, boo barn, dining, contests, pony rides and petting zoo, kid's craft making, dessert contests, exhibits, tales of the Headless Horseman (pictured) and more, rain or shine, Salem County Fairgrounds, Woodstown, NJ.
Celebrate fall in Sister Cities Park each Saturday in October with music, family-friendly activities, pumpkins, Scarecrow Festival exhibit and more, free and open to the public. The Noggin Hill Band performs Saturday, October 12, 18th Street and the Benjamin Franklin Parkway, Philadelphia.Camden Children's Garden hosts Mum Madness and Pumpkin Parade Family Festival this Saturday and Sunday, October 12-13, 1pm-4pm, a salute to autumn with pumpkin crafts, pumpkin stories and activities, all set in the blazing colors of the Garden's beautiful chrysanthemums, 3 Riverside Drive, Camden, NJ.The Return of Edgar Allan Poe, a night of mystery and macabre at The Woodlands, is Tuesday, October 15, 6:30pm-9pm, with literary historian and playwright Rob Velella returning to bring Poe's work to life. After the performance, join in a cemetery walk to visit the grave of Timothy Shay Arthur, a contemporary of Poe's, 4000 Woodland Avenue, University City in West Philadelphia.
The Ghost Tours of Philadelphia offer Candlelight Walking Tours, Haunted Trolley Tours and special events in the historic district of the city with 75 to 90 minute tours nightly, departing from Signers Garden at 5th & Chestnut Streets and ending at 2nd and Walnut Streets, through Halloween, Old City, Philadelphia.
Yifei Kong contributed reporting to this week's guide.
To submit an event to be considered for the Weekly Entertainment Guide email Robin Bloom at artscalendar@whyy.org.
Like us on Facebook to add the Weekly Entertainment Guide to your News Feed.
WHYY is your source for fact-based, in-depth journalism and information. As a nonprofit organization, we rely on financial support from readers like you. Please give today.