Weekly Entertainment Guide – 'Julius Caesar,' 'Porgy & Bess,' and Bad Boys of Dance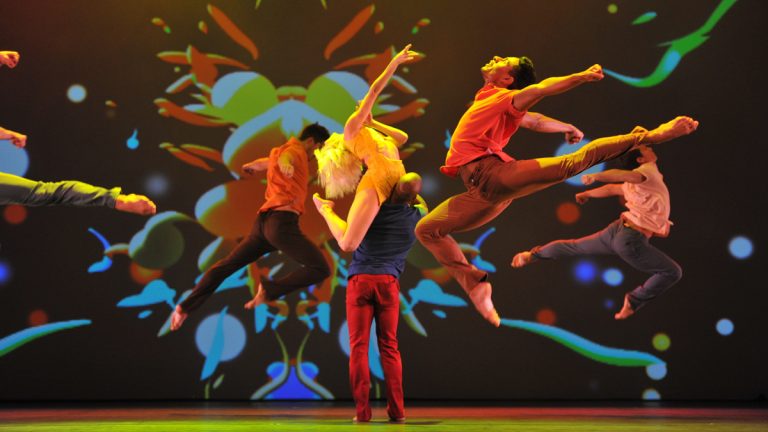 Looking for something to do to beat the cold this winter season? WHYY's Robin Bloom has some recommendations on what's happening around the Philadelphia region this week. Here are her picks:
Onstage
Lantern Theater's "The Tragedy of Julius Caesar"
The Lantern Theater Company continues its twentieth-anniversary season with "The Tragedy of Julius Caesar." The fate of the Roman Republic hangs in the balance when a group or senators decide that Caesar's power and popularity are dangerous to the state. The accomplished cast features Tony Award Nominee Forrest McClendon in the title role, Barrymore Award Winner Joe Guzmán as the scheming Senator Caius Cassius, and Philadelphia favorite U.R. as the principled and conflicted Marcus Brutus. The company's annual Shakespeare offering is inspired by the warrior ethos of feudal Japan, incorporating Shoji screen architecture, traditional Japanese warrior clothing and music performed by Philadelphia's Taiko drum ensemble. Directed by Charles McMahon, the Lantern's Artistic Director, at St. Stephen's Theater, 10th and Ludlow Streets, Philadelphia through March 16. Special events include a three-part "Scholars: In Conversation" series, "Friends, Romans, Countrymen: Julius Caesar in the Modern World," which features area experts on Shakespeare and politics, February 24, March 3 and March 10 at 7pm. A special wine tasting "A Tour of the Roman Empire" will precede the performance on Friday, March 28 at 6pm. Student rush tickets are available 10 minutes before curtain with valid ID for $10, cash only.
Broadway tour of The Gershwins' Porgy and Bess
The Broadway tour of "The Gershwins' Porgy and Bess" arrives in Philadelphia February 18-23 at the Academy of Music. The re-imagined production by Tony Award-winning director Diane Paulus (Pippin, Hair), Pulitzer Prize-winning playwright Suzan-Lori Parks (Topdog/Underdog), and two-time Obie Award-winning composer Diedre L. Murray (Running Man), won the 2012 Tony Award for Best Revival of a Musical, features a 23 piece orchestra and all of the legendary songs including "Summertime," "It Ain't Necessarily So," and "I Got Plenty of Nothing," Broad Street, Philadelphia.
Neil Simon's "Hotel Suite" at Act II Playhouse
Act II Playhouse guarantees the laughs with Neil Simon's "Hotel Suite," the first time the theater has staged a comedy by the prolific American playwright and screenwriter. The play includes four short plays drawn from Simon's successful hotel series: "Plaza Suite" (1968), "California Suite" (1976), and "London Suite" (1994). In the lavish hotel rooms of New York, Los Angeles, and London, two very different married couples undergo comic mishaps that challenge their relationships. The cast features Philadelphia-area comedy favorites Tony Braithwaite (Act II's Artistic Director), Leonard C. Haas, Tracie Higgins, Janet McWilliams, and Karen Peakes. Direct by Matt Silva from February 18 through March 16 at Act II Playhouse, 56 E. Butler Avenue, Ambler, PA.
Rasta Thomas' Bad Boys of Dance
Rasta Thomas' Bad Boys of Dance bring their high-energy mix of ballet, contemporary, and hip-hop to Annenberg Center for the Arts, Thursday, February 20, 7:30pm, Friday, February 21, 8pm, and Saturday, February 22, 2pm and 8pm. Known for their appearances on Dancing with the Stars and So You Think You Can Dance, the ensemble of six male and two female dancers performs more than 200 shows per year in over 25 countries. The fast-paced 80 minute program is set to a pop score, choreographed by co-artistic director and USA International Junior Gold Medalist Adrienne Canterna, 3680 Walnut Street, Philadelphia. BBD will hold a Student Discovery program on Friday, February 21, 10:30am, and a master class on Friday, February 21 at 1pm. Presented by Dance Affiliates.
"Great Expectations" at Lewis Center for the Arts
The Charles Dickens' classic "Great Expectations" is brought to life in Neil Bartlett's acclaimed adaptation at Lewis Center for the Arts, February 14-22, 185 Nassau Street, Princeton, NJ. The popular, enduring story and quintessential example of Victorian literature is directed by Tim Vasen and features Princeton University Program in Theater senior Peter Giovine leading the all-student cast as Pip (pictured). A talk-back discussion follows the February 15 performance.
First State Ballet Theatre's World Premiere of "Irene"
Delaware's professional ballet company, First State Ballet Theatre, presents the world premiere of "Irene," a vampire-themed ballet written by Delaware musician Shaun Dougherty, with original choreography and music played by a live ensemble, Friday, February 21, 7pm at the Grand Opera House, 818 N. Market Street, Wilmington, DE.
Art Appreciation
In 2010, after thirty years of photographing the atrocities of war, Sebastian Rich devoted himself to photographing dance. As he wrote in a 2010 Daily Beast article, "There comes a time in the life of some in my profession that we cry out for beauty and a gentleness that is missing in our lives. I have reached that stage." His powerful photographs capture the grace of bodies in contact as well as the solitary struggle of injury in the exhibit "Bullets to Ballet," on view at Drexel University, URBN Center, 3501 Market St., Philadelphia through February 21, free and open to the public.
Northern Liberties: From World's Workshop to Hipster Mecca & the People in Between
"Northern Liberties: From World's Workshop to Hipster Mecca and the People in Between" opens February 20 at the Philadelphia History Museum. The exhibit, sponsored by the Northern Liberties Neighbors Association and curated by Northern Liberties artist Jennifer Baker, offers photographs, artifacts, videos and the collected stories of the people who remember the lively postwar industrial neighborhood, shining a spotlight on the effects of deindustrialization and depopulation and the eventual redevelopment of this uniquely Philadelphia neighborhood, in the Museum's Community History Gallery, 15 S. 7th Street, Philadelphia. Opening reception Thursday, February 20, 5:30pm-7:30pm.
"Humankind" at Main Line Arts Center
"Humankind" at Main Line Arts Center explores the human condition through contemporary photography. Featuring works by Donald E. Camp, Lydia Panas, and Lori Waselchuk, the exhibit juxtaposes portraiture with documentary photo essays to demonstrate the range of photography's engagement with humanity. Philadelphia photographer Camp's portraits (pictured) of African American men evoke the erasure of their achievements within popular memory. Waselchuk's documentary photos capture daily life in Philadelphia in all its harshness and joy. Haunting group portraits by Panas delve into the complexity of human interaction. Curated by Amie Potsic, Executive Director of Main Line Art Center, through March 20 at 746 Panmure Road Haverford, PA. There will be an opening reception on February 21 from 6pm-8pm.
Music
Greater Philadelphia Scottish & Irish Music Festival and Fair
The 22nd annual Greater Philadelphia Scottish & Irish Music Festival and Fair returns to the Valley Forge Casino Resort and Convention Center, February 14-16, featuring The John Byrne Band, Brother, Albannach, Jamison, Screaming Orphans (pictured), and more, with continuous music and activities all weekend. Craft and jewelry vendors, traditional food vendors, seminars including "What the Heck is a Bagpipe?," dance lessons, kilt making workshops, Scottish and Irish Whiskey tastings, and activities for the whole family. Doors open at 6:30pm Friday night, 1160 First Avenue, King of Prussia, PA. Parking and children 12 and under free.
Philadelphia Orchestra Play-In
Come on down for the "Play-In," Philadelphia Orchestra's free community event, Saturday, February 15, 6:30pm-7:15pm, Commonwealth Plaza, at the Kimmel Center for the Performing Arts. Woodwind and horn musicians of all ages and abilities join Co-Principal Bassoon Mark Gigliotti, Associate Principal Clarinet Samuel Caviezel, bass clarinetist Paul Demers, Associate Principal Flute David Cramer, flutist Loren Lind, bassoonist Holly Blake, oboist Elizabeth Starr Masoudinia, and Associate Principal Horn Jeffrey Lang. Acclaimed guest conductor Vladimir Jurowski will also participate. Program includes Serenade in E-flat major, Op. 7, by Richard Strauss, Divertimento No. 1 in B-flat major by Franz Joseph Haydn, Petite Symphonie by Charles Gounod. Registration is closed to participate in this program but look for future opportunities including for harp, brass, and double bass in March, April, and May. And, on Sunday, February 16, 3pm, catch the Philadelphia Youth Orchestra, 130 gifted musicians aging from 14-21, led by Maestro Louis Scaglione, Kimmel Center, Broad Street, Philadelphia.
Love with a Twist: A Program for Those Lucky at Cards (Unlucky at Love)
Lyric Fest presents "Love with a Twist: A Program for Those Lucky at Cards (Unlucky at Love), with two concerts, Saturday, February 15, 7:30pm at Lenape Valley Church in New Britain, PA (first time in Bucks County), and Sunday, February 16, 3pm, at the Academy of Vocal Arts in Philadelphia. Just in time for Valentine's Day weekend, the performance offers a fun look at romance with a program of art songs, standards, show tunes and opera. Guest artists include Barbara Shirvis (pictured), Stephen Powell and Richard Troxell, Suzanne DuPlantis, and Randi Marrazzo with Harold Evans on piano.
The Soweto Gospel Choir arrives in Philadelphia for their fifth major North American Tour, Sunday, February 16, 7pm in the Zellerbach Theatre, Annenberg Center for the Performing Arts. The two-time Grammy Award-winning South African group is promoting their new album, celebrating the past ten years of the ensemble's artistic collaborations, and honoring the life and legacy of their late President, Nelson Mandela, 3680 Walnut Street, Philadelphia. Pre-show performance by the New Spirit of Penn Gospel Choir at 6pm.
Choral Arts Philadelphia and The Bach Festival of Philadelphia continue their collaboration on innovative, intimate mid-week musical events with the fourth of six BACH@7 Cantata Series, Wednesday, February 19, 7pm, Saint Mark's Episcopal Church. Program includes Charles Villiers Stanford, Buxtehude, and J.S. Bach, with soloists Lesley Johnson, soprano, Jenifer L. Smith, mezzo-soprano, Ryan Tibbetts, bass. Each program runs under an hour and features a Bach Cantata, accompanied by short thematically-related choral and orchestral works, with live commentary on music by Matthew Glandorf, conductor. Post-concert reception with artists follows, 1625 Locust Street, Philadelphia.
Anders Osborne at World Café Live
Anders Osborne promises to rock out the stage with his blend of hard-rocking, raw, edgy, New Orleans jazz and blues at World Café Live Upstairs, Wednesday, February 19, show at 8pm, doors open at 7pm, 3025 Walnut Street, Philadelphia.
Presidents Day Weekend Events
Valley Forge National Historical Park celebrates Presidents Day Weekend with events in honor of what would be George Washington's 282nd birthday. On Saturday, February 15, members of the Boy Scouts of America will take part in the 102nd annual Pilgrimage and Encampment. On Sunday, February 16, the Second Pennsylvania Regiment, a local living history reenactment group provides an interpretation of camp life with artillery demonstrations, a ranger talk, and more. On Monday, February 17, the park hosts a birthday party for General Washington. Make cards, play 18th century games, try on continental clothing, see musket demonstrations, and meet General and Mrs. Washington (pictured). Samples will be provided of a modernized version of Martha Washington's recipe for the birthday cake she surprised her husband with in a public celebration of his birthday in Valley Forge for his 46th birthday.
Historic Philadelphia hosts a Black History Month celebration this weekend, February 15-17, 1pm-4pm, as Once Upon a Nation storytellers share tales of African Americans who played a role in our history, including Octavius Catto and those involved with the Underground Railroad. Catto, a black educator, intellectual, and civil rights activist, became a martyr to racism in 1871 as he was shot and killed during Election Day violence in Philadelphia. Dress in Colonial costume to create photo keepsakes, Historic Philadelphia Center, 6th and Chestnut Streets, Philadelphia.
The National Constitution Center honors Black History Month and Presidents Day with free admission on Monday, February 17. Programs include Breaking Barriers Show at 12:30pm and 2:30pm, examining the lives of Thurgood Marshall, Bessie Coleman, Jackie Robinson, and other notable African Americans, Decoding the Document: Emancipation Proclamation, 12pm and 2pm, an interactive program offering the opportunity to learn more about the Civil War and the 13th, 14th, and 15th Amendments to the Constitution through the museum's rare copy of the document, tours, a giant board game and more, and 27 Amendments (in 27 Days) with a crash course in constitutional history from the Bill of Rights, taking place every day in February. Learn about the role of the president and what it takes to be commander-in-chief with activities, crafts, and more, 525 Arch Street, Philadelphia. Extended hours on Sunday, February 16, 9:30am-5pm.
Marissa Nicosia contributed reporting to this week's guide
To submit an event to be considered for the Weekly Entertainment Guide email Robin Bloom at artscalendar@whyy.org.
Like us on Facebook to add the Weekly Entertainment Guide to your News Feed.
WHYY is your source for fact-based, in-depth journalism and information. As a nonprofit organization, we rely on financial support from readers like you. Please give today.