Weekly Entertainment Guide – Fall for the Arts
Listen
Pick your festival this week! Honey, mushrooms, sausage, seafood, and more, including the 20th anniversary of the Fringe Festival. Robin Bloom shares her picks.
What's Happening
Opera on the Mall
Tickets are now available for the free, season-opening Opera on the Mall performance of Puccini's final masterpiece, Turandot, broadcast in HD from the stage of the Academy of Music to three giant outdoor screens at Independence National Historical Park on Saturday, October 1. Photo by HughE Dillon.
Baltimore Avenue Dollar Stroll
The Baltimore Avenue Dollar Stroll returns for one night only, Thursday, September 8, 5:30pm-8:30pm, an outdoor street festival with participating businesses offering $1 specials along with live music, street performances, and more, Baltimore Avenue from 43rd to 52nd Streets, University City. Rain or shine. Photo courtesy of University City District.
Philadelphia Honey Festival
The 7th Annual Philadelphia Honey Festival raises awareness about the importance of bees to our environment, the impact of local honey on our economy, and to promote urban beekeeping and gardening with sweet activities for the whole family including children's activities, open hive demonstrations, honey extractions and tastings, guest speakers, the Bee Beard man (pictured) and more. The Festival takes place Friday, September 9, Glen Foerd on the Delaware, Saturday, September 10, Wyck Historic House and Garden, Sunday, September 11, Bartram's Garden, Philadelphia. Free and open to the public, rain or shine. Photo courtesy of Bartram's Garden.
Mushroom Festival
Head to the "Mushroom Capital" for the 31st annual Mushroom Festival this weekend. Festivities kick off on Friday, September 9, 6pm, with a community parade (pictured) and dancing in the streets and continues on Saturday, September 10, 10am-7pm and Sunday, September 11, 10am-5pm. Enjoy cooking demonstrations by professional chefs, mushroom delicacies, children's activities including an old fashioned carnival, nearly 250 vendors, an antique and classic car show, live music, and more, rain or shine off Route 1 in Kennett Square Borough, Pennsylvania. Photo courtesy of the Mushroom Festival.
South Philly Sausagefest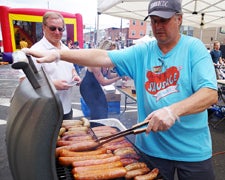 The 2nd South Philly Sausagefest takes place Saturday, September 10, a local food and craft beer festival with sausage-themed food and live music by local bands including New Pony, the Whips, Gondola, Blue Pharaohs, and the Charley Few, plus children's activities and more, 12pm-8pm, West Passyunk Avenue at Broad Street, Philadelphia. Presented by the Newbold Community Development Corporation. Photo by Anthony Caroto.
Campus Philly's CollegeFest
The annual CollegeFest is back this Saturday, September 10, 10am-4pm, geared to welcome new and returning college and graduate students to the Philadelphia area – one of the largest college "towns" in the country – with food trucks, free music and entertainment, free admission to museums and cultural attractions in the area, and more. Check in at the CollegeFest site at Dilworth Park to get a wristband for free museum admission at participating museums. Photo by Andre Flewellen.
Pennsylvania Coast Day
Enjoy Pennsylvania Coast Day at Penn's Landing, Saturday, September 10, 11am-4pm. At Independence Seaport Museum, see the new Citizen Science Lab and Patriots and Pirates exhibit, plus free boat rides, tours, children's activities, and more. Ride the free, round-trip shuttle to the Fairmount Water Works for live freshwater mussel demonstrations, the URBAN SEA art installation, tours of the historic Fairmount Water Works and Schuylkill River, and the Philly Fun Fishing Fest (7am-11am), Walnut Plaza, Penn's Landing, Philadelphia. Photo courtesy of the Partnership for the Delaware Estuary.
Philly Festivals
Philadelphia Photo Arts Center hosts an Arts Carnival, a celebration of arts in South Kensington, Saturday, September 10, 11am-7pm, with food, performances, live music, rides, games, and more, as part of the Philly Block Project, a year-long, socially-engaged collaboration with conceptual artist Hank Willis Thomas, 1400 N. American Street #103, Philadelphia. The Mt. Airy Village Fair takes place Sunday, September 11, 11am-4pm, rain or shine, with a pet parade (pictured), slow ice cream eating contest, pie eating contest, performances, games, children's activities, and more, Greene Street at Carpenter Lane. #SassySays. Celebrate Latino culture and music at the 32nd Annual Feria del Barrio, the Centro de Oro neighborhood festival offering food, art, crafts, children's activities, and live entertainment this Sunday, September 11, 12pm-5pm, North 5th Street between Lehigh and Cambria Avenues, Philadelphia.
Doylestown Arts Festival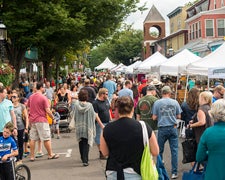 The 25th Doylestown Arts Festival returns to Bucks County Saturday and Sunday, September 10-11, 10am-5pm daily, with over 160 vendors offering clothing, fine art, furniture, glass, jewelry, pottery and more. Also, live music on five stages, two food courts, and family activities, rain or shine in Doylestown Borough, Pennsylvania. Photo courtesy of Doylestown Arts Festival. #SassySays
Brandywine Festival of the Arts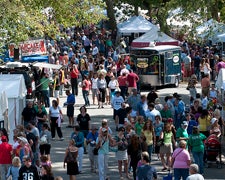 The annual Brandywine Festival of the Arts is this Saturday, September 10, 10am-6:30pm, and Sunday, September 11, 10am-4pm, featuring hundreds of juried artists exhibiting one-of-a-kind works along with live music, children's activities, street fair with food and more, at Brandywine Park's Josephine Gardens, Wilmington, Delaware. Photo courtesy of TCDavis. #SassySays
Phoenixville Blues Festival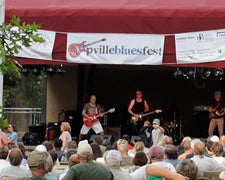 The 7th annual Phoenixville Blues Festival returns Saturday, September 10, 12pm-10pm, with The Dukes of Destiny, Billy the Kid, Vanessa Collier, and more. Bring lawn chairs and blankets to Reeves Park, Borough of Phoenixville, Pennsylvania. Rain or shine. Photo courtesy of the Phoenixville Regional Chamber of Commerce.
Jersey Shore Festivals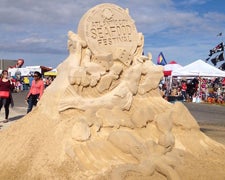 The 20th Cape May Food & Wine Celebration kicks off September 9-18. Events include a Champagne Jazz Brunch, Chocolate Lovers Feast, Fisherman's Wharf Tour, Gourmet Brunch Walk, Grilling at the Vineyard, Harvest Brew Fest, Self-Guided Wine Trail, and more, presented by the Mid-Atlantic Center for the Arts & Humanities, Cape May, New Jersey. Most events for adults only. Enjoy Pirates Day, Saturday, September 10, 9am-4pm, with children's activities, food, crafts, vendors, live music, costume contest, farmer's market, pirates cove and more, rain or shine, Route 9 and East Bay Avenue, Barnegat, New Jersey. Celebrate the Atlantic Ocean at the Atlantic City Seafood Festival (pictured), Saturday, September 10, 11am-7pm, and Sunday, September 11, 11am-6pm, with over 50 restaurants and culinary personalities featured. Meet chefs and taste their creations, enjoy children's activities, cooking demos, live music, art, wine seminars and tastings, crab eating competition, chowder cook off, and more, Bader Field in Atlantic City New Jersey. Free admission. #SassySays. The 11th annual Ship Bottom Irish Festival takes place Saturday, September 10 and Sunday, September 11 with craft and food vendors, live music by the Ocean County Emerald Society Pipes & Drums, Irish Step Dancers and more, rain or shine, 10th Street and Shore Avenue, Long Beach Island, New Jersey. Children 15 and under free.
Greenfest Philly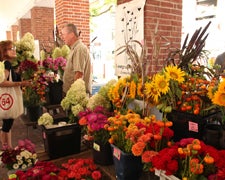 Learn how to live a greener life at the Clean Air Council's Greenfest Philly, in its 10th year, Sunday, September 11, 10am-4pm, the largest environmental festival in the Philadelphia area, with over 100 exhibitors and vendors, food, live music, live demonstrations, beer garden, kid-friendly activities, and more, Headhouse Square, between 2nd and South and 2nd and Pine, Philadelphia. Free. Photo courtesy of Greenfest Philly. #SassySays
Lansdowne Arts on the Avenue Festival
The 14th annual Lansdowne Arts on the Avenue Festival offers an array of activities including crafts, food trucks, Kids Zone, craft brews, and live music with Reel to Reel, Hinton, Lansdowne Symphony Quartet, Minas, and more, Sunday, September 11, Noon-6pm, between E. LaCrosse and Baltimore Avenues, Lansdowne, Pennsylvania. Rain or shine. Free.
Arts in the Park Festival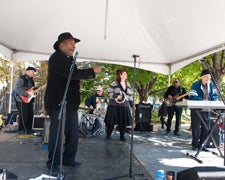 Burlington County hosts an Arts in the Park Festival, Sunday, September 11, 10:30am-4pm, with an eclectic mix of entertainment on three stages, including music, dance, theater and storytelling, Historic Smithville Park, 803 Smithville Road, Eastampton, New Jersey. Performers include Dukes of Destiny (pictured), Ernie and Neal, and Universal African Drum and Dance Ensemble. Photo courtesy of Dukes of Destiny.
2016 Fringe Festival
FringeArts' 2016 Fringe Festival kicks off Thursday, September 9 through 24, celebrating 20 years with cutting-edge and original dance, theater, music, visual and interdisciplinary works by artists from the United States, international, and local arts scene. In addition to the festival's annual selection of "Curated" Fringe performances, also featured are independently produced shows at various locations around the Philadelphia region, including the FringeArts headquarters on the Delaware River waterfront.
Room 21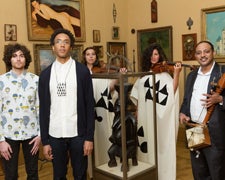 Room 21, a new site-specific musical performance piece by Jace Clayton (aka DJ /rupture), opens the Fringe Festival on Friday, September 9, 7pm, at the Barnes Foundation. Drawing inspiration from the diverse art and objects found in the Barnes collection and Dr. Barnes' unique approach to his display, the performance focuses on Room 21, which brings together Pennsylvania German furniture, Modigliani's painting Reclining "Nude from the Back," African masks, religious works, and paintings by Barnes' students. Curated by Lee Tusman in association with Ars Nova Workshop and accompanied by more than a dozen musicians wearing custom handcrafted costumes, 2025 Ben Franklin Parkway, Philadelphia. Photo Max Lakner.
In the Clearing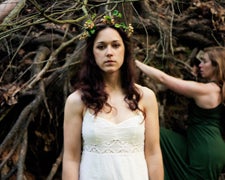 Birds on a Wire Dance Theatre presents In the Clearing, an immersive, theatrical contemporary full-length dance performance inspired by literary traditions of fairy tale and coming-of-age stories. Bring your own picnic blanket to find a spot in the forest as you go on a journey to uncover the best and worst of humanity accompanied by the sounds of lutes, drums, and running water, Christ Church Neighborhood House, September 9-10, 20 North American Street, Philadelphia. Photo by Plate 3 Photography.
Story of My Eye
GOATPIG's Story of My Eye is an original work created by two recent MFA graduates and real-life lovers. The absurd and raw Philadelphia premiere exposes the adventures of two people figuring out how to forge a healthy sexual relationship in the midst of an influential media landscape, September 7-12 at Kung Fu Necktie, 1250 North Front Street, Philadelphia. Due to both the graphic nature of the performance and the venue's restrictions, only 21 and older can attend the show. Photo courtesy of GOATPIG.
Look for #SassySays for pet friendly events. Let us know if your event is pet-friendly! Email artscalendar@whyy.org and put #SassySays in the subject line.
Each week, the Entertainment Guide spotlights interesting local arts offerings happening now, including music, dance, theater, museums, special exhibitions and other arts events from across the region.
To submit an event to be considered, email Robin Bloom at artscalendar@whyy.org.