Weekly Entertainment Guide – Breaking the Waves
Listen
Have Electile Dysfunction? Escape to the South Pacific! Robin Bloom shares her picks for what to check out this week, plus a fall theater sampler.
Onstage
Opera Philadelphia's "Breaking the Waves" and "Turandot"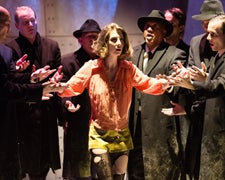 Opera Philadelphia starts a new season with the world premiere, Breaking the Waves, inspired by Lars von Trier's Oscar nominated 1996 film of the same name about a religious young woman whose marital vows are put to the test after her husband becomes paralyzed in an accident. The new three-act chamber opera was composed by Missy Mazzoli and librettist Royce Vavrek, and is directed by James Darrah, with soprano Kiera Duffy and baritone John Moore, under the baton of Steven Osgood, September 22 through October 1, Perelman Theater, Kimmel Center for the Performing Arts. Escape to exotic locales for forbidden romance and stunning melodies in Giacomo Puccini's final work, Turandot, at the Academy of Music, September 23 through October 2. The co-production with Minnesota Opera, Cincinnati Opera, Pittsburgh Opera, Utah Opera, and Seattle Opera features a libretto by Giuseppe Adami and Renato Simoni, with Grammy Award-winner Christine Goerke as the title role of Princess Turandot. Marco Berti makes his Opera Philadelphia debut as her would-be-love Prince Calaf, directed by Renaud Doucet and music director Corrado Rovaris. The free HD Opera on the Mall broadcast takes place Saturday, October 1 at Independence National Historical Park. Pictured: Soprano Kiera Duffy as Bess McNeill, surrounded by members of the Opera Philadelphia Chorus as church elders. Photo by Dominic M. Mercier.
"South Pacific" at Walnut Street Theatre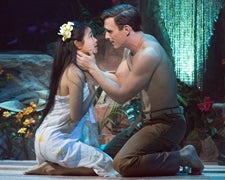 Can true love survive cultural prejudices and the threat of war? Find out in the Walnut Street Theatre's production of the Rodgers and Hammerstein's romantic musical South Pacific. A nurse from Arkansas falls in love with a French plantation owner while a U.S. Lieutenant falls for a beautiful island native in a story that weaves together tales of romance, duty and valor. The award-winning Broadway play is based on stories told in Doylestown, Pennsylvania native James A. Michener's Pulitzer Prize winning book "Tales of the South Pacific." The James A. Michener Art Museum has loaned several of the author's personal items to display during the run of the production. Known for its classic score featuring "I'm Gonna Wash That Man Right Outa My Hair," and "Some Enchanted Evening," the play represents an attempt by the playwrights to use the Broadway theater to confront racial bigotry in the postwar United States. Directed by Charles Abbott with choreography by Michelle Gaudette, the cast includes Paul Schoeffler, Kate Fahrner, Lori Tan Chinn, Ben Michael, Fran Prisco, and more, through October 23, 825 Walnut Street, Philadelphia. Photo by Mark Garvin.
"Electile Dysfunction" at Act II Playhouse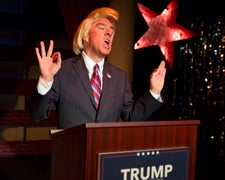 Just in time for the 2016 election, laugh at the expense of both political parties with Act II Playhouse's equal opportunity original comedy cabaret, Electile Dysfunction. The world premiere, created by and starring Tony Braithwaite (who also directs the show), Will Dennis, and Tracie Higgins, the new show combines presidential impressions, man-on-the-street interviews, song parodies, and more, already extended through October 9, 56 E. Butler Avenue, Ambler, Pennsylvania. Photo by Bill D'Agostino.
"Mrs. Warren's Profession" at Lantern Theater Company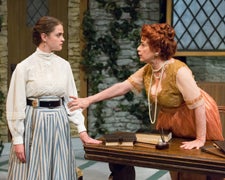 George Bernard Shaw's provocative comedy of morals, Mrs. Warren's Profession takes to the stage at Lantern Theater Company. Set in late Victorian England, the show tells the story of two strong women, mother and daughter, each determined to hold their respective world views and life choices, revealing the reality of the position of women in society at the time, already extended through October 16. Directed by Kathryn MacMillan and featuring Mary Martello in the title role, the cast also includes David Bardeen, Andrew Criss, Daniel Frederick, Claire Inie-Richards, and John Lopes, St. Stephen's Theater, 10th and Ludlow Streets, Philadelphia. Related programs and events include Lantern Pub Night, Friday, September 23 and Artists in Conversation, September 25 and 28. Photo by Mark Garvin.
"Stupid F*cking Bird" at Arden Theatre Company
Arden Theatre Company takes an irreverent, contemporary, and funny look at Anton Chekhov's "The Seagull" with Aaron Posner's Stupid F*cking Bird. Written and directed by the award-winning Arden co-founder and former Artistic Director, the critically acclaimed production reimagines the play by the Russian writer, through October 16. Cast includes Cindy De La Cruz, Grace Gonglewski, Dan Hodge, Alex Keiper, Karl Miller, Reynaldo Piniella, and Greg Wood, with original songs by James Sugg, 40 N. 2nd Street, Philadelphia. Related programs and events include post-show discussions on September 29, October 2, 5, 12, and 29 and open captioned and audio described performances on October 7-8. Photo by Mark Garvin.
Azuka Theatre's "How We Got On"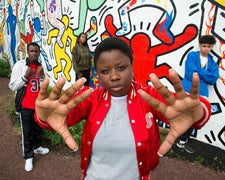 Get your theater on with Azuka Theatre, aiming to bring in new audiences and to remove financial barriers to theater with the new "pay-what-you-decide" program for its entire 2016-2017 season. How We Got On by Idris Goodwin is onstage September 21 through October 9, directed by Raelle Myrick-Hodges. The ode to the roots of rap features a DJ spinning the stories of three suburban teens coming of age in the 1980s, dreaming of fame and fortune in the new Hip-Hop music scene, Louis Bluver Theatre at the Drake, 302 S. Hicks Street, Philadelphia. Photo by Johanna Austin.
"The War of the Roses" at Delaware Theatre Company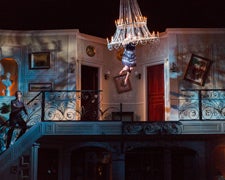 Delaware Theatre Company continues its charge to develop plays for Broadway with the North American premiere of The War of the Roses. Based on the 1981 novel by Warren Adler that was adapted into a film in 1989 starring Michael Douglas and Kathleen Turner, the dark comedy is about the breakup of a married couple that descends into an ugly divorce. Directed by Artistic Director Bud Martin, the physical production stars Christina DeCicco, Cameron Folmar, Jack Noseworthy, and Lenny Wolpe, with an ensemble cast including Adam Altman, Eric Kramer, Brian McCann, Kerry Kristine McElrone, and Karen Peakes, through October 2, 200 Water Street, Wilmington, Delaware. Related programs and events include Pre-Show Viewpoints, September 28 and Post-Show Talkback, September 22 and 29 immediately following the show. Photo by Matt Urban, Mobius New Media.
"The Bridges of Madison County" at Media Theatre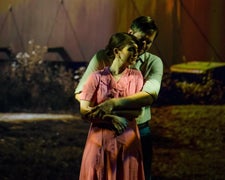 The Bridges of Madison County, Jason Robert Brown's Tony Award-winning musical about a married Italian-American woman who falls in love with a National Geographic photographer, is onstage at Media Theatre. The region's professional premiere is based on the best-selling novel by Robert James Waller, is directed by Jesse Cline, with music direction by Christopher Ertelt, and features Elisa Matthews as the lead role of Francesca, Derek Basthemer as Robert, and Robert Stineman as Bud, through October 23, 104 E. State Street, Media, Pennsylvania. Photo by Maura McConnell.
"Bathing in Moonlight" at McCarter Theatre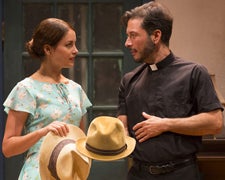 When Father Monroe discovers that Marcela and her Cuban-American family are struggling, he offers a warmth and kindness unlike anything Marcela has ever experienced, which blossoms into love that blurs the lines between vocation and passion. Pulitzer Prize winner Nilo Cruz's world premiere Bathing in Moonlight is onstage at McCarter Theatre through October 9, directed by McCarter Theatre Center Artistic Director Emily Mann and starring Raúl Méndez, Priscilla Lopez, Hannia Guillen, Katty Velasquez, Frankie J. Alvarez, and Michael Rudko, 91 University Place, Princeton, New Jersey. Related programs and events include post-show discussions, Pride Night, Audio Described and ASL interpreted performances. Look for "Inside Story" talks led by the artistic staff, 45 minutes before performances. Photo by T. Charles Erickson.
Villanova Theatre's "Electra"
Villanova Theatre takes on Frank McGuiness' gripping and suspenseful adaptation of Sophocles' classic tragedy Electra, the retelling of the ancient Greek drama about a princess, living in exile, who plots to avenge the murder of her father who was killed by her mother. Directed by Rev. David Cregan, OSA, PhD, head of Villanova University's Theatre department, with costumes designed by three-time Barrymore Award winner Janus Stefanowicz, through October 2, Villanova University's Vasey Hall, Lancaster and Ithan Avenues, Villanova, Pennsylvania. September 29 is Speaker's Night, offering a post-show discussion with the director, cast, crew, and Villanova Theatre Performance Studies Professor Dr. Heidi Rose. Free parking in VU's main lot. Photo by Paola Nogueras.
"Greater Tuna" at Montgomery Theater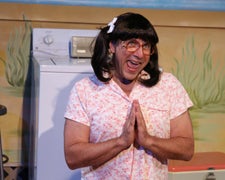 Montgomery Theater presents Greater Tuna by Jaston Williams, Joe Sears and Ed Howard. The dark satire is a commentary on small town life in America, as two actors depict all of the twenty characters in the fictional rural outpost in Texas (Tuna). Expect a whirlwind performance of costume changes, vocal acrobatics and other quick-witted humor with comedy duo Joe Guzman and John Morrison, directed by Tom Quinn through October 2, 124 Main Street, Souderton, Pennsylvania. Photo by Angela McMichael.
What's Happening
Fitzgerald at 120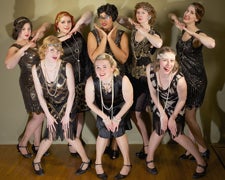 In honor of the 120th birthday of F. Scott Fitzgerald, the Free Library of Philadelphia hosts Fitzgerald at 120, a daylong party on Thursday, September 22, to honor and analyze the American novelist's literary contributions and impact. Events begin at 12:30pm and include a birthday toast with Fitzgerald's granddaughter, a screening of The Great Gatsby, and a panel about the author's life and legacy with authors Maureen Corrigan and Jackson Bryer and "Gatz" artistic director John Collins. Performances by the "Sweethearts" (pictured) take place throughout the day, Parkway Central Library, 1901 Vine Street, Philadelphia. Photo courtesy of the Free Library of Philadelphia
Delmarva Folk Festival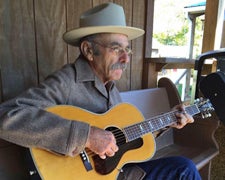 The 25th Annual Delmarva Folk Festival is September 23-24. The music begins at 7pm on Friday with the conclusion of this year's Folk Hero contest, followed by a night of folk performances, continuing from 1pm-10pm on Saturday. This year's lineup includes Celtic Harvest, Butter Queen Sister, Crabmeat Thompson, Roy Book Binder (pictured) and more, along with craft vendors, food vendors, kids' activities, and more, presented by the Delaware Friends of Folk, 352 Downs Chapel Road, Clayton, Delaware.
Mid-Autumn Festival
Asian Americans United presents the 21st annual Mid-Autumn Festival, promoting the culture and well-being of the Chinatown community, Saturday, September 24, 12:45pm-6pm. Enjoy a carnival, arts and crafts, live performances, dance, food, and more, concluding with a dragon dance, lion dance and lantern parade through Chinatown at 6pm, China Friendship Gate, 10th and Arch Streets, Philadelphia. Photo by Kimberly Paynter/WHYY.
Fairmount Park in a New Light
The Fairmount Park Conservancy, Philadelphia Parks and Recreation, and Parks on Tap host a free street festival, Fairmount Park in a New Light, Saturday, September 24, 5pm-10pm, with food trucks, drinks, music from DJ Reed Streets and live music from Hurry C. Catch the never before seen light show at 7:30pm and then Boathouse Row's upgraded lighting installation that debuted during the Democratic National Convention this summer will be displayed, Schuylkill River Trail, Martin Luther King Drive (across from Boathouse Row), Philadelphia. Photo by Jennifer Francesco.
New Hope Outdoor Juried Arts and Crafts Festival
The New Hope Outdoor Juried Arts and Crafts Festival takes place Saturday, September 24, 10am-6pm and Sunday, September 25, 10am-5pm, featuring over 160 fine craftspeople from around the country offering oil paintings, pastels, watercolors, drawing, etching, mixed media, sculpture, pottery and more at the New Hope-Solebury High School. Also, live music, children's activities, and shuttles around town will be provided, rain or shine, New Hope, Pennsylvania.
Puerto Rican Day Parade
The annual Puerto Rican Day Parade, Philadelphia's largest outdoor celebration of Puerto Rican and Latino heritage is Sunday, September 25, beginning at noon at 18th and the Benjamin Franklin Parkway and will Grand Stand at Logan's Square. This year's parade features Danny "Swift" Garcia as Grand Marshal with Mayor Jim Kenney and other city and state officials in attendance. Organized by the Council of Spanish Speaking Organizations of Philadelphia (Concilio). Post-parade Boricua Fest at Fairhill Park, 4th and Lehigh and Festival del Coqui, American and Huntingdon Avenue. Photo courtesy of Concilio.Continue the celebration of National Hispanic Month with the first Festival of Latin Culture in Pottstown, Pennsylvania, Saturday, September 24, 11am-4pm, with family activities, live music, dance arts and crafts, food, and more, Riverfront Park, 140 College Avenue.
Brazilian Day Philadelphia
Brazilian Day Philadelphia is Sunday, September 25, 12pm-6pm, saluting the culture and traditions of Brazil and its Independence Day with a unique blend of Brazilian Culture showcasing Samba, Forro, Pagode, Capoeira, Samba-Reggae and more, Great Plaza, Penn's Landing. Photo courtesy of the Delaware River Waterfront Corporation.
Chestnut Hill Fall for the Arts Festival
Germantown Avenue is transformed into an outdoor arts marketplace this Sunday, September 25, for the Chestnut Hill Fall for the Arts Festival. More than 150 artists and crafters from across the country will display their work between Willow Grove and Rex Avenues in addition to live music, food, children's activities, and the "Makers Village," 11am-5pm, Germantown Avenue, Chestnut Hill. Free.
Downingtown Fall Fest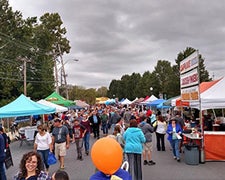 The Downingtown Fall Fest is Sunday, September 25, 11am-4pm, with food, craft vendors, children's activities, live entertainment by Walton Marquette Project, Gina Miller and Division Highway, and the Punk Junkies, plus the Victory Beer Garden featuring the Brewpub on Wheels, Green Street and East Pennsylvania Avenue in downtown Downingtown, Pennsylvania. Free (pay as you go). Photo courtesy of the Downingtown Fall Fest.
Jersey Shore Activities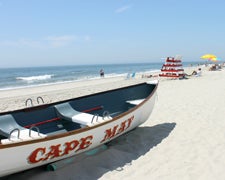 The Cape May Designer House Tour takes place, Saturday, September 24, 11am-4pm, with self-guided tours of six of Cape May's privately-owned homes.The Wildwood Irish Fall Festival returns September 22-25 (called the largest Irish festival on the East Coast) with music, dancing, food, and crafts, 8am-7pm daily. Events conclude with a parade on Surf Avenue from 20th to Spruce and Olde New Jersey Avenues, North Wildwood, NJ. Wildwood Crest Seafarers' Celebration starts Saturday, September 24, 9am-5pm with live bands, followed by a fireworks show at 8pm, along Sunset Lake at New Jersey Avenue between Rambler Road and Miami Avenue.The Historic Smithville Italian Festival is September 24, 10am-7pm, on the Village Greene with live music and entertainment, New Jersey wine tasting, food, artisan vendors, children's activities, classic cars, Smithville, New Jersey.The South Jersey Wine and Food Festival in May's Landing is September 24-25.
Each week, the Entertainment Guide spotlights interesting local arts offerings happening now, including music, dance, theater, museums, special exhibitions and other arts events from across the region.
To submit an event to be considered, email Robin Bloom at artscalendar@whyy.org.