Weekly Entertainment Guide – A Very Philly Christmas
Robin Bloom offers over 25 suggestions for what to do this week!
What's Happening
A Very Philly Christmas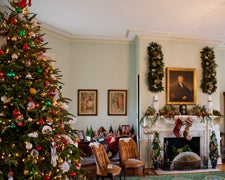 Take a Historic Houses of Fairmount Park Holiday Tour. This year's theme is "A Very Philly Christmas" and kicks off December 1 with an open house, candlelight tours, Family Day, and trolley tours of the six Fairmount Park's "Charms," Cedar Grove, Laurel Hill Mansion (pictured), Lemon Hill, Mount Pleasant, Woodford, and Strawberry Mansion, dressed up with themes for the holidays, with special events and more through the end of December. Photo by Lauren Schwarz Photography.
"A Christmas Carol" at Walnut Street Theatre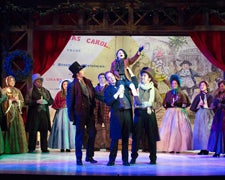 Head back to 1840s London and join Ebenezer Scrooge and the ghosts of Christmas Past, Present and Future for the annual Philadelphia tradition of A Christmas Carol, on the main stage at Walnut Street Theatre, through December 23. The hour-long musical, directed and choreographed by Ellie Mooney, is based on the classic Charles Dickens novel and features original music with Mark Collmer returning as Scrooge, 825 Walnut Street, Philadelphia. For all ages. The December 14 performance will be ASL interpreted and Audio Described. Photo by Mark Garvin.
"The Carols" at 1812 Productions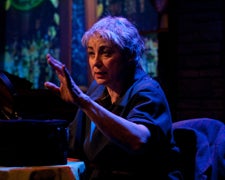 The Carols, a world premiere musical for the holidays, takes to the stage at 1812 Productions. Written and directed by Jennifer Childs, the show is set during Christmas in 1943 in the small town of Picatinny, New Jersey. As members of the community wait in the local VFW hall for their loved ones to return from World War II, they bring their own stories of hope lost and found to the stage during the hall's annual performance of "A Christmas Carol." Cast includes Mary Martello, Rachel Camp, Emily Kleimo, Caroline Dooner, Anthony Lawton, and TJ Harris, December 1-31, Plays and Players Theatre, 1714 Delancey Place, Center City Philadelphia. Open captioned performance in English on December 11 and open-captioned performance in Spanish on December 14. Photo by Mark Garvin.
"A Year with Frog and Toad" at Arden Theatre Company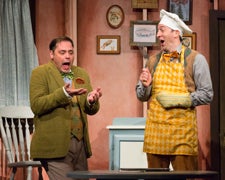 Arden Theatre Company shares the heartwarming musical A Year with Frog and Toad once again with a new generation. The children's theatre production is based on the Frog and Toad children's stories written and illustrated by Arnold Lobel about the unlikely friendships between cheerful Frog and the grumpy Toad. Featuring music by Robert Reale and directed by Whit MacLaughlin, the critically-acclaimed production features Barrymore Award-winners Jeff Coon and Ben Dibble reprising their roles with Steve Pacek, Leigha Kato and Elexis Morton, through January 29, 40 N. 2nd Street, Philadelphia. Photo by Mark Garvin.
"Trane-ing Day" with the Jazz Orchestra of Philadelphia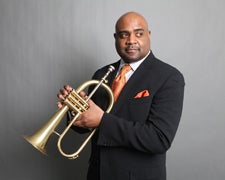 Jazz Orchestra of Philadelphia pays tribute to John Coltrane in what would have been his 90th birthday year with Trane-ing Day, December 3, 8 p.m. Led by Terell Stafford (pictured), the jazz icon's Philadelphia ties will be celebrated. The program also includes a performance of "The Harlem Nutcracker" by Duke Ellington and Billy Strayhorn, Perelman Theater, Kimmel Center for the Performing Arts. Photo by Jimmy Ryan.
Holiday Pops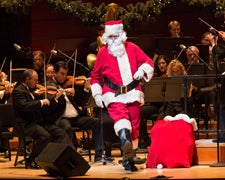 The Philly Pops annual Christmas Spectacular: Sounds of the Season is December 2-18, led for the first time by Music Director Michael Krajewski with guest vocalist and pianist Tony DeSare, accompanied by the Philadelphia Boys Choir, the African Episcopal Church of St. Thomas Gospel Choir, Wanamaker Organist Peter Conte, and the POPS Festival Chorus and even Santa (pictured). Featuring holiday favorites and the popular audience sing-along, Kimmel Center, Broad Street, Philadelphia. Photo courtesy of the Philly Pops.Kennett Symphony hosts the annual Pops Goes the Holiday, Saturday, December 3, 7:30 p.m., featuring sounds of the season with the Kennett Symphony Children's Chorus, a sing-a-long and visit from Santa at Unionville High School Auditorium, Kennett Square, Pennsylvania.
Deck the Alley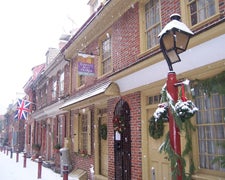 Deck the Alley returns Saturday, December 3, 3 p.m.-7 p.m., featuring tours of the private historic homes on Elfreth's Alley, the nation's oldest continuously lived on street, as residents open their homes to the public for tours. Admission includes seasonal refreshments, colonial carolers, holiday stories, a visit by Benjamin Franklin, and upside-down Christmas tree, 126 Elfreth's Alley, Philadelphia.
Philly Tree Lighting & Holiday Events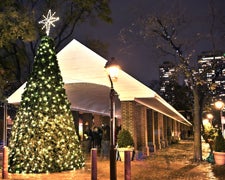 South Street Headhouse District hosts the South Street Christmas Parade, Sunday, December 4, 3 p.m.-5 p.m. The parade is scheduled to step off at 3 p.m. at Philadelphia's Magic Gardens (11th and South Street) and will follow east to the Historic Headhouse Shambles (2nd and Lombard). The holiday tree lighting will take place at 5 p.m. Photo courtesy of South Street Headhouse District.East Passyunk Avenue Business Improvement District and Passyunk Avenue Revitalization Corporation hosts a Tree Lighting Party, Thursday, December 1, 5 p.m.-9 p.m., a free celebration including live music, carolers, holiday sweets, and more at the Singing Fountain, Tasker Street and EPA, South Philadelphia.Join the Blue Cross RiverRink Winterfest for a holiday tree lighting, Friday, December 2, 5:30 p.m.-8:30 p.m., with a cast of performers, singers, dancers, and ice skaters celebrating First Friday. The holiday tree features tens of thousands of lights, presented by PECO, 101 S. Columbus Boulevard, Penn's Landing.
QVC West Chester Christmas Parade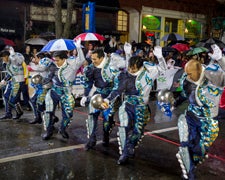 Join the West Chester community tradition at the 37th annual QVC West Chester Christmas Parade, Friday, December 2, beginning at 7:15 p.m. The parade begins with the Jingle Elf Run at 6:30 p.m., tree lighting at 6:45 p.m., and features dozens of performers, floats, giant character balloons, antique cars, and more than a dozen regional high school and college marching bands, culminating in the arrival of Santa as it loops around Market Street and Gay Street in downtown West Chester, Pennsylvania. The parade will be broadcast live on QVC.
Regional Dickens Celebrations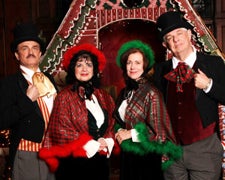 Dickens Festivals are celebrated this week throughout the region. In Medford, New Jersey, downtown Main Street closes and transforms visitors back to England in the days of Charles Dickens, with a visit from Santa in a horse-drawn carriage along with musical entertainment, crafts, food and the lighting of the holiday tree at the gazebo, Saturday, December 3, 6 p.m.-10 p.m. On Sunday, December 4 in Narberth, Pennsylvania, the Dickens Festival is from noon-4 p.m., with activities for all ages, including a scavenger hunt, horse and carriage rides, music, carolers, crafts, and more. Cape May hosts the annual Dickens Christmas Extravaganza, December 4-6. The Ebenezer Maxwell Mansion's Dickens Christmas Party (pictured) is Saturday, December 10, 1 p.m.-4 p.m. Without a Cue Production's interactive comedy A Dickens of a Murder Dinner Theatre takes place through December 31 at Peddler's Village, Old City Philadelphia, Atlantic City, and Warminster. A Dickens' Experience in Old New Castle, Delaware takes place December 10, transporting visitors back to mid-19th century England.
Old-Fashioned holiday celebrations in the region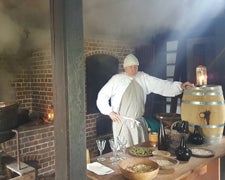 Experience a Colonial Christmas at Pennsbury Manor's Holly Nights, December 1-2, 6 p.m.-9 p.m. with yule log bonfires, carolers, candlelit tours of the historic manor house, period demonstrations, beer brewing (pictured) and more at the former estate of Pennsylvania founder William Penn, 400 Pennsbury Memorial Road, Morrisville, Pennsylvania. Photo courtesy of Pennsbury Manor.The Mercer Museum captures the excitement of Christmases past from a child's perspective with an exhibit of toys and games from the 1860s to the 1980s with their annual holiday display. Under the Tree: A Century of Holiday Trees and Toys features decorated trees and popular toys from the Victorian age through the post-World War II period on view through January 2. Tour nearby Fonthill Museum's Winter Wonderland and the Family Day, Sunday, December 4, noon, East Court Street and Route 313, Doylestown, Pennsylvania. Photo courtesy of Mercer Museum.The historic riverfront estate Glen Foerd celebrates Christmas at the Mansion, Saturday, December 10, 1 p.m.-5:30 p.m. Enjoy the mansion in full holiday décor. Settlement Music School offers musical and ballet performances. Plus, treats, crafts, visit from Santa, and more, 5001 Grant Avenue, Philadelphia.The Marshall Steam Museum at Auburn Heights Preserve presents an Old-Fashioned Holiday, Sunday, December 4 and Sunday, December 11, 12 p.m.-4 p.m. Enjoy hot chocolate, trains, story time with readings of The Night Before Christmas and The Polar Express, Victorian and train-inspired holiday crafts and activities, and a photo exhibit, "Snow Travelers: Experiencing Winter at the Dawn of the Automotive Age," 3000 Creek Road (Rt. 82), Yorklyn, Delaware. The Museum boasts the world's largest operating collection of Stanley steam cars.Enjoy Christmas as celebrated from 1795-1880 with Hopewell Furnace National Historic Site's free Iron Plantation Christmas, Saturday, December 3, 10 a.m.-4 p.m. with recreated holiday scenes inside the National Park Service's historic buildings. Plus, customs, foods, and traditions of the holiday season including Der Belsnickel, costumed volunteers, caroling, and more. The national historic site is surrounded by the 73,000 acre Hopewell Big Woods, the largest forest in Southeastern Pennsylvania, 5 miles south of Birdsboro, Pennsylvania on Route 345.
Seasonal cultural offerings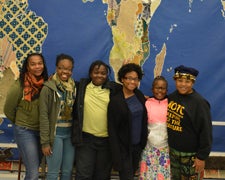 Penn Museum's annual Peace around the World holiday celebration (pictured) is this Saturday, December 3, 11 a.m.-4 p.m. Upon entrance, visitors receive a "passport" itinerary to explore the holiday traditions of many cultures from around the world. Activities include music and dance performances, storytelling, face painting, balloon art, crafts, and much more, 3260 South Street, Philadelphia.The American Swedish Historical Museum's annual Lucia Fest and Christmas Market is Saturday, December 3, 11:30 a.m.-4:30 p.m., with family activities, Lucia processions with traditional songs and dances, and more, at 1900 Pattison Avenue, FDR Park, South Philadelphia. Originally celebrated by the Norse as the winter solstice, the festival of St. Lucia marks the beginning of the Christmas season in Scandinavia.
Holiday musical offerings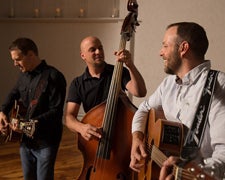 A Very Merry Acoustic Christmas with the Sherwood Brothers takes place Sunday, December 4, 7 p.m. (doors open at 6:30 p.m.) at Ardmore Music Hall as the six piece country alt-rock band perform holiday favorites, 23 East Lancaster Avenue, Ardmore, Pennsylvania. Photo courtesy of the Sherwood Brothers. The Lansdowne Symphony Orchestra performs a Seasonal Sounds concert featuring the 200 member Upper Darby High School Concert Choir, Sunday, December 4, 3 p.m., Upper Darby Performing Arts Center, 601 N. Lansdowne Avenue, Drexel Hill, Pennsylvania. Lyric Fest presents Letters to Santa, a song cycle created by composer Logan Skelton after sifting through hundreds of children's letters to Santa dated from the 1800s to the present, Tuesday, December 6, 5:30 p.m., in a happy hour style format pairing drinks with small bites, Academy of Vocal Arts, 1920 Spruce Street, Philadelphia.
Take advantage of free meter parking in Philadelphia on Thanksgiving and after 11am on Saturdays, starting after Thanksgiving through New Year's.
Each week, the Entertainment Guide spotlights interesting local arts offerings happening now, including music, dance, theater, museums, special exhibitions and other arts events from across the region.
To submit an event to be considered, email Robin Bloom at artscalendar@whyy.org.