Weekend begins sunny, ends with beneficial rainfall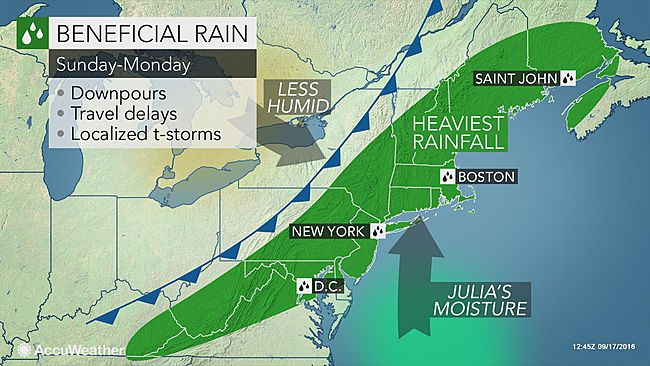 A sunny Saturday will transition to a mostly cloudy Sunday, ending with potentially heavy rain as a cold front arrives and possibly draws up moisture from a tropical system currently meandering off South Carolina.
After a cool start this morning, temperatures will rise to the middle 70s under mostly sunny skies. The beaches will be slightly cooler with a southeast breeze coming off the ocean.
The evening will remain warm with low temperatures around 70 degrees with a southerly flow but clouds and humidity will begin building into the area.
Mostly cloudy skies will continue for tomorrow, and showers chances will slowly increase throughout the area. A southwesterly flow will usher in a tropical air mass, with dewpoints reaching quite uncomfortable levels. High temperatures will be slightly warmer than today.
Showers and thunderstorms will become likely after sunset as the cold front approaches and possibly pulls moisture from Tropical Storm Julia northward, and precipitation could be heavy at times through Monday night.
"A general 0.50 to 1.00 inch of rain is likely from east of Interstate 95 in the mid-Atlantic and southeastern New England. If Julia's moisture is drawn in, then rain amounts may be higher. In the latter case, a general 1-2 inches would occur with locally more," according to an AccuWeather.com report.