'We are all Ukrainian.' Delaware leaders express solidarity with Ukrainian community
Wilmington-area Ukrainian religious leaders offer prayers for peace during Delaware rally in solidarity with Ukrainians combating Russian invasion.
The official state colors of Delaware closely resemble the Ukrainian flag, making an easy way for residents here to don their yellow and blue to show their support for Ukrainians living in Delaware, and those dodging Russian bombs in Europe.
Delaware's small population size of just 990,000 residents really puts the massive exodus now underway in Ukraine into perspective with more than a million people fleeing the country in search of safety.
"In one week, the entire population of Delaware has moved into Poland and Hungary," said Mark Murowany, a Ukrainian living in Wilmington. "Think about it: one million people. How many more millions Ukrainians are going to go and be evacuated."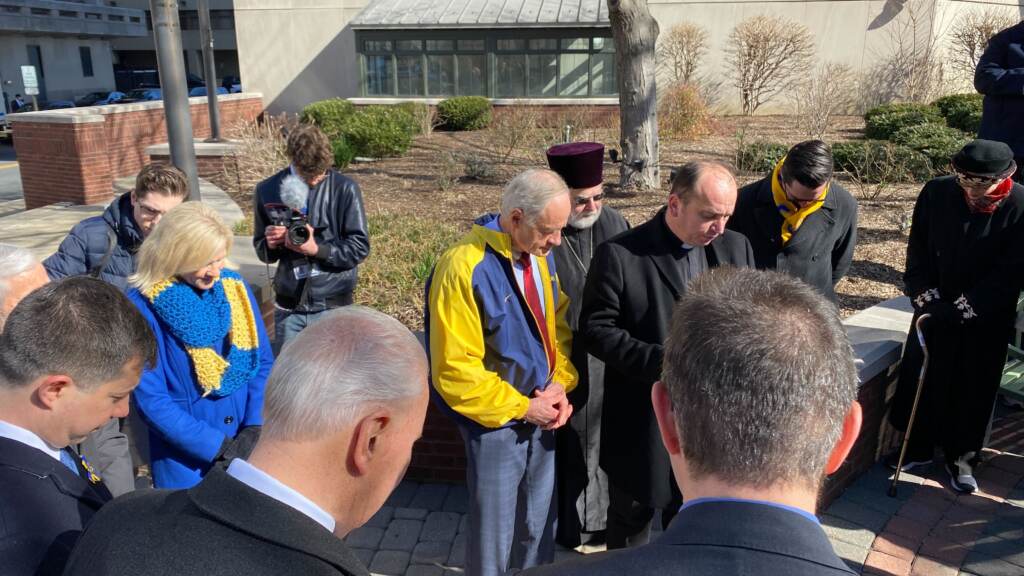 Among those hoping to get to safety are Wilmington residents Tatiana Poladko and her husband Atnre Alleyne and their three children. The family has traveled hundreds of miles in a westward zigzag route from their home near Kyiv, and is now waiting to cross the Polish border near Lviv.
Murowany gathered with Wilmington Mayor Mike Purzycki, New Castle County Executive Matt Meyer and Governor John Carney alongside Wilmington-area Ukrainian religious leaders who offered prayers for peace.
"This is our opportunity to stand up and show our solidarity. This is our opportunity to bring our state together," Carney said before joining the others in raising a Ukrainian flag in Freedom Plaza in downtown Wilmington.
"I've never been more proud, more confident to be from the state of a president of our United States, Joe Biden, because I know … that our country and the world are in good hands."
U.S. Sen. Tom Carper of Delaware donned a blue University of Delaware coat with bright yellow sleeves as he spoke of the signs of strength the Ukrainian people have demonstrated as they've crafted Molotov cocktails and roadblocks to slow the progress of Russian invaders.
He also pointed to Thursday night's attack on the Zaporizhzhia Nuclear Power Plant in southeast Ukraine, Europe's largest nuclear plant.
"That nuclear power plant is a metaphor for the people of the Ukraine. Battered but not broken," he said, before turning to address Russian President Vladimir Putin.
"I have a message for Mr. Putin. Mr. Putin, this will not stand this one. Mr. Putin, in the end, you will go down," Carper said. "You have made a huge mistake and you will pay for that."
U.S. Secretary of Transportation Pete Buttigieg made a surprise appearance at the rally. Buttigieg was scheduled to visit Wilmington later in the morning for an announcement about transportation funding, but shifted his schedule to arrive earlier and support the solidarity message.
People of Ukraine did not ask to be a battleground in the struggle between autocracy and democracy. Matter of fact, they wanted to avoid being in this position," Buttigieg said. "Yet they are, and they have risen to it in such a courageous and inspiring fashion that when this flag goes up here in their honor, it will not just be a flag representing Ukraine and its people, but I believe representing democracy itself."
Buttigieg said he talked with his counterpart in Ukraine earlier this week, talking to their infrastructure minister about the tough road ahead for Ukraine's road, bridges, power lines and other structures.
The Russian targeting of civilian infrastructure locations is "all the more reason that it matters not only that this administration has spoken with words but has acted to apply maximum pressure to the Russian economy more than I think they were ever counting on," he said.
"That has included in the realm of transportation closing our airspace to Russian aircraft and flights. And you can expect more options to be on the table to make sure that the transportation sector aligns with all others in ensuring that we show the resolve of the American people to stand with Ukrainians in this time."
WHYY is your source for fact-based, in-depth journalism and information. As a nonprofit organization, we rely on financial support from readers like you. Please give today.